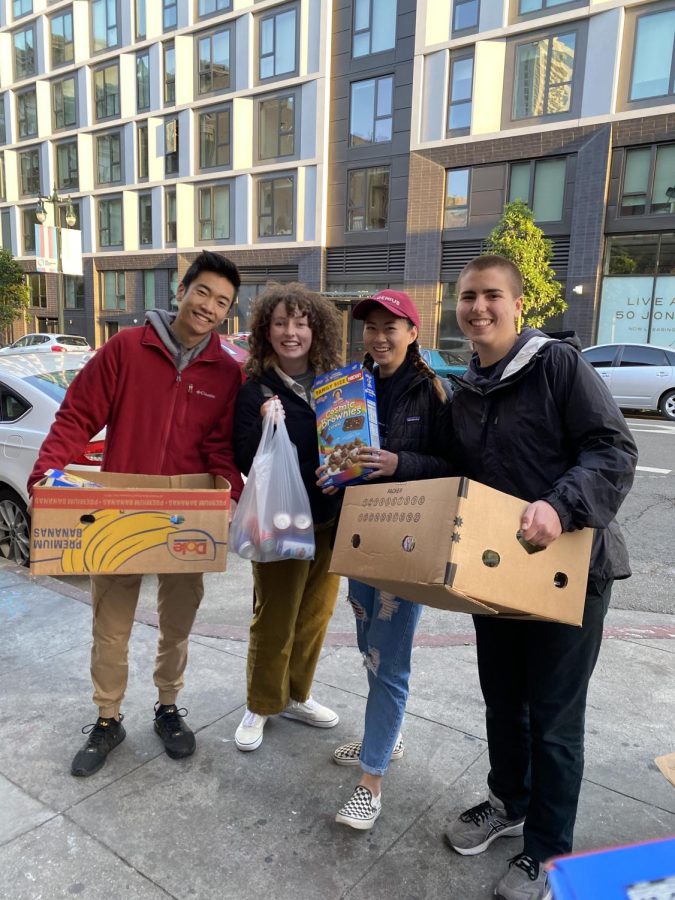 Courtesy of UI
Over the past couple of weeks, the Horizon has highlighted several ministry and outreach experiences that occurred over spring break led by Urban Initiative (UI) and Potter's Clay (PC). This week, we learned more about the final two UI experiences, which took place in San Francisco and on the Navajo Reservation in Arizona.
SAN FRANCISCO
Students Emma Daniel, Michael Kong, Carly Field and Alyson Gee traveled to San Francisco, where they partnered with City Impact in the Tenderloin. According to City Impact, the Tenderloin is "roughly one square mile in size with over 28,000 residents; it is plagued by blight, crime, addiction, mental health issues and an oversized homeless population."
City Impact's website states that they "faithfully serve the Tenderloin's residents by providing a safety net through its many services." While visiting, Westmont students stayed in City Impact temporary staff housing. 
One goal the team had for this trip was for students to leave with a better understanding of the history and nuances of each neighborhood they served. The students learned about the queer community within the Tenderloin, as well as within the rest of the city.
The group worked with City Impact through two programs focused on kids, S.F. City Academy and City Kids. As a part of S.F. City Academy, Westmont students spent the school day assisting teachers in the classroom and working with kids after school at City Kids.
The students also helped sort pre-packaged food for delivery as part of the Adopt-A-Building program, where they distributed the food and had conversations with residents who could not leave their buildings to get groceries. 
Conversational ministry was a major focus of the experience, namely in 'street ministry,' which involved students walking a pre-designated route and having conversations with locals, hearing stories from those they met on the streets.
At the end of the week, the group also participated in TL REVIVE: an annual cookout where burgers and hotdogs were served while guests and volunteers spent time in fellowship. 
While in the Tenderloin, students worked to build relationships with residents, both housed and unhoused. Emma Daniel, the leader of the experience, noted a particularly impactful moment when a woman shared her faith. "She was telling me about her faith and how she felt called to love people in the Tenderloin. She then went on to ask if we could all pray together. I felt honored and I admired her for her faith."
After the visit in the city, the students were left thinking about ways they could extend their ministry experience when they returned to Santa Barbara. Daniel noted that sometimes all it takes is talking to someone sitting on the sidewalk as you walk down State Street. 
Aly Gee affirmed this sentiment. "It does not take much effort to make people feel loved and accepted," she said. "All these people want is for someone to have a conversation with them, to acknowledge them as a person, and make them feel like they are worth it."
NAVAJO RESERVATION
Grace Gantt, Hannah Grierson, Phillip Smythe, Vicki Silva and Steven Zichici traveled to the Navajo Reservation in Arizona, where they spent time visiting different pastors and churches on the reservation. While there, the group partnered with Pastor Nathan from Tuba City Assembly in Tuba City, a small town in the middle of the reservation.
Teka Gabaldon — Westmont chapel coordinator and assistant to the campus pastor — accompanied the students on the trip.
Silva, the student leader of the trip, appreciated hearing stories of those who live and work within the community. "While our interactions with the Navajo people were limited due to the nation's strict COVID-19 regulations, each day we were able to visit different areas of the Navajo reservation to meet with pastors from churches in those communities," she said. The group had the opportunity to travel to different communities within the reservation and observe the vast range of socioeconomic disparity.
The team was also able to attend a youth group in Dennehotso, where they listened to youth leaders share their experiences and love of ministry with young people. "These stories were really empowering to hear as a young adult navigating what it means to 'do' ministry," Silva emphasized.
The experience of life on the Navajo Reservation gave way to a lot of reflection amongst the team regarding faithfully ministering in new and challenging contexts. "Over the course of the week, I was wrestling with what it means to 'evangelize' and whether or not culture and religion can go together," Silva noted. "Christianity is going to look different wherever we go, and that's okay! Our job is not to change people and their views, but to listen and learn based on the context we are in."
Smythe added, "What I'm taking away from the trip is a better understanding that people are a product of their environment, and that I should not be quick to judge others if their experience and opinions are different than mine."
The group was also able to experience the love and joy of the Navajo community despite the reservation's slow and painful recovery from the COVID-19 pandemic. "On one of our last days, we met a Navajo silversmith named Carol who shared with us her story on how she makes traditional Native American jewelry," Silva said. "I was blown away by how passionate she was about her art and how much it means to her to have been able to do it all, even throughout the pandemic. Carol has changed hearts through her craft, and it was really a memorable moment to have heard her stories."
Silva hopes the Westmont community will continuously pray for the Navajo people as the pandemic winds down, as well as for the ministry local and indigenous people continue to do on the reservation. "While we have had the privilege to move forward and return to 'normalcy' from the pandemic, the Navajo people are struggling to regain momentum," Silva said. "Pray for protection and healing over the community, and for the work being done by Pastor Nathan and his church."