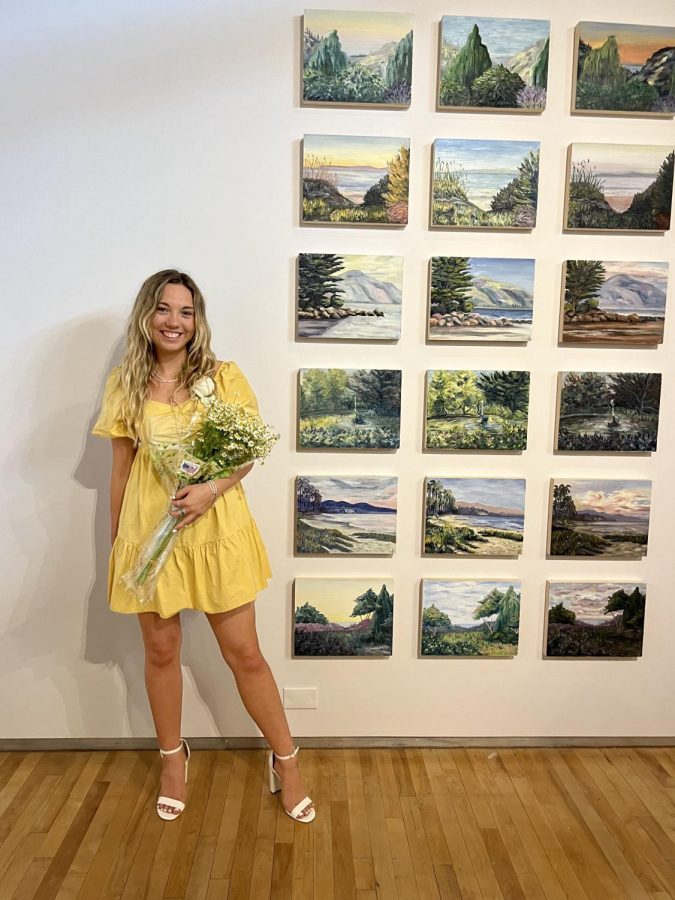 Courtesy of Lauren Thomas
On Thursday, April 7, Westmont's art class of 2022 presented their final projects at "Presence," the graduate exhibit at Westmont's Ridley-Tree Museum of Art. There, 14 projects were displayed, representing mediums ranging from resin art to screen printing.
On opening day, Ridley-Tree bustled with students, parents, friends and art aficionados from start to finish, making this year's exhibition one of Westmont's most attended ever. Senior artist Lauren Thomas remarked, "Opening night was insane, I was so happy and shocked that everyone came … I was blown away by the support and the love and the admiration for not only my pieces but for everyone else's." 
Thomas's collection of oil paintings entitled "Wonder" was inspired by the style of Claude Monet. "I loved the impressionism and the study of light and color … it just flowed so naturally with who I am," she said. 
Thomas chose six locations, which she painted at three different times of day — morning, afternoon and evening — for a total of 18 paintings. Each location is somewhere Thomas finds solitude and experiences the presence of God. "I wanted to bring people back to a moment where their childlike wonder would come out," Thomas said. 
Senior Abigail Stadtlander's work was similarly inspired by locations with a spiritual connection. Stadtlander's "Postcards in Gouache"' were first painted, then enlarged, then screen-printed on postcards which hung from the ceiling. The postcards depicted locations from Oregon to Pismo Beach and San Francisco, California to her home in Boise, Idaho. 
She said that painting the Golden Gate Bridge, her family's vacation before coming to Westmont, "marks how special that whole trip was."
Westmont's own Voskuyl Library became immortalized from a picture Stadtlander found in the library archives. She remembered, "It was a really cool picture … and I lived there freshman year."
Senior Kenzie Westergard decided to render her memories through pen on paper. Westergard's "A Transitory Experience" charts "poignant moments in [her] life last summer when [she] was experiencing a lot of tension physically, emotionally, mentally and spiritually." 
Ranging from pieces titled "Change" to "Confidante," Westergard chose to reflect through self-portraits she created, hoping viewers could do the same. She drew different animals that, for her, embodied the emotions she felt during this period of reflection. She says, "My work serves as a safe place to revisit my experiences to reflect and furthermore grow from them." 
Westergard said opening night was, "a culmination of warm feelings" as well as a "time to celebrate … I loved seeing how much growth we all have had as artists." While completing her senior project was a huge accomplishment for Westergard, it was "only the beginning." 
Cole Troya's project, entitled "Everything in its own time," was inspired by the "vibrant technicolor palettes and psychedelic textile patterns of Southern California surfboard builders of the "transition era," which took place between the early 1960's into the late 1970's." 
Troya explained that this "transition era" in surfboard-building "was a wild time of rapid experimentation and innovation in both the design and aesthetic of surfboard building." This transition was just like his project, which marked a personal exploration of the relationships between color, form and composition.
Senior Anna Wheeler shared that her art titled, "Clothing Conscious" — a collection of five screenprints — seeks to expose "the mass production, cheap labor, inattention to environmental costs and over-exportation of clothing from America." Inspired by ABC's short documentary "Dead White Man's Clothes," Wheeler enacted a call to action in her work, hoping to educate and impact change by telling the story of an article of clothing through its lifespan. Wheeler's titles such as "Seed" and "Send" follow the journey of the fast fashion world in which we live, and her art seeks to understand where the trends go when they die. 
The works of Brooke Dingman, Tirzah Dove, Katie Luttenburger, Meg Mason, Miguel Moreno, Marina Smith, Selah Tennberg, Alyssa Mae Tumlos, Kate Wetterau and Rachel Yates are also on display weekdays from 10 a.m. to 4 p.m. at the Ridley-Tree Museum until May 7. Stop by to celebrate these dedicated, passionate individuals!