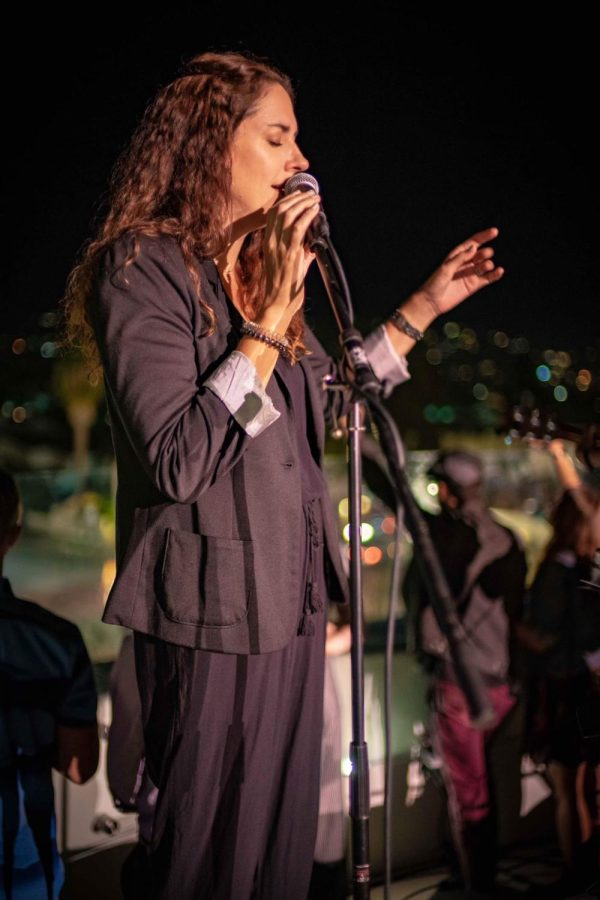 Jacob Grant
The journey of Kacy Yardley '99 — Westmont alumna and current Director of Worship and Creative Arts at OceanHills Covenant Church — parallels that of Moses in the way she encountered God's call. Despite initially feeling unqualified in her role at OceanHills, Yardley eventually realized that God throughout her journey, had been planting the seeds that would prepare her for her current occupational position, and that it is He who ultimately qualifies her. 
Yardley's "burning bush" moment came at the end of a six-month season of spiritual restlessness, 15 years after graduating from Westmont, where she earned her BA in biology. Like Moses, she had settled down and started a family, but her current vocational reality differed from the expectations she had in her younger years. A draining college internship had dissuaded her from pursuing a career in the medical field, and the business she co-owned at the time did not feel meaningful to her. Then, she began praying Hillsong's "Oceans" as a prophetic song in her life. 
Caught by surprise when her pastor, Jon Ireland, asked if she would meet him over coffee, Yardley agreed and received an invitation that would change her life.
"We sat down and he was like, 'I want you to buckle up and I want you to hear me out before you say anything. The Leadership Team wants to call you to come be on staff and be our worship pastor,'" Yardley recalls. Describing her response, she says, "It was such a mind-blown kind of moment … I felt like Moses with my constant excuses."
Because Yardley did not grow up in a context where women were encouraged to be in positions of leadership in the church, she had never envisioned herself in that role. Furthermore, although she was raised under the tutelage of a classically-trained mother and had sung in church, choir, musical theatre productions and even her family's "cross-country traveling band," Yardley had never aspired to be on stage in a professional context. She felt especially unqualified to step into the role of worship leader, as she did not play an instrument. 
"It's always the dude with the acoustic guitar — maybe the woman on the piano," she laughs. "Not to strip it down, but that's literally what the paradigm was."
However, Yardley's excuses did not deter her for long.
"The minute it was out of his mouth and I cognitively understood what he was saying," Yardley remembered, "it was like this knowing, like the Spirit speaking to spirit." She admitted, "I was full of fear. All the insecurity in the world … — am I gonna fail, what do I bring to the table — it was all my credentialing in my own head."
Despite this fear, Yardley explained, "I kept hearing God go, 'That's not what's on the table. Actually, do you trust me enough to let this be without borders? You're gonna walk out wherever I call you. [Do you trust] that I'm the one who's gonna do this?'"
After discussing the job opportunity with friends and family, Yardley only had one response: "How can I not say 'yes' to this?" 
As she stepped into her new role, Yardley described feeling the "weighty mantle of responsibility" in leading the church. In the early years, she found herself "leading songs, but not leading the people in worship."
However, the seeds of her growth as worship director had already been planted. Alongside her early training and experience as a performer, Yardley's early involvement as a singer on OceanHills' worship team had taught her about the foundations of worship. Soon after her joining the staff, the church sponsored her to be part of a worship cohort where individuals learned from one another, helping form her confidence. 
It wasn't until Yardley, "met the Holy Spirit for the first time" at Bethel Music's "Heaven Come" conference that her focus shifted dramatically from the musical to the spiritual aspect of leading worship. She now recognizes that leading worship is a continual conversation and collaboration with the Holy Spirit. 
Like Moses in Exodus 33:15, Yardley refuses to lead God's people somewhere without His presence there to guide them. Sometimes a "word" or a "pause" needs to interrupt the normal pace. At other moments, she finds herself weeping at the end of a set. Always, she recognizes that she sets the spiritual bar because, "people only go … to the extent you do as a leader."
Indeed, Yardley sets the standard for authenticity and vulnerability around the team of 35-40 members she leads — despite frequent "vulnerability hangovers" after sharing her own journey. During Wednesday night worship rehearsals, she invites them to share about their own lives. This time also serves as a place to read the Bible, pray and talk about the Holy Spirit as a community.
She meets one-on-one with team members at least twice a year, and sends resources that could be helpful to the busier members. 
Even as she fosters transparency on and off the stage, Yardley realizes that as soon as someone is on staff in a ministry setting, they "take on a new persona." She says there is always a balance with how much to share with those she leads: "In vocational ministry, much of it is our own walk with the Lord and heart health."
Over the years, Yardley has gone on a journey of finding out how to navigate a job where it can feel like she is being rated based on her relationship with God and given feedback by people who don't always really know her or what worship-leading entails. She perseveres by reminding herself that the Lord is her "ultimate audience," and by taking some of that feedback to peers and leaders who truly know her. 
Yardley has stayed steadfast in ministry by knowing her purpose not only as a worship leader, but also as a follower of the Holy Spirit's moment-by-moment guidance: "I'm here because I know this is possible for everyone, and I want this for everyone out there."