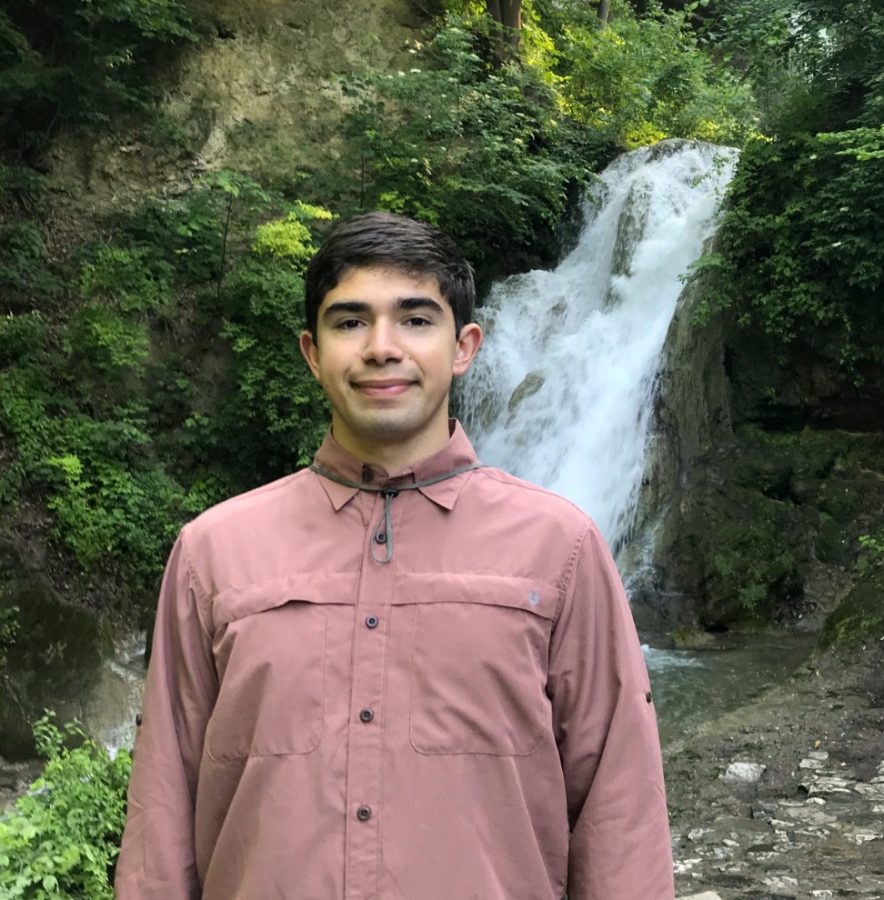 Blanca Szekrenyi
Since coming to Westmont, third-year engineering major Mark Szekrenyi has had two families: his parents back home in Lakewood, California, and his cross-country and track teammates in college. Rooted in a stable community, Szekrenyi has blazed trails both literally as a cross country runner and figuratively as a part of the first graduating class for Westmont's engineering program.
Explaining his reasons for pursuing a degree in mechanical engineering, Szekrenyi recalls, "I've always been dead-set on engineering because that's what my dad did … I'd always go to work with him … and see what stuff he was doing." According to Szekrenyi, mechanical and aerospace engineering have enough overlap that his degree at Westmont should set him up well for entering the same track his father followed at USC.
As one of Westmont's first engineering majors, Szekrenyi admits, "It's been a little rocky sometimes, trying to figure out what we're actually doing because it's brand new." He notes that there's been "a lot of uncertainty" — particularly with scheduling classes. Szekrenyi explains, "Every time before registration — like two weeks before — it's just, 'Oh you're taking these classes instead because we're not ready to teach this one yet.'"
Despite the uncertainty and last-minute adjustments, Szekrenyi has enjoyed the engineering program thus far, expressing how grateful he is that Westmont announced the program just in time for him to apply. 
Before hearing about Westmont's engineering program, Szekrenyi had already committed to Embry-Riddle Aerospace University, despite his preference for Westmont. Reflecting on his decision at the time, Szekrenyi says, "I wasn't super happy with it, but it seemed like it was gonna kinda be the best fit for engineering."
His family was driving back from Embry-Riddle when they received the email announcing Westmont's launch of their engineering program. Szekrenyi recalls thinking, "Westmont's perfect already, the only thing that was missing was engineering. Now they have engineering." He adds, "It just kind of felt like God was pointing [and saying], 'This is where you belong … this is where you're supposed to be.'"
Thanks to a camping trip with the cross-country team before the start of each school year, Szekrenyi found himself "already going into school having a good group of friends." Even as a preview student, Szekrenyi remembers noticing, "Coach Smelley is really kind and … the team just kind of felt like a really tight-knit community." He adds, "Once I actually ended up coming here, the team has basically been my family while I'm away from home … I don't know what I would do without them."
In addition to his teammates, Szekrenyi has enjoyed interacting with the broader Westmont community. He recounts, "Sometimes with professors, I'll just go and end up at office hours and just talk — not even about school stuff, but just about life." Szekrenyi cited retired physics professor Dr. Ken Kihlstrom as "a very fun personality" — the "crazy uncle" with whom he formed a kind of "professional friendship … being able to bond with him just about random engineering things … sometimes geeking out a little bit on stuff."
Another aspect of the Westmont community Szekrenyi highlights is chapel: "a time set aside that's different from church, but it's similar … with everybody else in the community, and as a whole, setting aside time for God." Especially since he sits with his track teammates, Szekrenyi really enjoys the time: "Chapel just always feels really special … I don't have to think about anything, I can just kind of be here, be myself, with my friends."
Outside his involvement at Westmont, Szekrenyi spends his free time improving the website of the small non-profit he runs with his parents: The Honu Shirt Company. Szekrenyi says, "Primarily, we make T-shirts out of recycled plastic bottles — roughly six to seven — and all of the profit gets donated to the Hawaiian Wildlife Fund, which is an organization that's dedicated to saving the endangered Hawaiian sea turtles — which also coincidentally tend to get choked [by] plastic." 
While merchandise has expanded to include jewelry and may soon include candles, Szekrenyi emphasizes, "Everything that we try to make is trying to be as eco-friendly as possible."
Acknowledging that entrepreneurship is "kind of outside what I would say is a normal life skill for engineers," Szekrenyi refers to this family endeavor as "more of a hobby" while he's at school, though "once I'm home for the summer, it kind of picks up again." 
One thing Szekrenyi has really appreciated about running the company is the way it has brought him closer to his parents. Szekrenyi's appreciation for his parents is clear in the way that he talks about his father: "He's been a really big part of my life … I'm just inspired by what he does and the kind of person he is." 
Hoping to follow in his father's footsteps, Szekrenyi hopes his next stop will be USC, where he will get his masters in aerospace engineering in the spring of 2023.