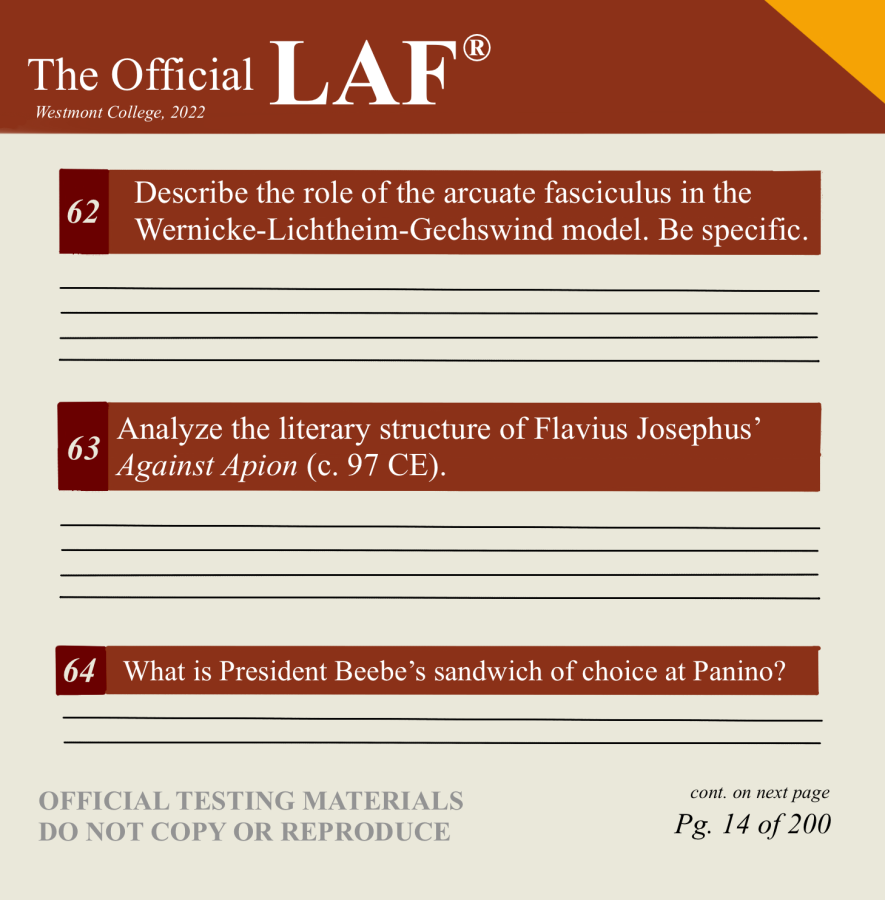 Ella Jennings, The Horizon
To the Westmont community and beyond, Westmont College is known as a 'Liberal Arts College', but what does that really mean? One current Westmont student answered, "I just thought it meant that everyone here is a Democrat." This misunderstanding is the main reason the school board has proposed an additional final, which all students are required to complete.
"This new final is designed to supplement all of the finals Westmont students would usually take," says a member of the school board. Another member of the board shared, "We took inspiration from the GaoKao, combined with policies put in place by Headmistress Umbridge in the fifth book of the Harry Potter series."
This new final exam is designed to put students' liberal arts knowledge to the test on every conceivable topic. The test will take four hours and consists of questions on 16 subjects. Students will be required to know the key elements of every topic taught at Westmont.
"We know it's a lot to ask of our students," school president Gayle Beebe says, "but when they came to Westmont, they should have known what they were getting into." Some students disagree with Gayle Beebe's statement but feel they have no choice but to participate.
One concerned student said, "In the email sent throughout campus, students and staff were informed that if a student wants to transfer to another school but doesn't pass the test, they will be charged the full four years of tuition before completing the transfer process."
Students are already receiving help to pass this test. The first change is the library's decision to eliminate all communal workspaces in an effort to increase student studying potential. When asked about the changes in the library, a Westmont librarian had this to say: "Shhh." 
The second change is Westmont's new partnership with Monster Energy™. From now on, students will receive a ration of two Monsters per weekday, three on the weekends and four the week leading up to the test. When asked about this partnership and its health effects, president Beebe told reporters: "The chance of a student developing a heart condition from these drinks is low enough that I am able to sleep at night. What's more important is the fact that they get a good, well-rounded education."
The third major change involves the new offering of study classes. Students will be required to take at least one study class each semester. The classes vary in rigor, but they're all designed to deliver students with the most general knowledge possible. Here are a few of the classes that were leaked early: Elementary and Advanced Jeopardy, Dictionary Basics Across Fields and Encyclopedia Reading 101.
Many students are upset about the perceived uselessness of the classes, but president Beebe had these words of encouragement for the students, "You can do it!"
As of today, no further information has been released​ about the test. Be on the lookout for more updates from the Capstone in regards to this educational overhaul.