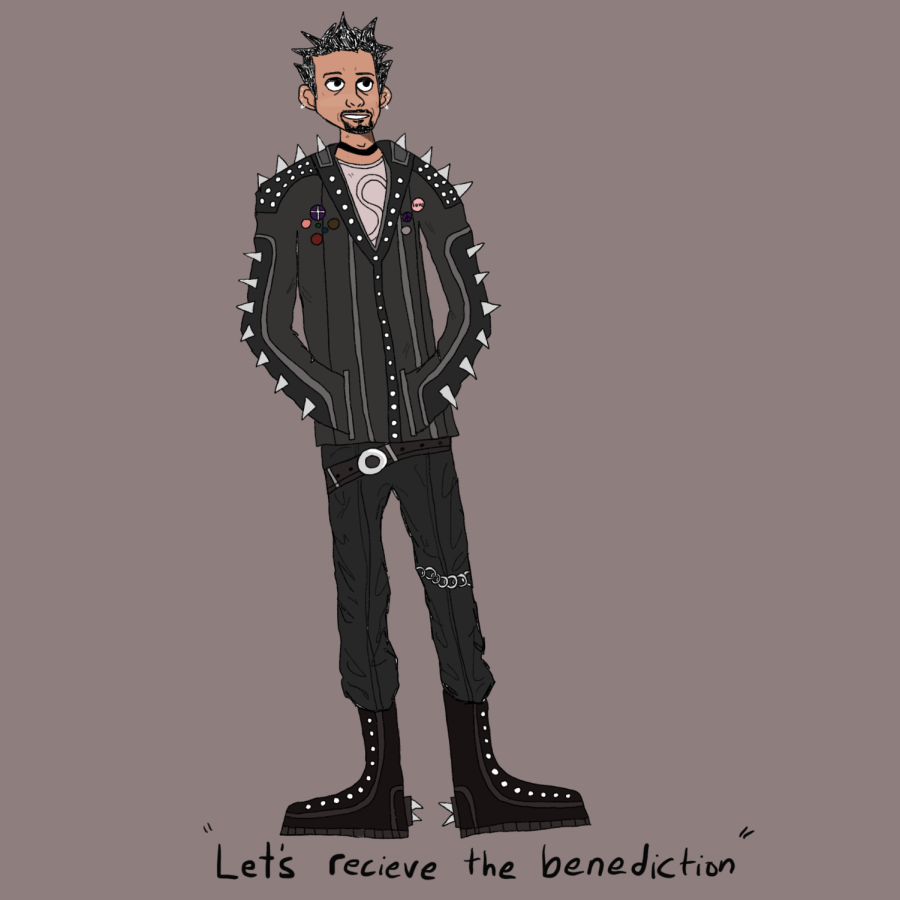 Claudia Hernandez
Young people are leaving the church in large numbers, which is a depressing reality to many. While several factors could be to blame for this exodus, many ex-believers report that the church has become too judgemental, particularly toward those who do not fit the category of the traditional, clean–cut churchgoer. Many of those outside the suit, tie and floral pattern skirt fashions feel alienated and judged by the traditional Christian congregation.
In a new effort to prove Westmont's diversity and inclusivity, the Campus Pastor's Office is rolling out some new dress codes. Anonymous sources say the following requirements apply to all pastors, worship team members, executive leadership, and guest speakers, and that they are strongly recommended to all students who wish to be welcoming to alternative Christians.
Clothing: From now on, suits, ties, collared shirts, skirts and dresses (that aren't black or asymmetrical) are strictly prohibited. Speakers will be required to wear ripped jeans at least three, but preferably four sizes too large. Said jeans will be known as "holy jeans." Graphic band tees are required, but they must feature obscure bands that absolutely no one has heard of. Leather jackets are also required, no matter how high chapel temperatures rise. Studded belts, chains and chokers are highly recommended.
Shoes: Sneakers are the only acceptable footwear, and must have some sort of trendy brand name, but brand names must not be too expensive or else chapel photos will end up on the Preachers'n'Sneakers Instagram page. Sneakers must be five or more years old and have visible scuff marks and holes. If old sneakers cannot be obtained, the Adventure Club has agreed to borrow them for a hike or two to dirty them up. For a faster route, residents of Page Hall can distress your sneakers in a matter of hours. They'll look good as old!
Tattoos: A minimum of three tattoos will be required per person, all of which must be large enough to be visible onstage. Neck tattoos are preferable.
Piercings: All speakers are required to have at least seven piercings per ear. Full–time pastors and executive leadership must outfit themselves with gauges and lip piercings.
Hair: All hair must be dyed one of the following colors: neon orange, green, purple or jet black. A combination of all four is preferable. Men must either shave their heads bald or grow their hair out past their shoulders, nothing in between these lengths. Women have the option to cut their hair short or opt to rock a mullet. Mohawks are also highly encouraged.
Professors are not required but highly encouraged to follow these new dress codes, with one exception: all faculty in the Religious Studies department has no option but to adhere.
Additionally, plans have been made to install a tattoo parlor in the entryway of the Murchison Gym, so students and faculty can embellish themselves on their way out of chapel. A piercing parlor is also currently under construction outside the Nancy Voskuyl Chapel, and rumors say a skate park is underway to replace the Clark Lawn next to the Campus Pastors' Office.
Some say these new dress codes are an extreme measure. "Do they know how expensive tattoos are?" one anonymous student on the worship team asks. "Do they realize you can only get four piercings at once?"
The Campus Pastor's Office, however, disagrees. "We believe this is a step in the right direction." Pastor Scott Lisea says, "It's about time the Westmont leadership put themselves in the shoes–literally–of our students."
All dress code changes are effective immediately.