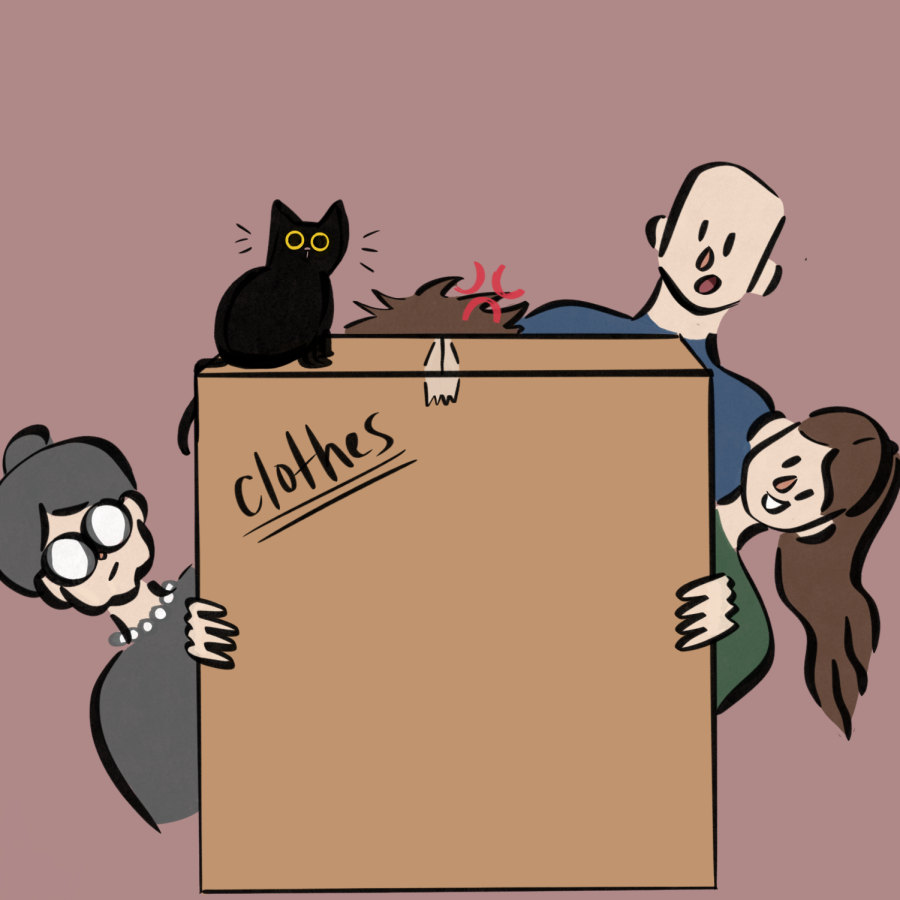 Jaycee Felkins
As new students roll onto the Westmont campus for the first time, feelings of homesickness follow on their heels. However, some students are struggling more than others to break away from their families and adjust to the dorm experience. One Clark resident, in particular, inspired a Westmont family-sized makeover.
One student responded, "Moving away from my family? My family will just move in with me." Said student further explained, "Yeah, they just didn't want to say goodbye so they're moving in. It might be a little cramped but my roommate doesn't seem to mind. I overheard him praying for another roommate, and now he's got a few more! I feel like I have done well in respecting his prayers."
After an investigation into this solution of a Westmont family-sized makeover, the Clark Resident Director decided to make this option more widely available to students. Instead of housing two students, each  dorm in Clark Hall will be housing two students and their respective two parents, one younger sibling, 15 cats and elderly one grandmother.
Despite the increase in roommates, there will be  no changes made to the size of the dorms. The beds will be used to store the knitting equipment the elderly grandmother reportedly brought to make sweatshirts for "her boys." One desk will be used as a kitchen while the other is being used to stand up the flatscreen TV so the father can watch his sports games. The student who prompted this makeover also hinted that more of his extended family is thinking about trying to move in as well, like his passive-aggressive aunt, heavy metal rocker cousin and many more.  
As they were fitting the stationary bike — that has been used all of three times — through the door of the room, the student's mother had this to say, "We love our baby so much, we couldn't just leave him. He needs all 15 of his emotional support cats, he couldn't just choose one. I mean, who's heard of using the 3:00 p.m. cat at 4:00 p.m.? It is simply better this way."
The cats have been a rising issue throughout the campus as litter boxes have been popping up not just around the Clark Halls but in Kerrwood Hall, Winter Hall, each floor of the Library and other still undiscovered spots as well.
"God says love thy neighbor, but he never said anything about having to love your neighbor's cats," a student from next door replied when questioned about the arrangement. "I haven't been able to sleep since I got here because I'm allergic to cats, but hopefully that kid's grandmother will bake some cookies for me. I've been smelling something delicious coming from that room."
As questions arose as to why Westmont College wasn't putting a halt to this influx of roommates, President Beebe responded in a press conference, "HMhmhHHmmHMmhhG. HHmmhMMhAAwwwhmhahmha," as his mouth was full with some chocolate chip cookies that came from an "unidentified source."
The roommate who is now looking to get away from the Clark Westmont Family has been presented with one other option for a replacement: a guy who claims to be starting the first Westmont fraternity.