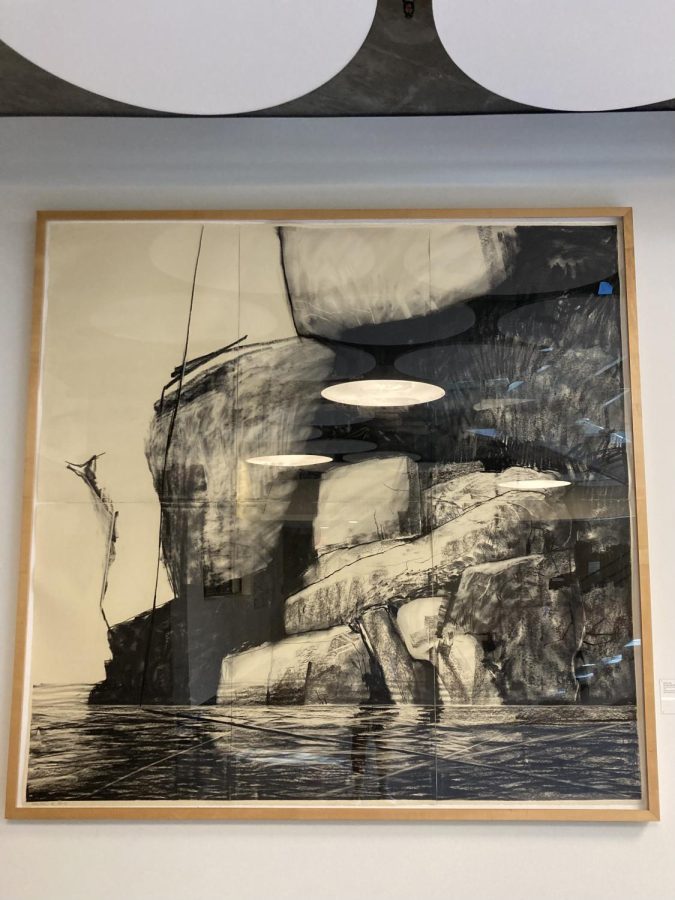 In my extensive two years of living on campus, I have often stumbled upon great art. You might think I spend plenty of time in the Ridley-Tree Museum of Art, but that is not the case. I really should spend more time there. It is a blessing that students hardly take full advantage of. I suppose I should practice what I preach, but I digress. 
Despite having a centralized location to display art, Westmont's permanent collection is so vast that it must spill out onto the walls beyond the confines of the museum. The walls in the splash zone of our collection – over 2,000 pieces as of 2021 – are right outside your classroom, down the hall from the offices you visit. Some even watch you study – and you have probably never even noticed them! I hope that this article will change that by exploring just a few of these works of art. 
The first of the five gems I will share with you is undoubtedly the largest scale piece on this list. If you have somehow missed this almost eight-foot-tall installation at the bottom of Winter Hall, you may be hopeless to notice the rest of this list. "Harrison Lake No. 3" –1987 by Dennis Leon is an impressive charcoal and pastel on paper of a cliff edge against the water that features a remarkable use of shading and perspective to place the viewer within the landscape. The piece makes me feel like I have just popped my head out of the water after making a daring cliff dive.
Interestingly enough, this piece is a gift of the U.S. division of Nestlé – yes, the Swiss multinational food and drink processing conglomerate Nestlé – and was accessioned in 2012 along with three other pieces by various artists. You might wonder, "how in the world did the hot chocolate company come to give Westmont College four pieces of art?" I had a similar question and was surprised when, for the first time in my life, a Google search yielded only one result. The only connection the internet could find between the two institutions was the LinkedIn account of a Westmont alumna who has worked in the company's executive office for the last 21 years. I guess we may have received this gift from this alumna, although this is unconfirmed.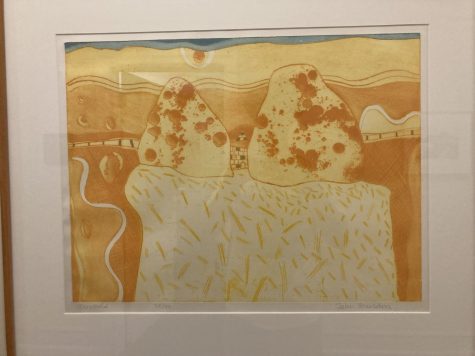 The second piece on this list is actually six pieces. On the upper floor of Kerrwood, you can find a small collection of etchings by prominent British artist and member of The Royal Society of Painter-Printmakers, John Brunsdon. These six Brunsdon works –of 10 donated to the college in 2007 by prominent landscaper, Carl Johnson– feature beautiful pastoral and architectural scenes with lively aqua-tinted colors that brighten up the office hallway. I recommend viewing these prints to any student feeling gloomy as we approach midterms.
Check back next week for the rest of the list …