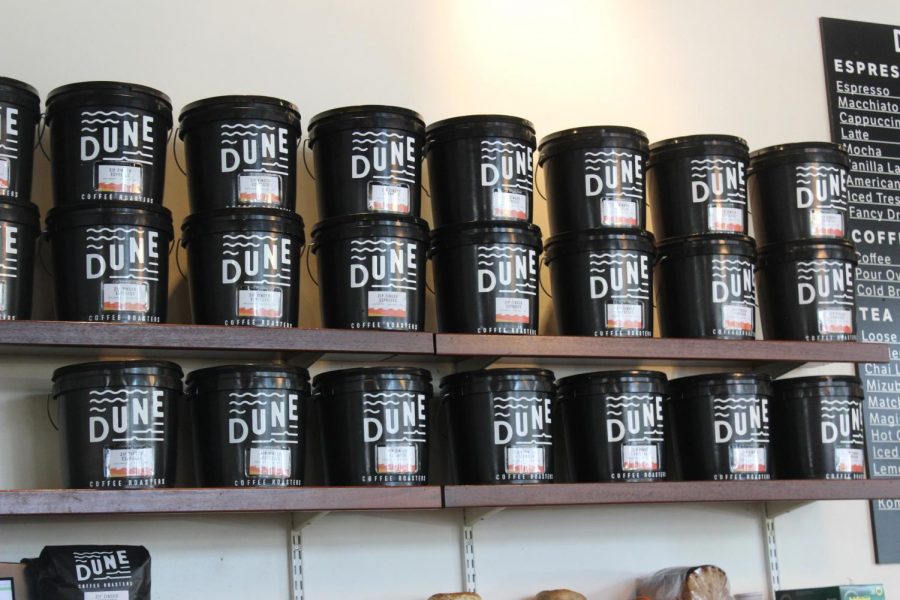 Jenn Ikeda
Dune Coffee is a place that brings smiles to all that go, whether for coffee or conversation. It's a place filled with Westmont students, both past and present. Dune's mission is to "never stop getting better, to find more special coffees, to support these producers who provide us all with a delicious cup. By never compromising the care of quality, we are honoring the hard work throughout the supply chain, from the producer's hand to ours to yours."
Over 10 years ago, Julia Mayer, owner and co-founder, started Dune Coffee with only an espresso machine in a retail building in downtown Santa Barbara. Since then it has expanded to three locations in Santa Barbara County, including State Street, Anacapa Street, and Goleta. Zoe Ortiz, a manager at the Anacapa Cafe,said, "[Mayer] is literally a dream, rainbows and magic all the time. I could not work under a better person. She's the life of Dune, she comes up with the ideas and everyone makes it happen."
Mayer is a local from Carpinteria. Ortiz said, "[Mayer] loves the people and the community. She really cares about the people she works for. I think that's why it works so well. And that's why we care about the people we serve. She pours into us so we can pour into the community." A big part of that community is current and graduated Westmont students.
Ortiz, the coffee, and the rest of the workers are the reasons that Westmont students keep coming back. Lindsay Park, a Westmont '19 alumna, said, "Dune physically is visually pleasing for its customers, from the branding, to the take out mugs, to the general style of the workers. It all makes the customers want to buy into the experience of Dune Coffee."
But why do Westmont students buy into it? Fourth-year Leah Bloom said, "Coffee culture at Westmont is interesting, it's definitely a progression. Freshman year everyone has a chemex and will go watch the sunrise and take a instagram video. As they get older and used to the city they become less coffee snobs and figure out what they actually like."
Ortiz said, "Westmont students definitely keep the lights on." She thinks a couple reasons explaining why, specifically for the Anacapa site, are the good vibes, the friendly environment, lots of available seats, and a convenient parking lot especially for downtown Santa Barbara. Bloom said, "It's a good place to go because it's close to a lot of things [being by State Street]. It's easy to navigate the rest of the city from it." The Anacapa Dune Coffee is the closest and most-established cafe coming out of Montecito.
Bloom said, "Westmont is centered around an intentional community. A lot of friendships are developed over coffee dates."
Jordan Douthit, a third-year, said, "I go to coffee shops to get out of my room, and to get off-campus. It's a way to talk to our Santa Barbara community and get out of Montecito. I truly feel like I'm part of the community, it makes me feel like a real person."
Dune Coffee takes special care in not only acknowledging the community but also the process of making coffee. They send an employee to each coffee producer, "in order to create a friendship that is as authentic as possible," said Ortiz. Although this tends to lead to higher prices, Westmont students and other customers are willing to pay for it.
Park said, "[Dune is] sustainable and conscious from where they get their beans. It is more expensive, downtown Santa Barbara and all, but it is a nice experience and you're getting high quality products."
"I like supporting the local businesses," said Douthit. And that is what Dune Coffee is. Ortiz said, "We are locally loyal. 'The Duniverse' is going to keep growing and expanding." Changing their name from French Press to Dune Coffee is fresh new chapter for this coffee shop, one in which Westmont students will undoubtedly continue to play a role.