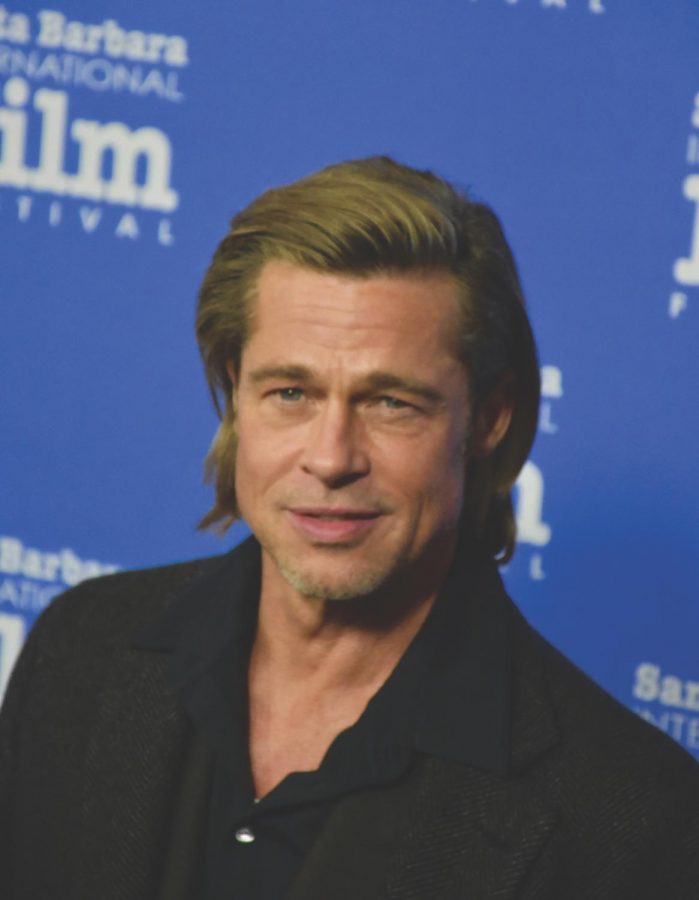 Wesley Stenzel
There stood Brad Pitt, in front of a crowd of hundreds packed into Arlington Theatre, holding the Maltin Modern Master Award, a massive achievement in his storied career. But despite all that, there was only one thing on his mind. 
"I no longer remember the first rule of Fight Club," he deadpanned.
One can't blame him. During his awards ceremony at the Santa Barbara Film Festival, Pitt and esteemed film critic Leonard Maltin dove deep into Pitt's filmography, reflecting on everything from "Thelma and Louise" to "Troy" and "Ocean's Eleven." It was a busy night with a lot to cover.
Pitt received the Maltin Modern Master Award for his role as laid back stuntman Cliff Booth in Quentin Tarantino's "Once Upon a Time in Hollywood." Pitt described Tarantino's vision for Booth's character as incredibly clear, saying, "As soon as I read the script, I knew exactly how the character would sound. That's not common for a script." 
Pitt feels similarly about his character in "Inglourious Basterds," Lieutenant Aldo Raine, the rambunctious leader of a Nazi-killing squad.
"Quentin's writing is so specific that I could hear the character," says Pitt. "I could hear it, from the first reading … I don't normally have that experience."
Other times, a character having a specific voice has gotten Pitt into trouble. When developing "Snatch" with director Guy Ritchie, Pitt was excited by the snappy dialogue, but terrified by the accompanying accent for his character Mickey O'Neil.
"It was the dialect," says Pitt. "If you haven't seen it … the dialect is unintelligible, contrary to [actors] being trained to be clear and understood." Pitt panicked all the way up until the night before shooting, but Ritchie was committed to the idea of an incoherent Irishman. Ritchie added dialogue that poked fun at Pitt's character, having the other leads, like Jason Statham, constantly complain about their inability to understand the speed-talking O'Neil.
That wouldn't be the last time a movie poked fun at Pitt. The actor recalled receiving his script for "Burn After Reading" by the Coen Brothers, and how shocked he was at his role as fitness freak Chad Feldheimer.
"They sent me the script, and my first thought was, 'God, he's dumb!'" Pitt shakes his head. "You're really excited to get a script from the Coen Brothers, and then you go, 'Is this what they think of me?' But it made me laugh, this guy who can only see the world from his own backyard."
Growing up in Southern Missouri, Pitt felt as if he was always trying to escape a backyard of sorts, saying that the only films he could watch were "whatever made it to our neck of the woods." Later on, one week away from graduating from the University of Missouri, Pitt decided it was time to ditch those woods for bustling Los Angeles.
"I'd always lamented that there wasn't an avenue for film in Southern Missouri," says Pitt, "and it just occurred to me that I could go to it, and I literally loaded up the car. I didn't graduate … but in my head, I was done. I was going west."
Pitt worked as an extra for two years, getting small parts on industrial films. Now, after over 25 years in film, Pitt is a movie icon. But, speaking to a "theme of hubris" he has noticed in the characters he's played, Pitt prefers to stay humble.
"When did you feel that you crossed the threshold, where you could say that you were a professional, working actor?" asks Leonard Maltin.
Pitt glances at the crowd, then gives his trademark easygoing smile. "A couple weeks ago."