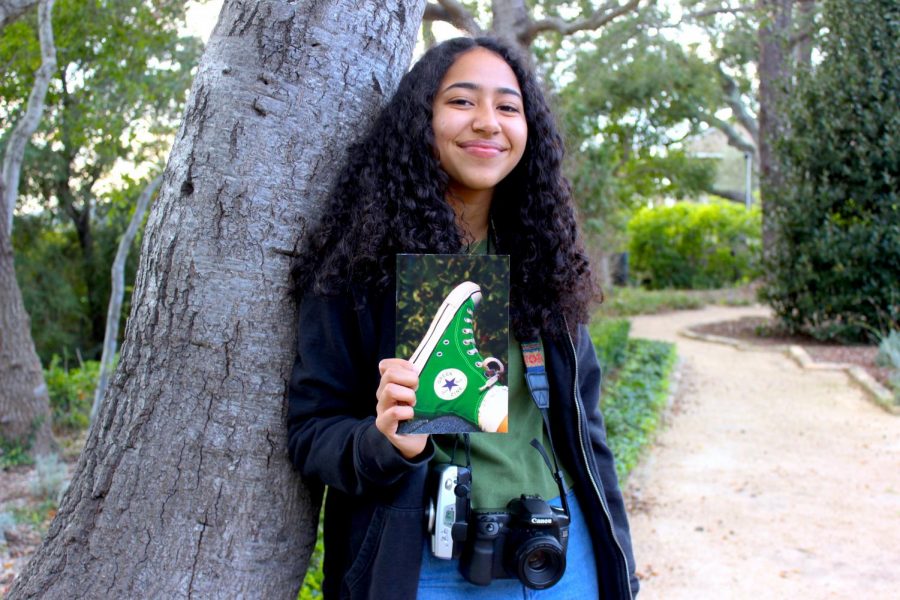 Jenn Ikeda
Photographer and second-year student Jenica Morin is the artistic mind behind the new project "Green Zine," a small, independent magazine created for the sharing of creative photography. In her magazine, Morin showcases her own photos, shot from both film and digital cameras.
Morin realized she wanted to create a "tangible project" of her own, and sculpted her concept of "Green Zine" this summer after being inspired by the photographers she followed in the "photography/zine culture" in Los Angeles over the past year.
While creating the magazine, ideas bloomed from her love of the color green. "I'm kind of obsessed with the color green, and that color is often the first thing I notice in any space I'm in," she says. "Now, my hope is that when looking at this photo book, you think about what this color means to you, but while I was creating this zine, I was thinking about how the color green reminds us of the commonality between all humans: life, growth, and the earth."
Through this "commonality between all humans," her goal is this: "to capture all three of those aspects through my pictures, and also show how this color symbolizes peace and
transcends the figurative 'colors' that our world is controlled by." Another of her hopes is "to create a sense of nostalgia and emotion through [her] photography," as she aims "to tell a story through a still image." She desires to leave room for interpretation, all the while causing viewers of her work to recall distant personal memories.
Morin's inspiration comes from everything around her, from music to fashion, and all-inclusive of "subcultures, movements, movies, art, people, stories, nature, cityscapes and architectural lines, [and] bright saturated colors" — just to name a few. "All of that," she says, "translates into how I see the world and how I try to capture it."
Her interest in photography was sparked "back in the iPod touch days" when she received her first camera from her stepfather at the age of 16. "Since then, I fell in love with the medium and I currently use a film point and shoot camera and a digital camera as my main tools," she expresses. "I love shooting film because it requires me to be way more intentional with each shot, and it's also fun because you never really know what you're going to get." She enjoys digital photography equally to film, especially due to its speed and clarity, but appreciates both media and continues to explore new methods and techniques.
"This book made me want to listen to 'Green Eyes' by Erykah Badu," reads one of the many positive reviews Morin has received for her project. Another says, "The Road not Taken' by Robert Frost is going through my head while I look at this photo." Reactions such as this are what inspire Morin further, cultivating a deeper love for the art she creates. She concludes with this sentiment: "Photography has helped me express things and emotions that are hard for me to express through words."