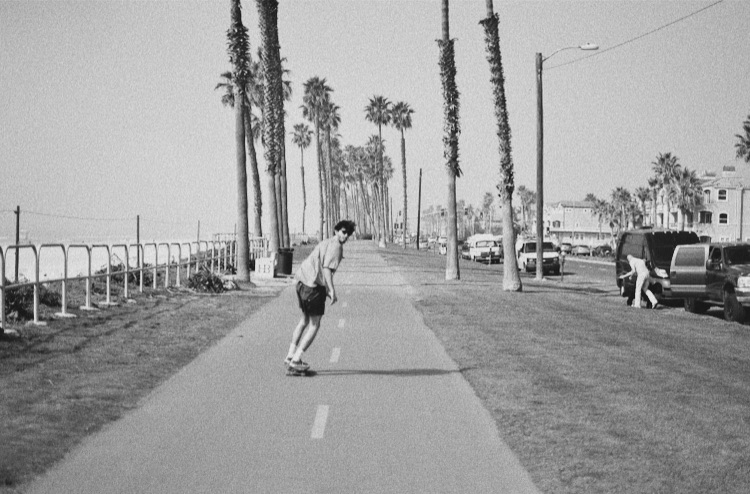 It all started out as a re- laxing, hands-on project for Westmont junior Fischer Mar- cus this past summer. "Tur- tle Boards," the name of his skateboard company, arose from Marcus' desire to cre- ate a board for those with a "messing-around mentality." Fitting within the "cruiser"board style, this board outfitsthe casual, laid-back rider who is simply looking to have fun. Thus came the motto for Turtle Boards: "All fun, no skill."
Marcus says that he wants to "create a product anyone can enjoy'' whether it is some-one's first skateboard, or forthe experienced rider to roll around town on. The designconsists of a u-shaped fishtailcurve, a wider-than-average rounded nose, painted with Marcus' signature orange stripe. As cruisers go, it is a little wider and a little shorterfor a different appeal that setsTurtle Boards apart from the
rest.
The unique craft Marcus
envisioned and designed isn't the only thing that puts Turtle Boards in its own cate- gory. When acquiring one of his boards, he gives you the option of either a complete board, (new deck, wheels and trucks), or unscrewing the hardware of a board (wheels and trucks) of your own to bring Marcus' creation to life.
Completes cost $140 as he buys all new parts, but much cheaper is his crafted deck with wheels and trucks pro- vided by the customer. Mar- cus says a good amount of tweaking is involved, but a super distinctive board is the end result, especially for col- lege students who don't want to shell out nearly $150. In fact, he encourages people to bringhim their old boards, in effortsof collaborating with his cus- tomers.
Renee Chan, a senior at Westmont, purchased a board from Fischer, who attached her old Penny board trucks
and wheels onto his crafted deck. Chan says, "I admire people who have the motiva- tion to act upon a creative idea they have." She continues, "Iam definitely not a profession- al skater, but I am absolute- ly having a good time every time."
Marcus' home garage, complete with hardware es- sentials, allows him creative agency in his board-making process. He says that the deckis "completely flat for some- thing to sit down on" and very easily a board to do whatever you want with. The unortho- dox design makes it feel "less skate and more surf."
Though Turtle Boardsdoesn't necessarily fit into themold of mainstream skate- boards, Marcus' acquired tools and possessed knowledge make his brand stand out in its own niche aesthetic. The brand's creative professional- ism is actively displayed on social media.
Going forward, Turtle Boards by Fischer Marcus
hopes to collaborate with lo- cal entrepreneurs to create an 'artist series' in which they display their work on Marcus' decks. Each board, he adds,will be unique with a differentdesign for each individual. As art and skate merge into one, the idea of putting yourself out there to just have fun and be original reverberates down the coast of Southern Califor- nia.
Through Fischer's dedi- cated professionalism to his brand, his initial low expecta- tions have yielded high results in an edgy-yet-fun aesthetic. The brand's Instagram han-dle, @turtle.board, exemplifies this through goofy, sun-filleddocumentaries featuring hisclassic fishtail cruiser deck.Turtle Boards' natural image, paired with a vibe of not tak- ing yourself too seriously, has steadily maintained relaxation with spontaneous energy, and stimulates young skaters and artisans to create anew.