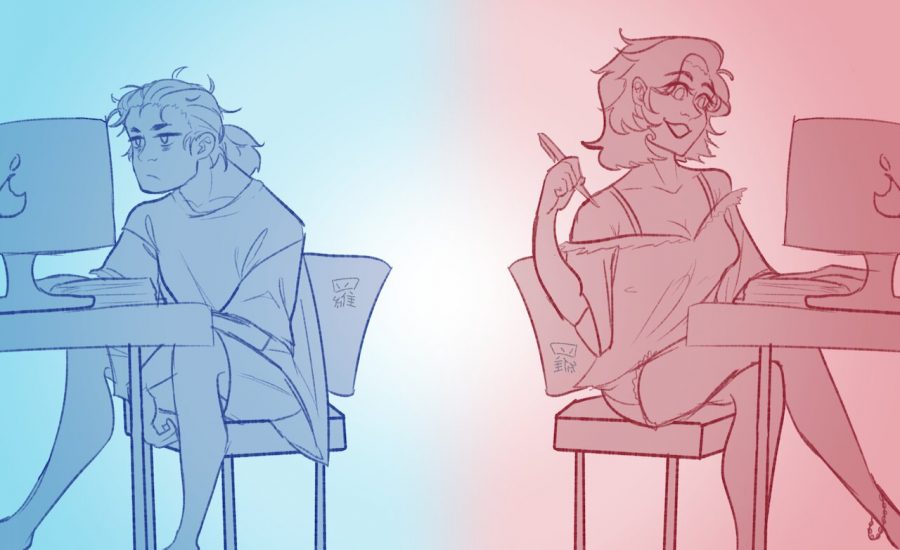 Tasha Loh
In preparation for the new season and school year, Westmont student designers have been working hard to bring new styles and trends to your computer screens. This year, Westmont's Fashion Week will be online, and we interviewed some of this season's top designers to showcase the fashion fads of learning from home. 
Senior designer Awnline Larnang told us about her muse for this fall line:
"I drew inspiration from one of the 20th century's most revolutionary trends: the mullet. While the mullet may not be as popular nowadays, I'm seeking to revive the concept. For my fall collection, I attempted to combine the comfort of home with professionalism — to contrast looking put-together with a lazy, bored reality."
Larnang continued, stating, "I focused on splitting the style in half. Just like the mullet, where the vertical divider separates front and back, the divisor here is horizontal, separating the top and bottom. The top is where the business is, with button-ups and blazers; the bottom is all comfort, incorporating biker shorts and sweatpants. Add some spice to this look with a pair of old Christmas plaid pajama bottoms from high school."
Zuum Klahs, sophomore hair and makeup stylist, told us about how he chose to interpret the mullet theme and incorporate it in his style.
"Though our models are not getting mullet cuts, I chose to curl and style only the front-facing strands of hair. When our models are viewed from the front, they look put together and ready to face the day."
Klahs carried on, explaining that "from the back, however, their hair is a bird's nest due to a lack of effort into anything other than what will be seen on a webcam. In addition, the makeup look reflects mask street-wear, where makeup is only applied above the mask-line."
The Westmont community eagerly awaits the start of Westmont's 2020 Fashion Week. Many students told our reporters that they are preparing their favorite spot to watch the show as well as their favorite snacks.
"There's just nothing like an online fashion show! I haven't sat on this particular chair in a few weeks and am excited for a change of scenery!" said incoming Westmont first-year Brea Cowtrume.
The creative director of this year's show, Karona Vieruss, issued a statement about the new and exciting format in which the show will be viewed:
"Fortunately, all events for this year's Fashion Week will be expanded to be exclusively online so that the audience can get the full immersive experience of online fashion. The purpose of this year's style is to depict the full view behind the screen of how the most chic Westmont students will be dressed this fall. This perspective is best viewed through the lens of a camera, much like a Zoom class screen."
"Another reason for this switch is the fact that online fashion seen in person is often shocking and disturbing. There have been reports of heart attacks, strokes, and even seizures at the sight of online fashion. So, both for aesthetic and safety reasons, Westmont's 2020 Fashion Week will be solely online."