George Van Den Broek, known by his stage name "Yellow Days," released his sophomore album "A Day in a Yellow Beat" on Sept. 18, diving into the soul genre.
In his first EP, "Harmless Melodies," Yellow Days demonstrates his ability to wield catchy bass lines similar to those of Thundercat, a pop music icon and bass prodigy, while maintaining the reverberated guitar of artists like HOMESHAKE and Mild High Club. Yellow Days' music displays a laid-back inquisitiveness, an inspiring solution and mix of warmth and understanding.
Speaking on the musical features of the album is like breaking down funk and soul tracks from the 70s and 80s by Average White Band or Bootsy's Rubber Band. In general, the cuts are led by strong drums, and less so by an articulated bass line or minimalist guitar. Van Den Broek's vocals are almost always backed by a falsetto harmony, adding a group harmony effect like The Temptations or The Isley Brothers.
"Let You Know" features mid-range boosted guitar solos, as if the part was recorded using equipment from the 30s. In "Who's There?", slappy guitar and electric keys cement the song into the soul genre, accented by brief hints of 2000s alternative vocal melodies. "Come Groove" is an instrumental cut, swinging from a traditional smooth funk one might have found within a smokey Chicago barroom, to experimental jazz like Miles Davis constructed on his albums "Tutu" and "You Are Under Arrest."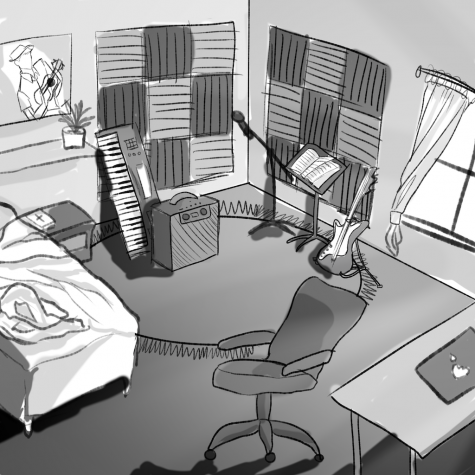 The short plot section between "(Pot Party)" and "The Curse," chronicles an experience with drugs, alcohol and the aftermath. After "(Pot Party)," which features a monologue describing a group of teens smoking, the track "Keeps Me Satisfied" follows with an ode to a woman — or substance — who gives him "butterflies" and "satisfaction." "(What Goes Up Must Come Down)" features a monologue ending with the lines "when John came down/due to the alcohol and the late hours at the party/the following day he was too tired and too sick/now facing another day/he finds the same problems/the same responsibilities." "The Curse" concludes the narrative, where Van Den Broek laments an exhausted and disillusioned mood, or come-down, after the escapades of his previous three songs. 
"You" has a moody organ paired with a consistent kick drum hitting every beat, preparing listeners for a possible house-funk song. Unfortunately, the anticipation is poorly founded, as the track evolves into yet another funk-soul tune, flawlessly matching the rest of the album. In the same way "You" elicits intrigue in its intro and goes on to develop in a uniform and stale fashion, Yellow Days' discography, which was once saturated with a pleasant mix of genres and moods, has unfortunately matured as an uninteresting dive into an obsolete and out-of-style genre.
To many listeners, "A Day in a Yellow Beat" could be a disappointment after the anticipation built on the singles "Harmless Melodies" and "Is Everything Okay In Your World?". The album's intentions to be a purist soul album are well executed, but when compared to Van Den Broek's dynamic and diverse previous work, the album is stale.