Many have seen, many have heard, and many are wondering about the latest addition to the Horizon newspaper: the Arts & Entertainment Community Playlist. To satisfy the curiosity, I interviewed the main curator of the playlist, sophomore and A&E editor Luke Spicer.
The community playlist was an idea birthed by Wesley Stenzel, the former A&E editor, and Spicer during the beginning stages of quarantine. While sharing new music with one another, they reflected on the profoundly positive effect of this simple act.
The time of quarantine, Spicer reflected, "produced the silver lining of affording new opportunities for people to listen to and appreciate music." This silver lining became "the genesis of the idea of providing people with a monthly playlist full of songs chosen by a diverse group of writers."
Spicer outlined that "the playlists are available for Apple Music and Spotify listeners. But hey, you never know, we might make a MySpace version in the future (that was sarcasm)." The contributors of the playlist are A&E writers, each of whom submit one to three songs they want featured on the monthly playlist.
"So far it's been full of more contemporary stuff, but that's not to say it isn't diverse," Spicer commented, "My own musical contributions feature some older stuff, but we have artists from Taylor Swift to Frank Ocean to Radiohead, so I hope the playlist provides a little bit for everyone."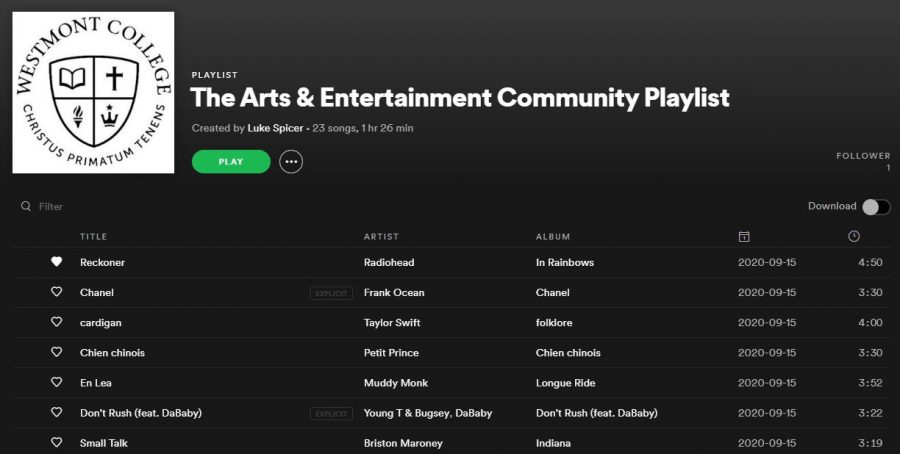 In the future, the Arts & Entertainment section would love to get the broader community involved through polling and reviewing of the playlist, eventually including community contributions as well. Really, The Horizon hopes to "provide a platform for people to introduce and be introduced to songs and artists that help broaden their musical horizons."
So keep a look-out next week, Westmont community, for the second edition of the monthly playlist.