Along with the United States Presidential and Vice Presidential debates, the Westmont debate team participated in its warm-up tournament this past weekend. Hans Khoe, the president of Westmont's debate team and third-year political science major and chemistry minor, was willing to share some of his thoughts on what debate means for the club, for Westmont and the country as a whole.
"[Westmont Debate] operates more as a team. So I'd call us the Westmont Debate Team," Khoe comments lightheartedly. He outlined the members of this year's debate team, including Emily Washburn as vice president, Ebun Kalejaiye as secretary, and other debaters like Michael Kong, who serves as the Westmont College Student Association (WCSA) Diversity & Inclusion Senator, Paige Johnson, Sharvin Nannan Panday and Jonathan Tejeda.
Most of the team participated in a warm-up league tournament with the Pacific Southwest Collegiate Forensics Association, where Westmont competes against other four-year institutions and community colleges.
Khoe's passion for debate originated in his sophomore year of high school. "I've launched something that I've grown to love every year," he said. "[My experience] is definitely a sticking point … I realized that Westmont used to have a debate team when I was looking for different colleges, and I [thought], 'It would be really cool to make a club and try to share more of this debate understanding with more people.'"
Khoe defines debate understanding as being about "understanding different perspectives. And when a perspective is different than yours, trying to find the details of the other side. So not just understanding, 'Oh, you're wrong,' [it's instead] 'oh, you're wrong; why though?'"
Khoe explained that this is the first time most of the team has participated in a parliamentary debate: "I am getting them into a more relaxed version of debate. It's called IPDA, or the International Public Debate Association … it's more focused on the rhetoric, rather than the format … [similar to] what a usual conversation would be like if you're trying to stress out the details."  
As club president, Khoe currently acts both as one of the judges and as the team's coach, something Westmont hasn't had before. He went on to mention that he's the only one in the club with parliamentary debate experience, though Emily Washburn and Ebun Kalejaiye have experience with Lincoln-Douglas debate and mock trial, respectively.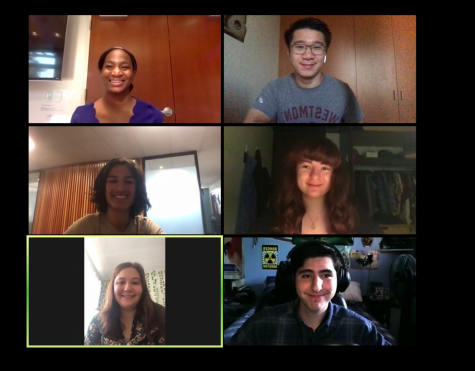 For Khoe, being part of the debate team goes hand in hand with his major. "I'm definitely Pre-Law because I believe that law school is going to be an 'expert debate camp' … having these conversations do matter, but I'd like to do something in a more tangible way." He expressed his interest in eventually going into health law, "mak[ing] sure we have a good healthcare system that can properly fund people's needs and make sure that people are taken care of."
However, people who are interested in joining the debate team don't need to be in a certain major. "Anyone can learn how to debate, and it's important in any field because you need to know how to speak, you need to know how to represent your positions, and you need to know how to defend yourself," he explained.
Khoe says of the last Presidential Debate,  "The rhetoric and the argumentation that we see in today's presidential debates is not reflective of what an actual debate should be. The reason why debate is so important on this campus and in the broader community is so that we can understand — and find out for ourselves — [which] facts are facts and what points are actually worth arguing. Without an understanding of what debate is, it just becomes squabbling, misinformed, and it doesn't lead to any tangible results."
In his own words,  "[The Presidential Debate] was not a debate. Plain and simple. It was bad."
"I really encourage people to enter the conversation of politics with an open mind. We live in a very polarized time [that feels like] two different camps that we can't stray from at all. [Every party] is worthy of consideration, and that's what debate brings to the table. It allows you to flush out the ideas and try to understand what another person is thinking, so we can collectively move forward with intentions that match — at least some of what — we're all desiring." Khoe concludes.
Khoe also pointed out WCSA as a source for good conversation. "Look out for WCSA's 'Conversations that Matter.' Those events will give insight into all sides and give some more context, especially for the [first-years], to start grasping what's been happening and make up their own minds."
The debate team currently meets Wednesdays online from 7-8:30 p.m. PST. The members will recap last week's meeting or tournament, practice, and discuss the intricacies of various topics.
The Westmont debate team and WCSA will also be hosting a Presidential Forum later in the fall 2020 semester. If you are interested in joining the Westmont debate team, you can email Hans Khoe at hkhoe@westmont.edu or go to the team's Instagram, @westmontdebate.