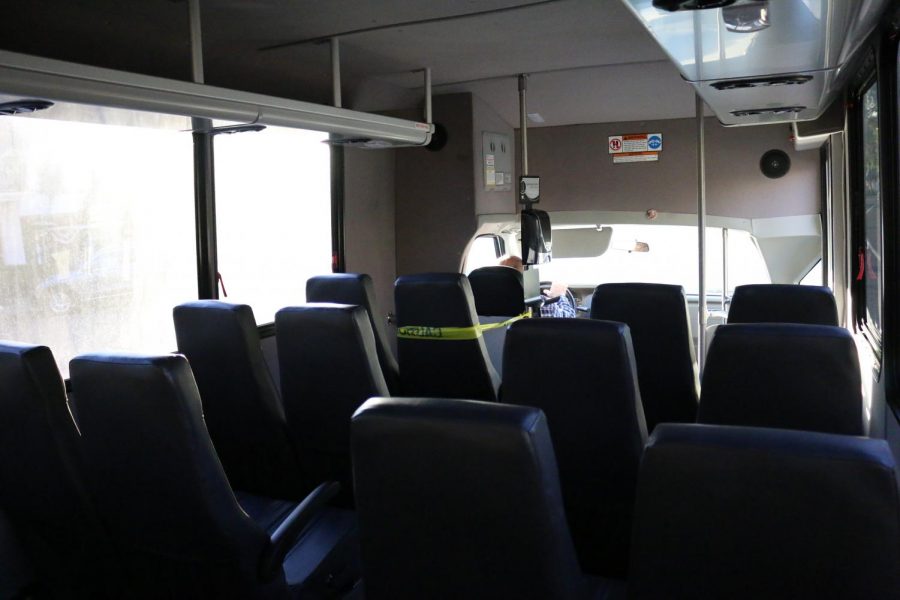 Sam Mokracek
Coming into the 2020-21 school year,  many things were different at Westmont, but changes to the shuttle service especially impacted the lives of underclassmen, who have limited transportation options. While the shuttle vans previously stopped at numerous locations, due to COVID-19 restrictions, the stops were cut down to four: the Montecito Vons, East Beach, Sprouts and Trader Joe's.
While reflecting on this drastic change, Karen Sloan, manager of the transportation and operations office at Westmont, said she was glad the service hadn't changed before students left for spring break last semester. 
"During a normal school year we would run shuttles every day. Mondays-Fridays we had two full-time drivers who provided service from 10 a.m. to11 p.m. Shuttles hold up to 25 people, not the limited number we have now," Sloan said. "Before the campus closed, we were on spring break, so there wasn't any difference from years past. The odd thing was when we just stopped everything because the students didn't return. That's when our services were affected."
As a first-year student, Jordan Cuskey said she expected more stops along the shuttle route, but was pleasantly surprised to discover Westmont's 955 service, which allows students to book a ride in advance. 
"The shuttle itself is a little bit iffy. My favorite part, though, is the shuttle drivers because they're always so nice," Cuskey said. "Another nice thing … was taking the 955 service. I like to go to the farmer's market downtown on Saturdays, and usually I have to Uber if I want to get there early. When we took the 955, we just booked a ride with Westmont and got there at the same time, for free."
In reflecting on her expectations of the shuttle coming into Westmont, Mikayla Kennedy said she had higher hopes for the shuttle stops due to what older students had told her about it. 
"I definitely wish the shuttle went to more places. I like where it goes now, but if we ever want to go further, like to State Street, we have to find a way to get there ourselves," Kennedy stated. "Before I got here, everybody told me, 'You won't even notice you don't have a car.' That's definitely been something I notice, though, and something I hope changes in the future."
Though she agreed that restrictions have made this year more difficult, Sloan also acknowledged the increase in creativity that resulted from dealing with the coronavirus.
 "Over the remaining weeks in 2020, we'll spend time working through what makes sense for next semester. Maybe we'll discover new ways, and means, of doing our work," Sloan said. "I've been working hard at getting us further into the 21st century, there are still a lot of 'this is how we do things' that are decades old that I'm nudging along." 
Through the challenges, Sloan said the troubles she faced only further reminded her of how lucky she was to work with those in her department. 
"COVID has actually helped move some of those things along more quickly, we've been better about being innovative because of [it]," Sloan said. "I am grateful to work alongside some of the most dedicated people on campus, everyone has worked incredibly long and hard this COVID season."