I was in middle school when I read "Fever 1973," a novel that charts the yellow fever epidemic in Philadelphia through the eyes of a fourteen-year-old girl. The details of the epidemic haunt every page, and the more we read in class, the more the girl's humanity shone through. Even at the age of fourteen, the narrator revealed the desire for a return to what once was. While her version of "what once was," or normalcy, remains forever altered, the narrative led my class to wonder: "Will it come to an end? Will they ever find a sense of normalcy again?" Once I left class for the day, however, we closed the book and returned to our own reality, one which was not marked by pandemic or plague.
Fast-forward to our present time and I, along with countless others, have spent the last six months asking these very same questions. Although, this time, we cannot close the book and walk away. There have been numerous moments since the start of this pandemic in which I felt like that fourteen-year-old in the book, clinging to questions and "what ifs" as though they will help me gain stability. I realized that these questions I continue to ask about the pandemic, as well as my obsession with a "return to normalcy" are what is actually paralyzing, not the pandemic itself. I began, instead, to replace all my "what ifs" and prior expectations for this season of my life with a larger and more constructive question: "How will I remember this time of pandemic, moving forward?" Upon initial thought, we might characterize a time of pandemic by the rampant searches for toilet paper, leaving the house with a mask on, or raw hands from overwhelming hand sanitizer use. For others, a time of pandemic may be characterized by moving their work lives into their home, moving home from college, or navigating Zoom. Might we change the way our community gravitates toward remembering a time of pandemic? A way that inspires us to remember the ways in which creativity, kindness and hope came together to complement one another in the most beautiful ways possible?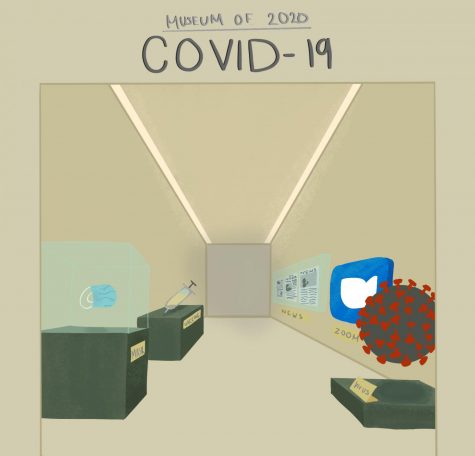 I have been writing since the age of six and nobody in my family could quite tear me away from the companionship of my journal. Growing up, when I wasn't writing in my free time, I was tackling the next essay assignment for class. For me, this pandemic was marked by a rekindling of my love for writing, even when a majority of my writing had underlying tones of instability and worry. I used writing as a way of remembering the pandemic, charting the emotions of those I loved, processing the pain of growing, and memorializing transition after transition. I know I am not the only one who has relied upon old hobbies to work through the confusion of this time.
For some of us, creating artwork helps us work through these times of uncertainty, exposing the difficulties. For others, this time is marked by learning new lessons, a new language or new technology programs. There are an abundance of ways in which we have been resilient. It is inspiring. Shakespeare wrote an entire collection of 154 sonnets during a time of plague; Taylor Swift wrote and recorded an entire album during this pandemic — creativity abounds and human beings are resilient despite the circumstances.
Of course, we all want a little normalcy. We also want the restoration of health for all. We surely cannot diminish the hardships and harsh impacts of the pandemic, but we can reshape the ways in which we choose to remember it. The ways in which I will remember this time stretches well beyond the limitations of this article. Some of them include remembering my conversations with my great-grandmother every other night, more time than we had talked my entire life as she experiences the loneliness of her isolation. I will remember this as a time of revisiting my childhood bedroom and confronting the divisions between the adolescent I once was and the adult I have become. I will remember the new relationships with those I may have never met and finding a new community in Santa Barbara. I will remember 2020 as a time when God loosened my grip on my plans and taught me to wholly trust. I will remember this as a time of saying goodbye to the first car I owned and moving into a house with people I didn't know very well. I will remember 2020 as a time in which businesses and nonprofits were resilient and worked together. I will remember this as a time of birthday car parades and giving space for my imagination to work its magic. 
We have had to be creative to be resilient. We have had to be innovative to have hope. We have had to rely on each other to feel loved. We have had to use our hands, minds and hearts to create solutions. It is astonishing how a time of pandemic makes us more flexible, more patient and more aware of our emotions. In addition to our questions of "will this end" and numerous "what ifs," we should be asking ourselves what we want to remember from a time of pandemic. Perhaps we remember it as a time when we were forced to slow down and give attention to the passions that are deeply intertwined with our humanity.