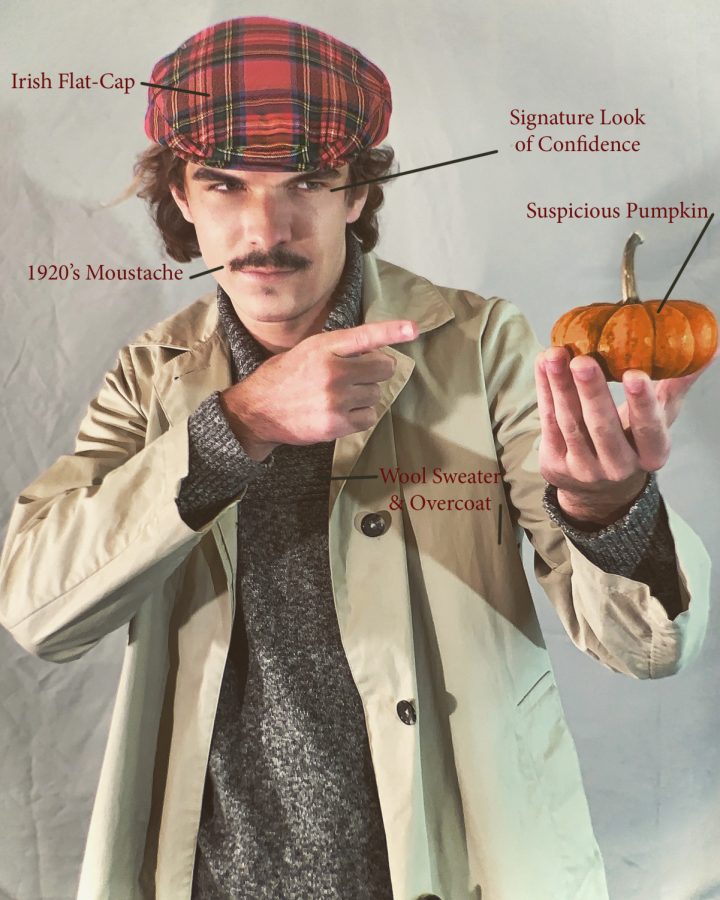 Landon Moir
Now, I know what you might be thinking: where are Karley and Kat, my two beloved fashion fanatics that provide essential aesthetic advice every single week? Who is this "Luke Spicer" guy? What does he know about fashion?
Well, my dear readers, fear not. Karley and Kat will be back to their usual programming next week, but for this specific edition of fashion fiasco, I thought I would take the reins.
Karley and Kat have both done a superb job giving golden fashion advice about how to dress in confidence and with competence. Though many of their general ideas have been intended for the entire Westmont community, in this issue, I will offer specific advice for my fellow Westmont men. However, if you find relevant advice, regardless of abstract gender norms, please feel free to take what you wish from my words.
Fellas, first of all, let's address the elephant in the room: most of us, myself included at times, kinda suck at dressing well. I'm not talking about formal wear, which, as any of the men of the Westmont choir can show, we do well enough when needed.
Forget formal, my men. What I'm referring to when I say "dress well" is looking presentable enough that another person won't do a double-take as they see you wearing the same sweatpants, cotton t-shirt and athletic sweatshirt five days in a row — and just because you can't smell the B.O. doesn't mean we don't smell it. If this is you, don't despair! Thankfully, it is relatively easy and simple to shift your style to include far more variation that is pleasing to the eyes.
As Santa Barbara finally enters the winter months, we men have even more of an opportunity to change up our stale styles of old.
Let's go from head to toe: it's up to you whether you want to let your luscious locks of hair fall free or cover up your bed-head with a cap or beanie; feel free to explore different styles for your money-maker. Also, I'm not sure if you fellas are aware, but there are other types of hats than just baseball caps: I, personally, have added several Irish flat-caps to my wardrobe and I'm never looking back.
As we make our way down to the torso, we can really create a lot of awesome variation with minimal effort. The secret? Layering, which is essential in any state that has actual seasons, not necessarily including California. Let's start with a basic t-shirt with one solid color. Then, add a layer of either a flannel button-up or warm jacket. You're already adding some depth to your appearance, giving off more of a personality than that dude who always wears black sweatpants with a white nike sweatshirt. Finally, if you are feeling confident and/or cold, add a tertiary overcoat or a sweater, which I know your grandmother has sent to you at one point or another. Now, this might be a controversial choice for some, but I am fully supportive of restoring overcoats to their rightful status as a legitimate fashion option rather than the garb traditionally associated with the Central Park flasher.
Further down, we arrive at the ever-essential legwear. Fortunately, denim jeans and khaki pants will work with any color in your wardrobe, and if you're feeling even more daring, consider donning a pair of unusually colored corduroy pants.
Finally, we conclude our fashion journey at possibly the most important piece of clothing, according to my father: footwear. Now, I understand and fully appreciate the ease of sandals and crocs. No one enjoys the feeling of suffocating their feet in the claustrophobic covering of socks; however, it's been said that the first thing a stranger looks at when they make your acquaintance is your shoes, and I don't really think our hairy feet do much to impress. Thus, making sure our shoes fit our chosen style is of the utmost importance. I personally use a mix of casual sneakers — custom-painted converse by current Westmont student and fashion designer Emily Mosher — and slightly more formal leather bound shoes. Bonus points if you can find some fun socks that color-coordinate with the rest of your outfit.
If you consider and implement even a few of these tips, a little change in your fashion choices will go a long way in bolstering your own self-confidence and impressing your colleagues.
It's been a pleasure to add my voice to Kat and Karley's column this week and I, like many of you, look forward to their next edition.