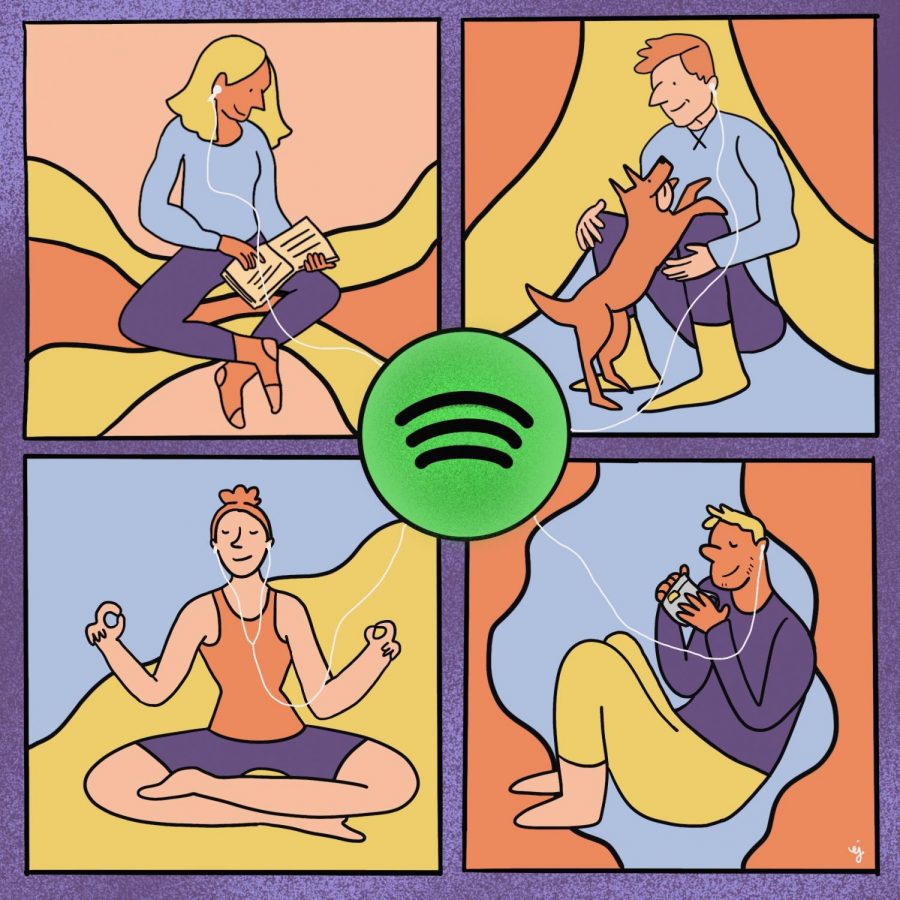 I slipped my computer into my bag, packed up my books, and tucked my headphones into my ears. As I started the uphill trek from the library to Page Hall, I sifted through playlists. Almost uncomfortably loud, my music blasted in my ears. Letting a song pour from my headphones is my favorite way to unwind.
I am not sure how many people may have greeted me on my walk back to Page, but knowing the community at Westmont, it was probably quite a few. Especially walking through my hall, I was bound to mishear or completely miss a few "good mornings" from my hallmates.
This led me to wonder: when did music become so individualized? When did enjoying music come at the cost of forging and maintaining community?
Music is now, more than ever, such an individual experience. In fact, headphones have only existed for about one hundred years. Prior to the dawn of the technological age, music was a public activity. Music was not individual for anyone; everyone within earshot would be able to participate in listening to or creating music. No one was able to hide their music taste. In fact, researchers have found that music increases our contact, coordination and cooperation with others in our current culture. Music gives us community. It drives us to each other, and in huge numbers. 
For example, during Coachella Valley Music and Arts Festival, commonly referred to as Coachella, it is estimated that 99,000 people attend each day. In what other events do we see such large numbers of people come together? Where else do we witness 99,000 people singing the same words, dancing the same moves, and coming in such close contact with one another?
Music brings us together in a powerful way. Listening to music, especially with others, releases a chemical called oxytocin, also called the "cuddle hormone" or the "love hormone." It's the same hormone released during sexual contact, breastfeeding and cuddling with others. It is the hormone of intimacy and love. It is also the hormone of music.
Unfortunately, with the invention of headphones, music has not only become an individual experience, but it has also become an experience that can hurt a community. Music is increasingly used to escape difficult situations and relationships, avoid those around us, and draw into ourselves. It is so easy to become creatures without ears to the outside world; all you have to do is put in your headphones and play your music loud enough to drown everything else out.
In our modern experience, we miss the beauty of music that breaks boundaries. Not only is listening to music one of the strongest community-building activities known to humanity, it also transcends space. We can listen to music together even now, during this pandemic. Our masks can stay on, six feet can be maintained, and we can all experience the same song at the same time. We can use speakers, instruments or Spotify's group listen function. In a time when we can't cuddle, we can listen to music — a close second.
I challenge you to leave the headphones in your backpack for a day. Listen to music on a speaker, or play live music with others. Stop listening in solitude. Stop killing the sense of community that we long for so dearly, especially during times like these. Learn to embrace others through the power of music.
Soon, we will be back to physical embraces. Until then, I hope that you truly take advantage of the community you can find in music. Even after masks come off and shaking hands is reinstated as a socially acceptable greeting, I hope you remember how powerful a shared musical experience can be. Leave the headphones at home and embrace the music the way it always should have been: in a state of togetherness.