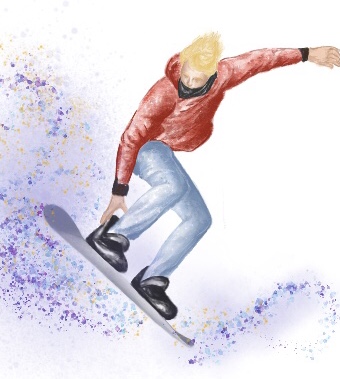 Jordan Lewicki
Last week, students on Westmont's campus might have noticed a certain strange phenomenon. If you recall making your way outside to find yourself walking through mounds of a mysterious white material, or being pelted with cold, hard pellets, do not be alarmed! With all the promptness the Capstone could muster, our team discovered what this incursion was and will impart this information to our readership as soon as possible — before hysteria hits. 
We understand that many of you may have immediately reacted with anxiety or fear when seeing our campus overrun with the alien substance falling from the sky. We advise you not to be afraid, as the truth is not as scary as it may seem. The hard white pellets that fell from the heavens last Saturday are, in fact, not alien in nature. This was not the work of any kind of extra-terrestrial being — as far as we are aware. 
For those worried about pesticides or diseases or some other kind of airborne plague, do not fear, for the events seem to be from some kind of natural cause that we intend to explain to you shortly. It also seemed largely harmless, aside from some minor hypothermia and the disappearance of a few students who went missing after falling into the river that suddenly appeared on the hills of upper campus. 
The students who found the events of last Saturday completely foreign might have been confused as to why some students were attempting to snowboard on Kerrwood Lawn. In fact, many students at Westmont were not surprised at seeing the white-covered ground, and instead found home in it. Those were the brave souls who fetched their snowboards and glided down the sloping lawn, unafraid and unaffected by the strange substance. 
But, to all the students who hail from the warmer parts of the U.S., especially Southern California, the Capstone brings this urgent report that it was, in fact, hail, or frozen rainfall to those unfamiliar, that fell from the sky and blessed our campus with a snow* day!
*Even though it was not snow, as anyone from the northern regions will insist unprompted to anyone who utters that word.