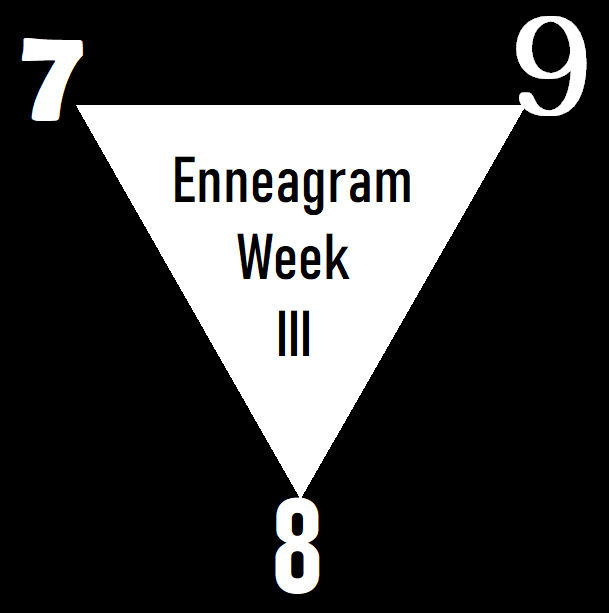 Luke Spicer
For all those who have patiently awaited for their own Enneagram-based recommendations, the long wait is finally over.
Welcome to the third, and final, installment of this three-part series on art recommendations according to your Enneagram type. Today, we will round out our list with the remaining three types: seven, eight and nine.
Let's get started!
Type 7: The Enthusiast 
If you consider yourself "extroverted, optimistic, versatile and spontaneous," then you are most likely a type seven, according to the Enneagram Institute. With your latent abilities to be "playful, high-spirited and practical," anyone would be fortunate to be your friend.
In the name of the free-spiritedness in which you live, here are some music and film recommendations for your seven-ness:
1. "Are You Gonna Be My Girl" by Jet — An upbeat, energetic and altogether excellent track that blends the thrashing of electric guitars with accessible pop melodies to form a song that any seven can relate and rock out to. The seven-connection continues as the lyrics spit out the story of an individual determined to win the heart of his beloved, pushing past obvious obstacles with enthusiastic abandon.
2. "Midnight City" by M83 — With overwhelmingly optimistic lyrics and pop melodies, this unforgettable track continues to inspire dreams of late nights spent dancing and laughing that are unfortunate by-gones in this pandemic-infused era. For now, any seven can listen and be excited by the hopefully not-too-distant future, where enjoying the company of others through music will return in full force.
3. "Dirty Harry" by Gorillaz — Drum machines and earworm synth hooks drive this irresistibly groovy tune into a rap-break that cements this song as one of Gorillaz's finest. Any seven can't help but enjoy the spontaneity of the track, with several radically different sections all merging together to create a true standout tune.
4. Rocketman — The story of Elton John's meteoric rise to fame and the subsequent effects of that fame on his person, this movie merges upbeat surrealist montages with more grounded sequences to forge a film that any seven can appreciate.
5. Bruce Almighty — Jim Carrey's wildly rambunctious performance in this story of a man granted the powers of God is filled to the brim with spontaneity and wild energy, which any seven can identify  with.
6. Anchorman: The Legend of Ron Burgundy — As one of the best comedic films of the last quarter-century, sevens will especially appreciate Will Ferrell's absurd and hilarious portrayal of San Diego news anchor Ron Burgundy due to his unpredictability and playful nature.
Type 8: The Challenger
Described by the Enneagram Institute as "self-confident, strong and assertive" alongside a healthy dose of being "protective, resourceful, straight-talking and decisive," type eights are the real go-getters of the world.
As an eight, you may feel inspired to make sure that you are the sole author of your own destiny, confident in who you are and always working to make yourself into who you want to be.
Enjoy a selection of tunes and movies especially in-tune with an eight essence:
1. "Everybody Wants to Rule the World" by Tears for Fears — This 80s classic correctly observes and identifies the self-determination and struggle any eight has to assert their own independence and individuality.
2. "Go Your Own Way" by Fleetwood Mac — Another tune dedicated to asserting one's individuality and fashioning their own happiness despite the struggles of toxic relationships. Eights will once again resonate with both the lyrics and the intention, inspiring confidence in any listener.
3. "Sleep Forever" by Portugal. The Man — Part-reflection on one's past failures and part-mantra establishing one's destiny, this alternative anthem utilizes soaring vocals and triumphant guitar solos to assert a desire for individuality any eight can get behind.
4. Logan — As Hugh Jackman's final outing as Wolverine, this X-Men film relays the tale of an eight choosing to fight back against overwhelming odds for his own independence, ensuring the freedom and protection of a young fellow mutant.
5. Little Women — Greta Gerwig's recent adaptation of this American classic features Jo March, portrayed by Saoirse Ronan, struggling against the overwhelming oppressions of 19th-century gender norms as she seeks to publish her own novel. Eights will relate to Jo's fierce independence and desire to establish herself in her own right, regardless of oppressive ideals.
6. The Breakfast Club — John Hughes' 1985 classic about five high school misfits stuck in detention who all bond together, despite their differences. The teens resolve to separate themselves from the already assigned identities forced upon them by d authority figures and vicious cliques, which any eight can relate to.
Type 9: The Peacemaker
As nines are "accepting, trusting and stable," according to the Enneagram Institute, I think we could all use more of their "creative, optimistic and supportive" nature in our world.
Nines are primarily motivated by the desire to create harmony within themselves and with the people around them in an easy-going manner.
I hope these following recommendations give any nine some extra enjoyment out of their peacemaking day:
1. "Rivers and Roads" by The Head and the Heart — A heartfelt and honest look back on the joys of youth and remorse over inevitable changes, nines can relate to the desire for social harmony within this track.
2. "Sunflower" by Vampire Weekend — With earworm bass and guitar fills and slick vocals, this tune features the expression of inner peace and joy that a nine experiences in the state of social and personal harmony.
3. "The Gown of Green" by The Collection — This tune features an unorthodox collection of folk instruments merged with synths coexisting in harmony to form a heartful ode to preserving the natural beauty of the earth, which any nine can relate to.
4. Scott Pilgrim vs. the World — Director Edgar Wright's cult classic features the tale of the undeniable type nine Scott Pilgrim as he struggles to move past his fears and shortcomings in a romantic pursuit. Only, Scott has to literally do battle with an army of his beloved exes. Though fun for any audience, nines can especially relate to Scott's insecurities and desires.
5. WALL-E — Pixar's animated feature wherein WALL-E, a humble trash collector droid, travels across the stars where he eventually manages to save the human race from sloth and restore the earth to a place of harmony all while in pursuit of his love for EVE, which any nine can appreciate. Not bad for a little robot.
6. The Lego Movie — Another animated movie, this pseudo-stop motion story of the naive, but good-natured Emmet goes on a reality-shattering quest to save the world and packs an unexpected, but poignant emotional punch. Nines can relate to Emmet's desire for a better world and the movie's overall message of celebrating each other's differences as unique gifts.
This concludes the three-part Enneagram endeavor I have undertaken these last several weeks. I hope you have enjoyed reading and relating as much as I have had writing.