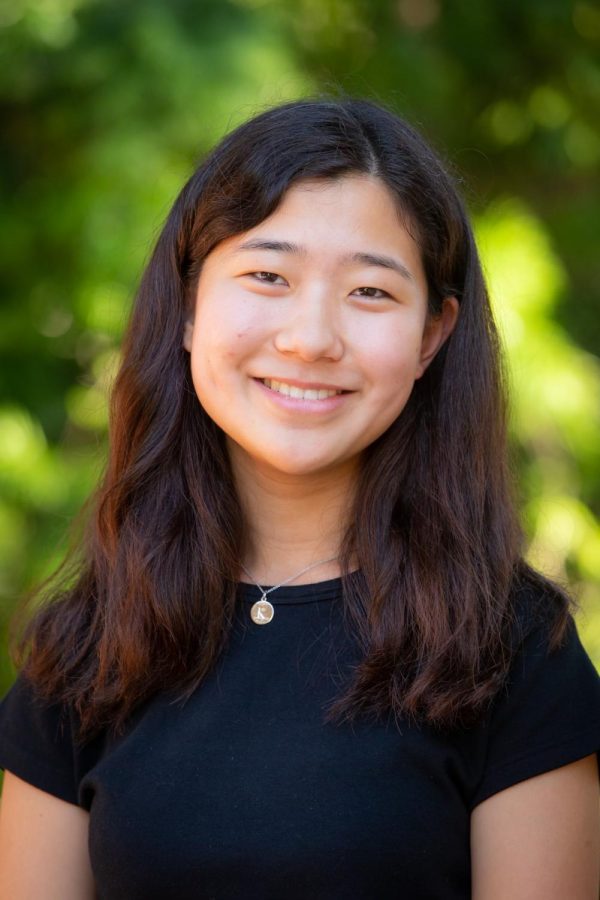 Courtesy of Karis Cho
"In the morning, Karis Cho goes to school and eats Lunchables and plays handball. In the afternoon, Cho Ha-Eun comes home and eats doenjang jjigae and watches 'Queen Seondeok.' By slipping on and off her shoes, the switch between two people could be performed by one person."
In her honest, masterfully told English major honors project, senior Karis Cho covers K-pop, Hannah Montana and what it means to be bicultural. Through exploring her own identity as a Korean-American woman, she asks, "What does it mean to tell stories that we don't have archives for? What does it mean to tell stories that are too painful to tell?"
Cho has spent her senior year answering these questions and more in a forty-page nonfiction work partially inspired by the graphics of Art Spiegelman's "Maus" and the supernaturalism of Toni Morrison's "Beloved." Replete with photographs, a screenplay excerpt, and a Spotify playlist among other art and prose, Cho's multimedial work reimagines lineage, intergenerational trauma and recovery. "Post-modern and fragmented," the project is an "insight into the way that my brain works," Cho says. "[I] try to convey how disoriented I feel at times by disorienting the reader."
Cho references Marianne Hirsch's concept of "postmemory," which describes how the greatest trauma in one's life might be the emotional, psychological or spiritual inheritances of the trauma of one's parents or ancestors. She also draws from Saidiya Hartman, who characterizes the loss of one's language, country and identity as "losing your mother."
Cho's project follows a similar process as Hartman's by "looking at big socio-historical processes and using [her] own formation as a window onto them."
The child of members of the "one-point-five generation," or those who immigrated to the United States as children, Cho has come to compare her biculturalism to that of Hannah Montana.
"At home, [I was] living in a different culture," Cho recalls her time at a public elementary school. While Hannah took off her wig upon arriving home, signaling the ushering-in of her alternate identity, Karis took off her shoes.
"My biculturalism — what used to be compartmentalized — has become blended," Cho reflects. Upon arriving at Westmont, she remembers how wearing shoes into friends' rooms for the first time "was the collision" of both her worlds.
Cho spent much of her freshman and sophomore years retraining herself to refrain from thinking, saying and doing things she associated with "Koreanness," as "it was easier to exist that way."
However, working with psychology professor Dr. Carmel Saad has allowed Cho to reevaluate her identity, asking: how harmonious or conflicted is my biculturalism? How compartmentalized or blended is it?
While her biculturalism blended more in college, Cho reflects that it also became more conflictual, drawing her deeper into the "liminal identity [of] living in-between."
"I never feel more Korean than I do in the US, but I never feel more American than I do when I'm in Korea," she says. "Neither place is one hundred percent home."
"What does it mean to be 'foreign'?" Cho asks repeatedly throughout the project. The feeling of perpetual foreignness and otherness often experienced by Asian Americans reflects an American history of Asian fetishization and anti-Asian racism and xenophobia, attitudes that the pandemic has only exacerbated.
Upon submitting her project proposal one year ago, at the pandemic's onset, Cho reflects she "really didn't imagine just how relevant it would be."
"The history of Asian America is very much a forgotten one," Cho asserts, yet her work at its core is one of courage, vulnerability and visibility.
To learn more about the history and stories of Asian America and the resources available to Asian Americans, Cho recommends: @asiansformentalhealth, Cathy Park Hong's "Minor Feelings: An Asian American Reckoning," Erika Lee's "The Making of Asian America," Caroline Suh's "Blackpink: Light Up the Sky," Lee Isaac Chung's "Minari," and The Alumni Alliance for Racial Justice.
Stay tuned for more information on Cho's upcoming presentation of her major honors project.