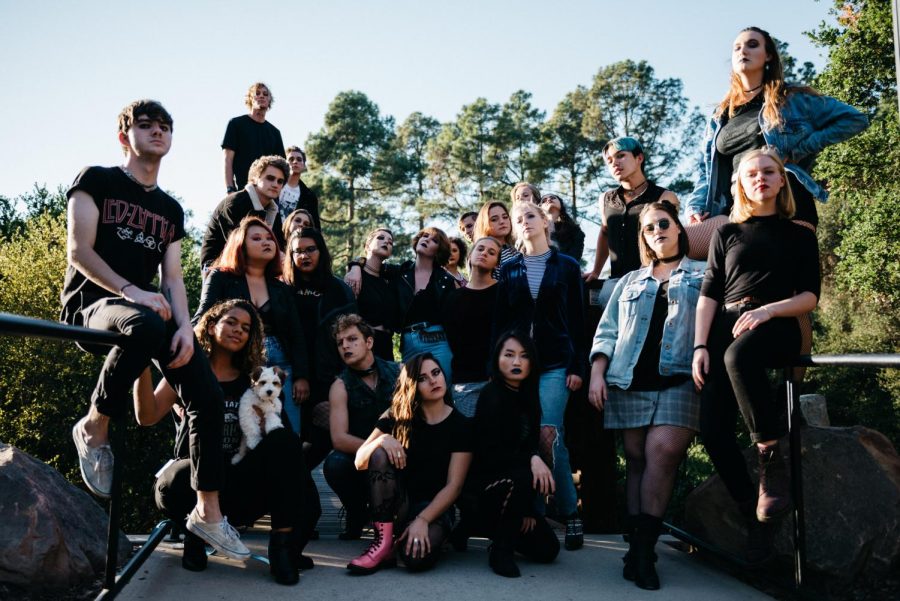 Jason Watts
On Wednesday, Nov. 16, a number of students donned temporary tattoos, a rainbow of dyed hair, and an unusual amount of fishnet tights. This was no accident. These students were participating in the annual student tradition of Punk Day.
Punk Day was started in 2015 by Grace Teranishi and Clara Botzong, class of 2018. The Horizon spoke with this year's Punk Day coordinator, a senior art student who has chosen to remain anonymous for the sake of solidarity with her fellow punks.
She explains how the two founders started Punk Day at Westmont with the intention of inviting people to blow off steam, by "doing something slightly wild and loud, in order to have a little fun," in what is sometimes a stressful environment.
Initially, Teranishi and Botzong got just twelve of their friends to participate in this idea of theirs. But every year since the tradition has continued, and "by 2017 there was over 50 people participating in Punk Day," according to the anonymous source.
With each year, a particular student rises to the position of organizer and chooses an arbitrary date for the event and from there, it is spread by word of mouth. However, this year's coordinator highlighted the fact that is not an exclusive event, but rather it is "a space for anyone to express themselves freely, which allows them to do something they normally might not be comfortable with doing alone."
This year's coordinator spoke about ideal Punk Day looks, saying: "Everyone takes it a different direction: sometimes they will do hardcore 80's punk, steam punk, mid 2000's grunge punk, or pastel punk," to name just a few.
The day is meant to give people the freedom to run with their own creativity and inspiration, whether that includes giving your friends sharpie tattoos or wearing a cat sleeve, undercutting or bleaching your hair the night before, or getting creative with safety pin earrings and a shoelace choker. Believe it or not, these were all featured during this year's Punk Day.
However, this year's organizer was sure to draw attention to the fact that "there is a clear distinction between goth and punk." She credits this opinion to Westmont's art history professor, Lisa DeBoer, who was alive when punk was a trend.
The anonymous source highlights DeBoer's estimation that "the punk movement started as more of a rebellion against society in order to reclaim being yourself," rather than supporting the typical dark and emotional sentiments unique to the goth movement.
Therefore, the anonymous source explained how involvement in Punk Day "is not going against our values as Christians," but rather that joy in the Lord and taking part in expressing yourself can work alongside one another.
After discussing the history and particulars of Punk Day, the source followed up with an encouragement to create other traditions like this at Westmont. She suggested doing "a pajama day or maybe a 1920s day," creating a space for people to have fun and step into a different look for just a day.