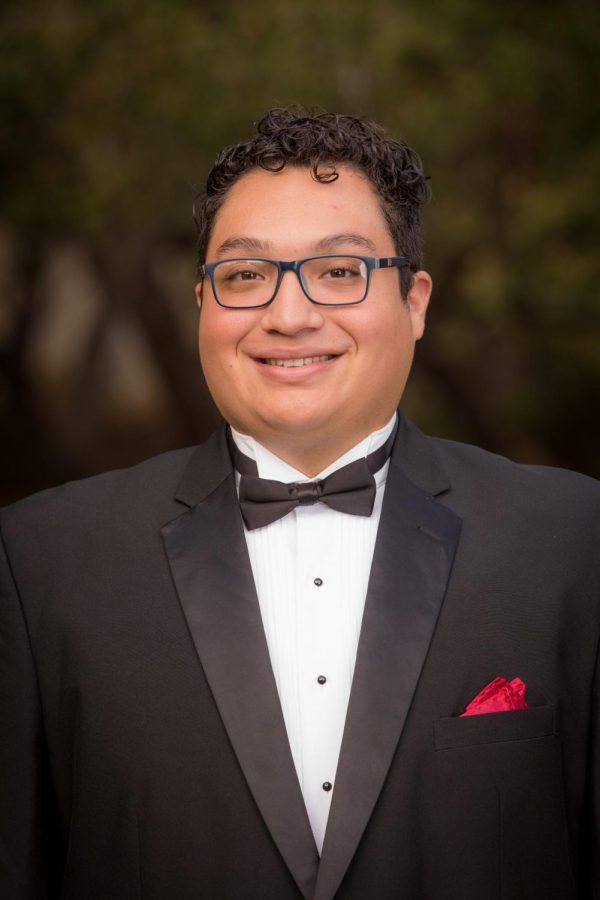 Brad Elliott, Westmont College
Driven by his core value, family, second-year vocal performance major Nathan Carlin has wholeheartedly embraced the Westmont community. As the first in his extended family to go to college, Carlin's gratitude and hope shine through his reflections on his experiences before and during his time at Westmont.
Over the course of several moves between large cities where he felt that he never really knew anyone, Carlin found the support he needed in his family. He noted, "Growing up, I've always had my family."
When he moved with his parents and four younger siblings to his grandparents' garage in Los Angeles, Carlin reflected, "there was a lot of us in a very small place, but at the end of the day, we all supported each other … even though we felt like we had nobody, we were there for each other."
Brought up in such a supportive family, Carlin prioritized finding a college that would provide him with a similarly supportive community. He noted that "size and culture" were the two most influential factors in his decision to come to Westmont, as he "wanted to connect with people" during his college experience. 
He explained, "Going to a place where family wasn't going to be around, I was really hoping for something where I would feel comfortable … [Having] someone really being there consistently was my biggest thing."
Carlin found the connections he was looking for in the "very active community" in Page Hall. Recalling his first year in the dorms, he appreciated "living so close to each other" and being surrounded by the "phenomenal people" in his section. He added, "I still talk to [those friends] to this day. Even though I get to know new people every day, I have those people I can rely on consistently."
While COVID-19 restrictions did pose some challenges to the ways Carlin and his friends could hang out, he concluded that "we were still able to make it work."
In addition to connections within his residence hall, Carlin found community in Westmont's music department. Reflecting on the students as well as the staff, Carlin added, "The music community is actually very connected. We all do different things and we all play different instruments [or] sing different parts, but … we still come together at the end of the day to play something that's beautiful and — to me — magical."
While he noted that "all the … professors and directors have been great in every way, and supportive," Carlin highlighted his composition professor Dr. Steve Butler and voice instructor Bryan Lee as particularly important figures in his life. He explained, "They've both treated me very well, and … guided me on the path that I feel like I can make a strong impact in."
For Carlin, the opportunity to pursue such a path in college has been meaningful not just for him, but for his whole family. With grandparents who risked a lot to come to America from Mexico with big dreams and parents who set aside their own higher education in order to raise their family, Carlin noted that "being the first to go to college in our family was … a really happy moment for all of us."
As the first to make it to college, Carlin acknowledged feeling some pressure and a lot of "not knowing what I was doing" without anyone in his family to explain things to him. As an example of the challenges, Carlin pointed to "college applications in general, signing up for financial aid, filling out other applications for scholarships."
As the third eldest among his 13 cousins and siblings, Carlin hopes "to set [an] example for my younger siblings, and also my younger cousins." He spoke of his relationship with his brother, a junior in high school, and how he's had the opportunity already to "help him and guide him through it all without him having to feel … worried that he's doing something wrong."
Beyond offering practical help to younger family members, Carlin is excited to set "the example of doing something that makes you happy and also successful in whatever field it is that you're in."
Cognizant that the opportunities he's been given are significant to both himself and his family, Carlin brims with goodwill and gratitude toward Westmont as he pushes on towards his goal to finish college and pursue a master's in music. "I'm not the only one graduating," he explained. "That's how it feels … I'm doing it for my grandfather, my grandmother, my mom, my dad … my family."