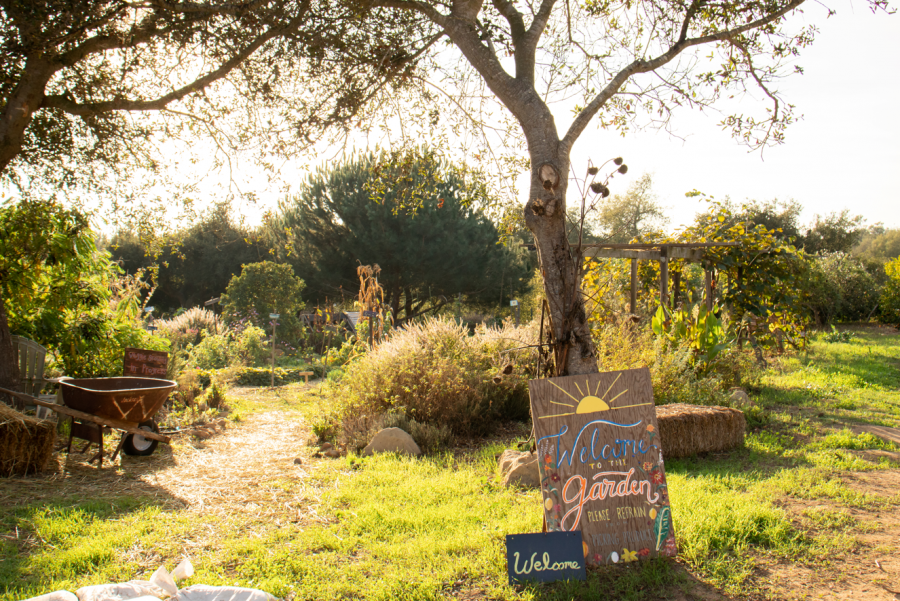 Siena Keck, The Horizon
Hidden on the edge of lower campus, below the track, is a place full of diverse life. While its location and organization has shifted over the years, the garden continues to be an important part of the Westmont community. 
According to Dr. Amanda Sparkman '03, associate professor and chair of the biology department at Westmont, the garden used to be behind the Lynn Abbott Tennis Courts. In her time as a student at Westmont, Sparkman and other "enthusiastic student participants. . .[built] raised beds and [made] it a little bit more of an established space [guided by] a couple faculty and staff who knew what they were doing."
In 2011, biology major Anthony Waldrop '11 convinced Sodexo, Westmont's dining services, to hire him as a full-time sustainability and marketing coordinator. This role involved organizing the garden and arranging produce for both the Dining Commons (DC) and Bread of Life, a student-led program that works with the Santa Barbara community to share meals with the unhoused.
Sparkman described Waldrop as "a person of great vision and energy" and explained his position as "half-time garden manager and half-time marketing for [Sodexo]." Sparkman added, "Having that staff person with that on-the-ground insight was really wonderful — and he had been in the garden club beforehand, so he was very closely integrated."
While maintaining the tennis court garden, Waldrop also worked with students to create the garden that now exists below the track. Waldrop was followed by several other official coordinators, the last of which was alumnus Kenny Chism '17. In spring of 2020, however, the position lost funding.
This loss of funding, coupled with the restrictions of COVID-19, left the garden in a precarious position. Sparkman recalled, "It was clear the garden had gone into … decline. [T]here were just weeds everywhere … It was a fire hazard, and the fire department was concerned."
Members of the Westmont community — aware of the situation — realized the need for an intentional effort to save the garden. Sparkman explained their thought process: "'Well, either we do something to save this place or we lose it,' and we wanted to save it."
Sparkman said, "The garden had become a place not just for students in the garden club, but classes had gone there — from sociology classes to ecology classes doing experiments, talking about food systems." She added, "It was a space that had ministered … to a number of people."
She also noted that "there's just so many gifts that the garden has to offer." Among these gifts, she named five varieties of guava trees, mandarin and avocado trees and, until spring 2020, chickens. Sparkman recalled, "There were chickens there at the time, [and] community members were dropping by to see them all the time."
Not wanting to lose all the garden had to offer, Sparkman explained, "A number of faculty and staff, and a few students that were around … came, and we just weeded and weeded and weeded."
Spearheading these efforts was Global Education Program Associate Barbara Pointer, who became interim garden manager in the absence of a position like the one Waldrop helped create.
Among the students that stepped in to help were Brooklyn Nash and Luke Morse, the garden club's current president and vice president, respectively.
Morse described the communal effort to keep the garden going: "A bunch of community members stepped up during the summer of 2020 to save the garden … to reclean up the garden and cultivate it." 
Somewhere in this process, Sparkman explained, the volunteers "realized that the only way we could really sustain that space would be to make it into a community garden where people adopt rows."
This distribution of rows is the current model for the Westmont garden. As Sparkman described it, "Right now, the rows belong to faculty members and staff members. The food systems class has a row, and the garden club has a row."
One faculty member with several rows, Dr. Andrew Mullen, an education professor at Westmont, spoke to the way the garden has blessed him. Describing himself as "one of the more solitude-loving gardeners involved," Mullen said, "I love walking down from my office and monitoring on a daily basis how things have grown — or not … I especially enjoy watching birds eating seeds or picking insects — or hummingbirds gather[ing] nectar — from things I have planted." 
Mullen also mentioned appreciating "the community aspect" of the garden: "I especially like to see … parents getting their children involved — hoping that the children are being imprinted on the garden and will want to recreate similar scenes in the garden a generation hence." 
Members of the garden club have also enjoyed the community fostered by the garden. As Marcus Nguyen, a second-year and new member of the club, explained, "The garden serves as a place for community in that many people work to keep the garden in a lovely, prosperous state." Nguyen identified gardening as a way to "spend quality time with friends and new people."
Observing the contrast between what the garden club has accomplished this year as opposed to last year with COVID-19, Morse said the club has "returned to a lot of what I remember it to be — a lot of actual work, growing food, digging stuff, planting stuff." 
Reflecting on the shifting nature of student and club interaction with the garden, Sparkman noted, "There was a garden club before I came and there were garden clubs after … Students come and go. They can't sustain a long-term space like this and they don't have the time, either."
Thus, while grateful for the way the current garden club has "beautified the garden with their sign-making," Sparkman emphasized, "What we really want is another garden manager who envisions even broader potential for that space again … somebody with dedicated expertise and vision to come back in and engage classes, engage students, engage the community, get food back into the DC." 
Memories of what the garden once was and visions of what it could be live on in the minds of community members like Sparkman. For now, she said, "We're grateful that we're still there, and I think we're still touching many people on campus."