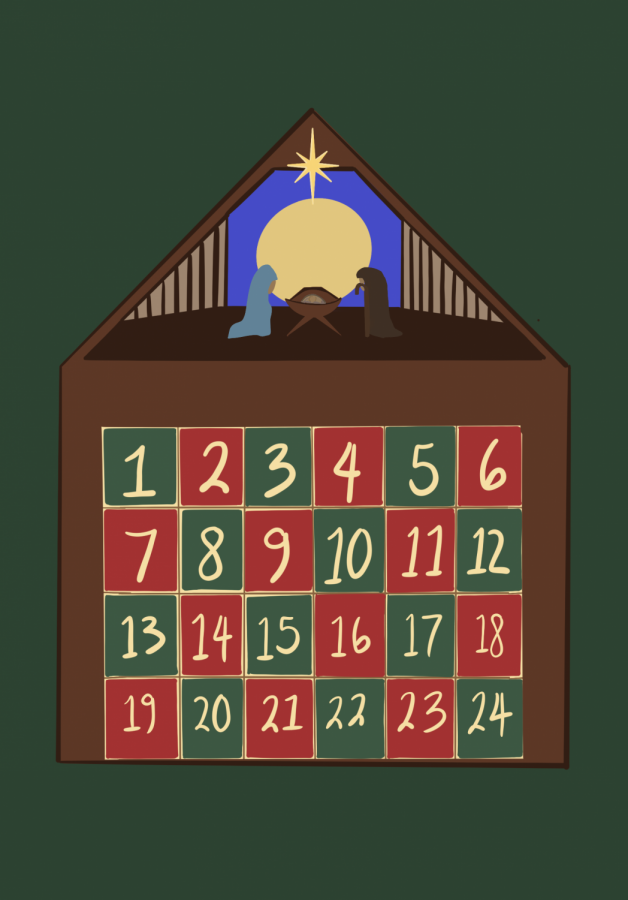 Selah Tennberg, The Horizon
During the weeks leading up to Christmas, Westmont's campus pastor's office teamed up with the Martin Institute to provide a special Advent edition of Pastor Scott Lisea's podcast "Chunky Theological Salsa."
Lisea released an introductory episode on Nov. 26, and the official daily episodes began the next day. Featuring different voices from the Westmont faculty, staff and students, the podcast has released episodes by Pastor Scott Lisea, Eben Drost, Dr. Sandy Richter from the religious studies department, Dr. Michael Shasberger from the music department, student leaders like Jo Martin and Jake Mager, and others.
A bonus episode from Nov. 25 can also be found, containing the podcast song: "a salsa arrangement of Bach's Prelude #1 in C Major by Eben [Drost]."
In both the introductory episode and his email announcement to the Westmont community, Pastor Lisea emphasized intentionality as one of the key purposes of the podcast. His email invited the community "into an intentional season together."  Likewise, in the episode, he welcomed listeners "to this intentional season of looking forward, to waiting, to expecting and to longing for the Messiah to come."
Lisea highly recommended listening to the podcast, saying, "The consumer tide is strong and swift, and if we are not intentional, these next several weeks can have very little to do with the King of Kings."
Mariah Velasquez, associate director of the Martin Institute and contributor to the podcast, said the idea of collaborating with the pastor's office on this project began over the summer. She noted that this is the first podcast the Martin Institute has undertaken.
"We've done other kinds of meditations in the past," she explained, "but I thought doing a podcast could be something that people could engage with whenever. The hope is that we'll create other series like it in the future if people find that it's helpful." While Velasquez has heard that some alumni are listening in, she invites current students to give as much feedback as possible.
Velasquez hopes the podcast provides a daily opportunity for people to pause during a busy time. Noting that it can be easy to jump straight to celebrating Christmas with parties and other festivities, she wanted the podcast to reflect the "rhythm of the liturgical calendar" with its emphasis on the waiting leading up to Christmas.
Lisea similarly tied the podcast back to liturgical tradition, saying, "The church celebrates this season each year looking both backward and forward … We pause to commemorate … the incarnation, … and we long for the day when he will come again once and for all and put all things right."
Erin Hardin, a third-year student who has consistently listened to the podcast since it was released, listens to the episodes as she gets ready for the day.
"That's been a really nice way to start the day," she said. "It's a moment to center myself, maybe reflect on something instead of [only thinking], 'What do I need to get done today?'"
Hardin noted that not all students are familiar with Advent, or any liturgical traditions for that matter. In her case, she explained, "I grew up 'overchurched' with Advent, where it was a very long, drawn-out period, and themes were more vague and not really Christ-centered … it was more of decorations and seasonal formalities than anything."
She said the Advent podcast is more Christ-centered. "I like how they take Scripture from different parts of the Bible, like the Psalms," she explained.
Hardin also expressed appreciation for the podcast format, saying, "It allows me to still go on with my life and the things I need to do." She noted that "it probably would be effective as a video series as well," but added, "With a video, you have to make time to look at the images and pause fully … I know some people process better when they're moving around and doing something."
Katie Knapp, a second-year student and Spiritual Formation Coordinator (SFC), wrote and recorded the reflection for one of the episodes. Knapp also likes "the idea of having little, five-minute episodes for every day," as they are "pretty doable for students who have loaded schedules."
At the same time, Knapp was not certain the podcast format was the best option, since "not all students have platforms where they can listen to podcasts." She considered that perhaps "a YouTube series would be more effective, and …  more engaging because you can see the person's face as they're giving their reflections."
Velasquez also commented that the creators wanted to include a visual element, which led to a daily Instagram post accompanying the day's Scripture reading from the podcast.
As a contributor to the podcast, Knapp said she first heard about the podcast at an SFC meeting, where she expressed willingness to make an episode. After receiving an instructional email from Lisea and Drost, she said, "I looked at my passage, at the prayers that I would be reading, and let them simmer awhile. Then I eventually sat down and wrote the reflection for it." She said she revised it after sharing it with her family.
Knapp explained it was harder than she expected, as she wanted to make the episode "really meaningful and impactful and capture all the stuff that's in the passage." Reflecting on the difficulty, she said, "I just tend to get kind of nervous about writing things like that because it's a reflection on God's Word, which historically has been used for really good and really bad things." She wanted to "make sure that what I'm saying about it is accurate and true and helpful to people."
She also expressed gratitude for the opportunity, however. "Doing it was a really good process because it made me really slow down right in the middle of the busyness of Thanksgiving and just spend some time with God and think about his Word and how to communicate that."
Hardin was also thankful for the people who have worked on the podcast, saying, "I know it's a lot of work to get something like this off the ground. I hope it turns out well for the ministry."