Staff Series: Melissa Katherman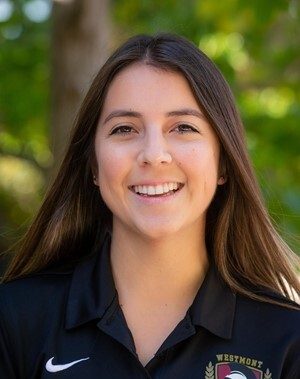 Head athletic trainer Melissa Katherman was raised in La Verne, California. It was there that she grew up with her parents and older sister. As a family, they enjoyed spending their weekends camping at the beach or riding dirt bikes in the desert. 
For the beginning years of her education, Katherman attended a Catholic school; however, when she finally transferred to public school in seventh grade, she got involved in YoungLife.
By the time she was in eighth grade, she was attending a new church where she decided to get baptized along with her sister and mother. Her faith journey helped her through difficult times; she stated, "My growing faith and relationship with God is what helped me get through my parents' divorce and continues to help me through adversity today."
Katherman was intrigued by a multitude of sports as a kid. She was involved in ballet, basketball, cheerleading, indoor soccer, tennis and volleyball in search of the sport that brought her passion.
The sport she most connected with was volleyball and she played on a club and varsity team throughout high school. When asked about the lasting impact the sport has left on her, Katherman explained, "Volleyball taught me a lot about communication and working together with others to reach a common goal of winning. It also taught me a lot about mental toughness when the momentum was not in our favor, and brought a lot of close friendships that I still hold today."
Although she initially had no idea what she wanted to study in college, taking an introduction to athletic training elective course during her senior year of high school sparked Katherman's interest and passion for athletic training. "I found that I was excited to go to class and wondered what we would learn that day, and that's when I knew I wanted to pursue athletic training as my career."
She began her academic journey at San Francisco State University, where she completed her general education courses before transferring to the University of La Verne (ULV) to complete her bachelor's degree.
After transferring, Katherman was able to rejoin her "hometown church, make lifelong friends from [her] program, and have a small community at ULV where everyone knew everyone and supported one another." She then went on to earn her master's of science in kinesiology from California State University, Northridge.
After finishing her master's program, Katherman began looking for jobs in the Santa Barbara area. While she originally thought there were no job openings at Westmont College, her friend pointed out the college sign off the 101 freeway and encouraged her to email her resume to the current head athletic trainer in hopes of future opportunities. She was hastily informed that there would be an open position within two weeks. She recalled, "After interviewing, I fell in love even more and luckily was offered the position!"
Here at Westmont, Katherman assists athletes with daily injuries and keys in on preventative measures that the athletes can focus on. She additionally leads a group of assistant athletic trainers, managing a well-rounded team that helps the athletes at Westmont in a tremendous way.
Katherman has been a crucial part of the Westmont athletic training team ever since. The Westmont athletes are grateful for her and the amazing work she does.