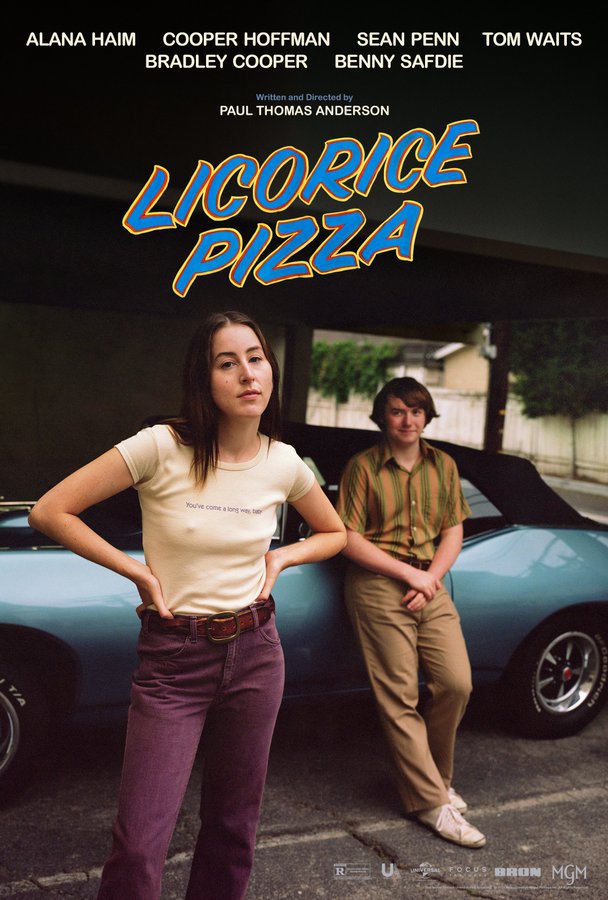 Courtesy of MGM
When I first saw the trailer for Paul Thomas Anderson's "Licorice Pizza," I remember thinking: "Wow, I have no clue what this movie is about." Two hours and 13 minutes later, I can conclude nearly the same thing. 
The film doesn't seem to be "about" anything. Instead, it's a Forrest-Gump-like tour through the San Fernando Valley in 1973. Todd Rundgren, rotary phones, pinball machines and bellbottoms float in and out of the viewer's focus. Richard Nixon appears on television. Waterbeds are all the rage. 
The plot does little more than trace the meanderings and mishaps of two eccentric, unexpected friends/lovers/business partners: Gary Valentine (Cooper Hoffman), a fifteen-year-old actor-turned-entrepreneur, and Alana Kane (Alana Haim), a stubborn twenty-five-year-old who resents teenagers and living with her parents. Bradley Cooper plays a shaggy-haired, volatile Jon Peters, boyfriend to Barbara Streisand. Sean Penn plays Jack Holden, a slick film director. 
Is there a reason why Gary and Alana meet, start a business or encounter Jon or Jack? Hardly. The plot seems to just happen, without any underlying themes or connective tissue. For some, this makes "Licorice Pizza" frustrating, even pretentious. 
These complaints are valid. When Jack attempts a dangerous motorcycle stunt, he escapes unscathed. When Gary and Alana sabotage Streisand's home, they somehow avoid an enraged Jon. When the moving truck runs out of gas, Alana reverses it downhill. The film bounces lightheartedly from scene to scene and the characters bounce along with it, miraculously free from the repercussions of their actions. 
So, if the film lacks a clear climax and rising and falling action, why make it?
Despite its episodic plot line, "Licorice Pizza" reminds us that the more important question in evaluating art is often not "what does this accomplish?" or "why was this made?" but "how was it made?" 
How did the film succeed on its own terms? How did it do justice to the director's unique vision, the actors' specific talents and the particularities of the place and time it inhabits?
With every "Do you dig it?" and flash of purple corduroy, every historical interruption — whether the oil embargo or decriminalization of pinball — "Licorice Pizza" lets viewers feel exactly what it's like to "grow up, run around and fall in love in California's San Fernando Valley in the 1970s," as put by film's press release.
The cinematography is lovely. Each scene is aesthetically perfect: Alana calls Gary from a corded phone of the same rich teal as the kitchen walls. Gary phones Alana from a living room of the same muted orange as the stripes on his shirt. Friends reunite in a bar, dramatically silhouetted against a haze of smoke. Sisters smoke on a back porch as afternoon light fades softly around them, adding to the aura of nostalgia created by the 35-millimeter film on which the movie was shot.
Plus, the film's soundtrack is studded with stars like David Bowie, Nina Simone, Paul McCartney and The Doors, to name a few. While its primary actors may be up-and-coming, Hoffman and Haim deliver memorably charming, funny and nuanced performances. Alana Kane is a fictional character who feels like a friend, and I suspect Haim's portrayal of her will linger in my imagination for a while.
For some, "Licorice Pizza" was confusing. For me, it was a gift, an important addition to the catalog of films chronicling California mythology, the 1970s and what it means to be young. It is random, surprising, lighthearted and luscious. It's not for everyone, but it doesn't need to be.