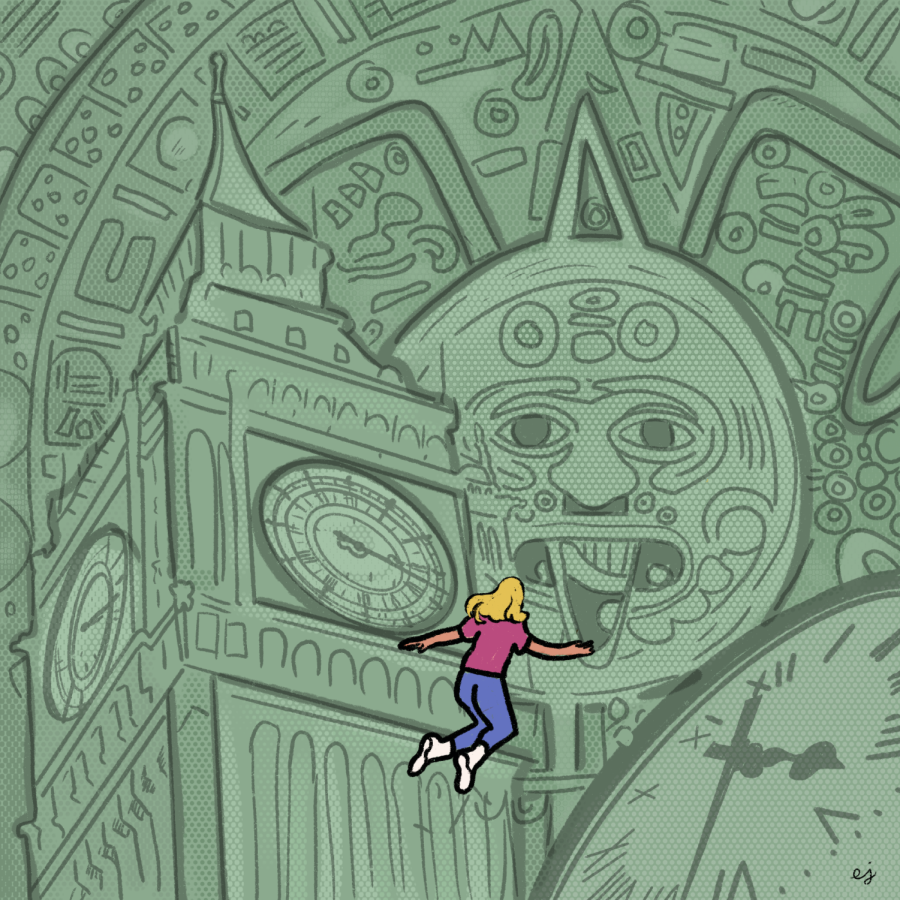 Ella Jennings, The Horizon
I am a shackled creature.
In the infant dark, upon waking, my groggy brain asks: What time is it? How long can I sleep in? When is my first class? Will I have time to eat today?
I open my calendar app again and again to inspect my schedule, fearful I've missed an appointment. I discreetly check the time as my professor wraps up his lecture. If I ever find myself waiting for more than a minute, I automatically glance at my phone's lock screen.
I am shackled to time, or at least my perception of it.
Two glowing Greek words emerge from the pleasant jumble of my high school recollections: "chronos" and "kairos." Chronos can be defined as sequential, chronological or calculated time. Seconds, minutes, hours, days, weeks, years — terms familiar to the point of mundanity.
In contrast, kairos has been described as the meaning of time. It's the blessed moments watching glory drench the sky during a beach sunset. It's soaking oneself in lively conversations with lovely friends. It's the brief and delicious freedom from the nagging thought, I-must-check-the-time.
I propose that we attempt — as much as humanly possible — to maximize, relish and carve out space for kairos in our daily lives. As illustrated by a diagram often referred to as the Eisenhower matrix, everything we do falls into one of four categories: urgent and important; urgent but not important; important but not urgent; not important or urgent. 
The practice of kairos urges us to hang out in the third category — the important but not urgent. This looks like immersing ourselves in our relationships with Jesus and with others. Serving, giving, loving. 
I am not disseminating mere enthusiasm for time management. Often, advice in favor of managing our time tends to result in giving the leftover crumbs of our energy and time to various soul-filling habits. We promise ourselves that we'll read that book, go on that run, reach out to that friend, once the more urgent — but not necessarily more important — tasks are complete.
Is there a way we could move beyond merely collapsing into a hammock at the end of the day, burnt-out and weary? I offer a two-fold potential answer: first, fiercely fence off your free time. While you may have heard this many times, I offer it because it is so easy for me to allow the urgent, yet unimportant demands of life to chip away at the windows of time in my schedule. 
Ultimately, this theft matters because I cling to the conviction that my time is not my own. As a Christian, I believe that everything I seemingly possess — my money, my body, my resources, my abilities — is the Lord's. He graciously allows me to steward these things for a season. So, when I allow my days to be cluttered, I have essentially allowed the urgent-yet-unimportant to fritter away at God's precious and irretrievable gift of time. 
This point, too, stumbles upon a tricky balance. I am not necessarily advocating the allocation of seventeen hours each day to pure self-care. The Bible clearly calls us to use our time to love and serve others: "Above all, love each other deeply, because love covers over a multitude of sins. Offer hospitality to one another without grumbling. Each of you should use whatever gift you have received to serve others, as faithful stewards of God's grace in its various forms" (1 Peter 4:8-10). 
Yet, you cannot pour from an empty cup. Therefore, I believe time in solitude and restoration, as well as time given to hospitality and service, can find its place in the important-but-not-urgent category of Eisenhower's matrix. Think of the time many of us spent in our childhoods engaged in uninterrupted, unstructured play — never once pausing to wonder about the time. Can we return to that child-like spirit, even as the circumstances around us change? 
Ultimately, what we do shapes who we are. So, who are you? Are you shackled to your schedule? Are you consumed by busyness, by the inability to say "no"? Alternatively, are you characterized by the non-urgent, non-important activities you engage in whenever you're given the chance? 
Friends, do not become so wrapped up in the chronos that you neglect the kairos. J.R.R. Tolkien may have said it best: "All we have to decide is what to do with the time that is given to us." 
———
Opinions expressed in letters and other editorials, unless otherwise stated, are those of the writers and not of The Horizon staff or the college collectively.