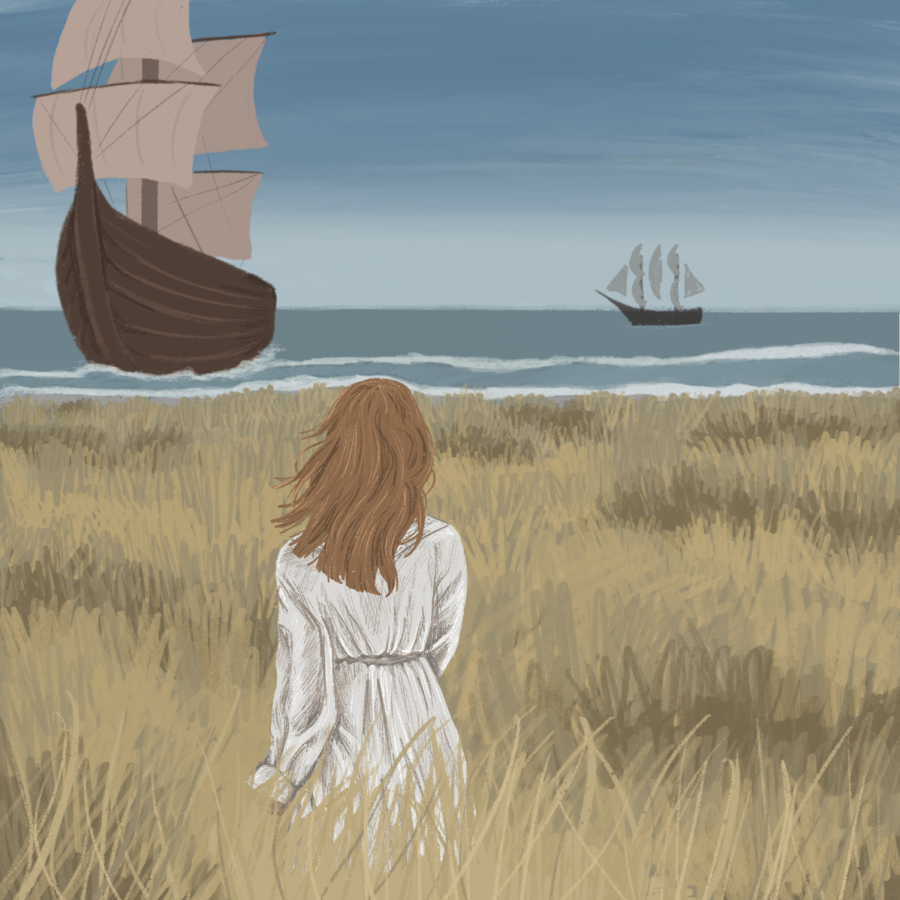 Jaycee Felkins, The Horizon
On Jan. 28 and 30, Westmont students performed Aaron Copland's opera "The Tender Land," which follows teenager Laurie Moss as she experiences love and chaos leading up to high school graduation. Beneath this story, however, lies the opera's real plot, where pirates, crime, secret investigations, unforeseen wealth and death reside in the hands of the infamous Cap'n Sweetlocks.
Mr. Jenks, played by second-year Chandler Baker, is a supporting character who is invited to Laurie's graduation party. Yet, according to Baker, Jenks' story actually begins in New York at the start of the Great Depression, when his wife suddenly dies. This prompts Jenks and his two daughters to start over in the Midwest, where "The Tender Land" is set. 
Top, played by second-year Sean Ryan, is a lead character and itinerant worker looking for jobs with his friend Martin, played by Sibo Msibi. Ryan claims Top is from Chicago, where he worked in a steel mill that closed during the Depression. Top is also invited to Laurie's graduation party.
The opera neglects to reveal the backstories behind these two pivotal characters. Mr. Jenks, who appears to be a simple farmer, was formerly Cap'n Sweetlocks: the infamous privateer who ravaged the seven seas. Sweetlocks' port was based in New York, where he met his first wife, whom he had to "take care of" after she discovered his nefarious "sea activities." His two daughters were the spoils of several raids throughout the West Indies. 
Mr. Jenks' real motivation to move to the Midwest came when the FBI caught wind of his plundering. Jenks now resides, along with his massive wealth, in a small midwestern city, where he lays low and waits out the statute of limitations on his supposed crimes. 
There, Mr. Jenks teaches his daughter Jodie, played by second-year Lillian Robinson, the way of the pirate. He arms her with poison darts, sword-fighting skills and knowledge of his booty's whereabouts.
The seemingly innocent Top was recruited by the FBI while working at the steel mill in Chicago. Top's top-secret mission was to search for large quantities of unearned wealth during the Depression. Top gets word of a wealthy man who perfectly matches the description of the FBI's most wanted Capt'n Sweetlocks. Top attends Laurie's graduation party in hopes of finding clues leading to the whereabouts of the swashbucklers' loot.
During the graduation party, Top asks Mr. Jenks questions such as, "You seem pretty well-off Mr. Jenks, what do you do for a living?" To which Mr. Jenks responds, in a hearty pirate voice, "Yarrr! I be an accountant."
Everything comes to fruition at the end of the party. Mr. Jenks pulls an eight-year-old boy aside for some sword-fighting lessons. Top, who believes Jenks is trying to kill the boy, decides he must intervene quickly. He pulls out his badge and says, "Mr. Jenks, or should I say Capt'n Sweetlocks, you are under arrest for piracy of the highest degree."
Mr. Jenks' young pupil Jed, played by Simeon Michelson, lashes out in fury to defend his beloved captain. Tragically, Jed is shot by agent Top, who did not anticipate the young boy's adept sword-fighting skills.
Having just lost his hopeful successor, Capt'n Sweetlock charges Top in a drunken fury and manages to severely wound him before also falling to Top's mighty pistol. In need of medical attention and fearing that his identity will be compromised, Top convinces Martin that Laurie does not actually love him and that they need to move on to the next town.
Ten years later, the FBI receives reports of the most dangerous pirate the seas has ever seen. This pirate is described as a girl who dresses like a boy, never loses a duel by sword or gun, and carries a significant amount of wealth, which she inherited from her father who mysteriously disappeared.