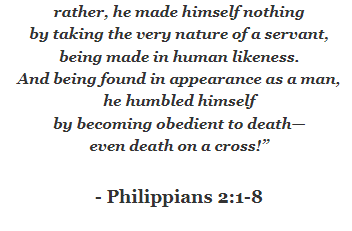 Emmaus Road staff director Jennifer Fuentes chose this as a key point in her chapel message on Monday, Jan. 31., emphasizing our need for God's help in fulfilling our callings, whatever they may be.
Over the last several days, students have been welcomed and encouraged to break out of the Westmont bubble — at least mentally — in order to put the mission of Philippians 2 into practice. This first of two biblical keystones for Global Focus Week emphasizes our need for unity and like-mindedness while affirming how our differences complement each other. 
The other guiding Biblical narrative was that found in the Book of Ruth, which Fuentes used in her chapel talk to open Global Focus Week. She spoke on the story of Ruth in an attempt to challenge the Westmont community to embrace difference and discomfort in the pursuit of loving those who are "other" than ourselves. While affirming a difficult truth of the gospel, her words — compassionate and inspiring — appropriately set the theme for the week of global-minded events.  
When asked about the intention behind Global Focus Week 2022, publicity manager Moriah Chiang highlighted Ruth as "an example to show how we would like to be when in other cultures. We wanted to share that, when living in other cultures, you love those you are unfamiliar with as if they were your own family."
Students, faculty and staff were involved with the week's events, which included a student-faculty panel Tuesday night to discuss  cross-cultural interactions with a Christian epistemology. Among the panel, faculty members included psychology professor Dr. Ronald E. See and Dr. Heather Keaney, associate professor and chair of the history department. 
On Wednesday, a fair featuring various global ministries was supposed to take place on the DC lawn, but it was unfortunately cancelled due to COVID-19 safety issues.
On the turn of a dime, the Emmaus Road core team pulled through with a highly popular "Random Acts of Kindness" event. Students flocked outside the DC to write letters of affirmation to their friends in exchange for delicious churros. The lawn was covered in cinnamon sugar as students composed letters with words of love ready to be sent off to different corners of Westmont's campus. 
Thursday night hosted another "Worship Under the Stars": a lovely opportunity for students from all years to gather as one body and sing praises to the only One who can provide true unity and justice. Ruthie Dickinson and Caleb Marll led songs with lyrics in both Spanish and English before reading from Philippians 2 in English, Spanish and Mandarin.
Phoebe Lu, a third-year communications major who was asked to read Philippians 2 in Mandarin and to lead the song "Spirit Break Out," remarked, "I say this genuinely — I felt honored to read and sing Mandarin. I felt honored that the chapel band so humbly invited a native speaker to sing her mother tongue rather than potentially butcher or not represent the language at all."
Reflecting on multilingual song selection at Westmont in general, Lu said, "I appreciated the chapel band's intentionality with song selections during [Global Focus Week], but also before and beyond it." Recalling how she could "hear everyone … belt the Zulu lyrics to "Come, Holy Spirit" with such familiarity and joy," Lu observed, "It was evident that Westmont had been worshipping through multilingual songs like it long before any designated global-focused week."
First-year psychology major Kaiah Gloria was particularly impacted by this night, reflecting that she "saw the greater picture of life reflect around me manifold." Gloria explained, "the stars in the sky showing God's vast creation, my peers coming together with a single voice, [to pray for] the many issues [in] the world that need our prayer, were all examples of how I [experienced] the vast complexity of life in that single night. I know it was only a taste, so I look forward to more in future Westmont events."
The week wrapped up with a 12-hour fast on Friday, prompting students to consider what it means to be an active vessel of God's work. Over the course of the day, participants were encouraged to consciously embody "doing nothing of selfish ambition or conceit" — as the book of Philippians advises — by both metaphorically and literally emptying themselves. 
After sunset, students and staff gathered to break their fast with Indian food, eaten in community. Ultimately, students were graciously but purposefully motivated towards displaying compassionate action and global citizenship in an ever-changing world. As Chiang observed, "It seemed like the students who were able to participate were very responsive to the idea of learning about other cultures."