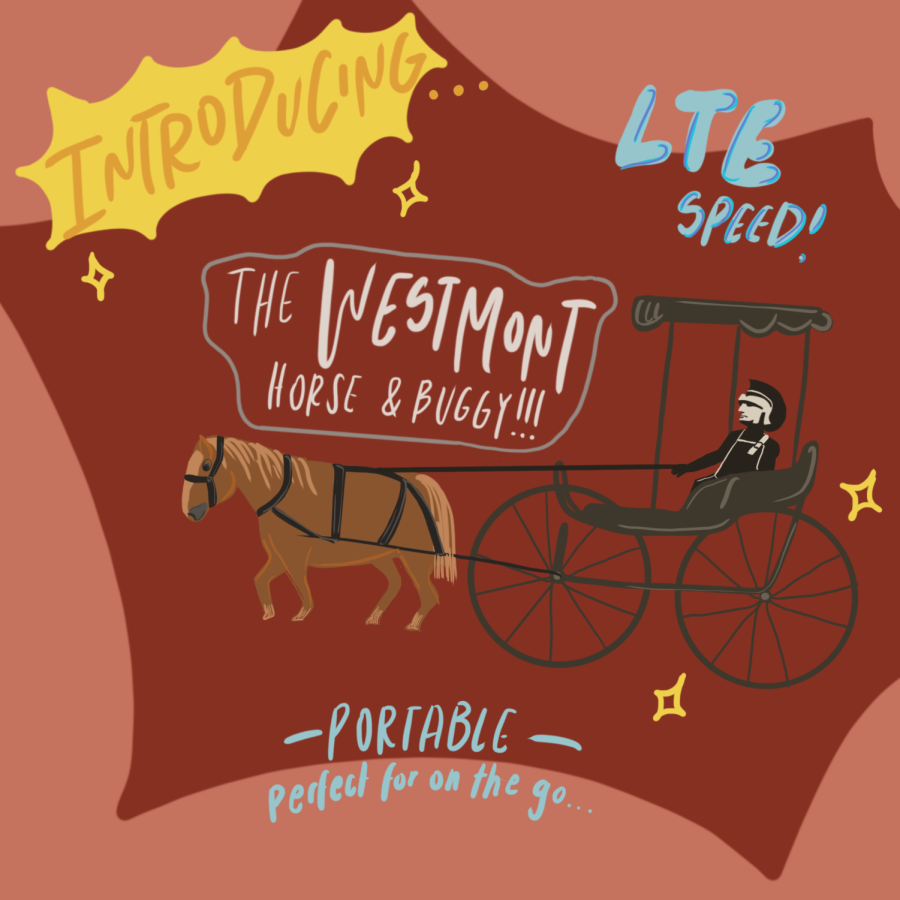 Cayla Won, The Horizon
These days, individuals around the world are obsessed with their phones and computers. At least, that's the narrative coming out of every major media outlet, local news station and parent, making us believe this phenomenon must be entirely factual. Westmont college is the latest place to adopt a new lifestyle in an attempt to combat the corruption of the younger generations. The school board's "Horse and Buggy Plan" will go into effect in the fall of 2022. This plan calls for the immediate and permanent removal of all technology invented after 1850.
Westmont president Gayle Beebe offered his support for the plan: "We are hoping to start a movement that will sweep across the nation. A movement to enrich the lives of these impressionable students. Technology is objectively bad. That is a fact." 
The removal of technology isn't the only aspect of the initiative. Instead of a liberal arts education, the school will replace required general education courses with classes that teach and promote an agrarian lifestyle. Classes titled "Farming," "Sewing" and "Not Dying From Illnesses Without Modern Medicine" will be offered at the elementary, intermediate and advanced levels this fall.
Instead of a meal plan, students will be required to grow their own food, with help from our new department of Agriculture professors. When asked what the school will do if the students aren't able to produce enough food, President Beebe had this to say "Over the course of the first year, a couple students will probably die, but as long as no hospitals are visited, we will have done our part."

Some students, especially the three computer science majors, have major concerns about the program changes. However, the school board claims they haven't heard any complaints. "We all got rid of our computers, so we couldn't have seen any emails from students," a member of the school board said.
Another member added, "No, I don't think we would be liable for hearing their complaints. If they want to reach us, they can just come to Kerrwood and talk to us in person or send us a telegram."
While this sounds reasonable, complications are quickly rising. A 15-foot stone wall was erected overnight immediately following the announcement of the plan. Some students with a more robust knowledge of history have made the connection between this 'new Westmont' and 14th century Russian Fiefdoms. An observant history major had only this to say: "Uh oh."
With so many changes, our reporters asked President Beebe how Westmont plans to charge and collect tuition. He looked confused for a moment, then clarified, "Oh, yeah, no, that isn't changing. That will still be electronic … I should also add that we are raising tuition by an undisclosed amount. Students will see this increase when they receive their bill."
Students can rest easy knowing that not everything is changing. Speaking of changes, the Capstone writers have some sad news to share. Starting next semester, our newspaper will no longer be available online. We will only be permitted to sell paper copies, which our staff will have to create using our authentic vintage printing press, so graciously provided by the Beebe family private collection. This machine will be operated by hand and — quite frankly — no one knows how to use it. This might be the end of an era, but we hope to continue publishing next semester. Thank you for your patronage.