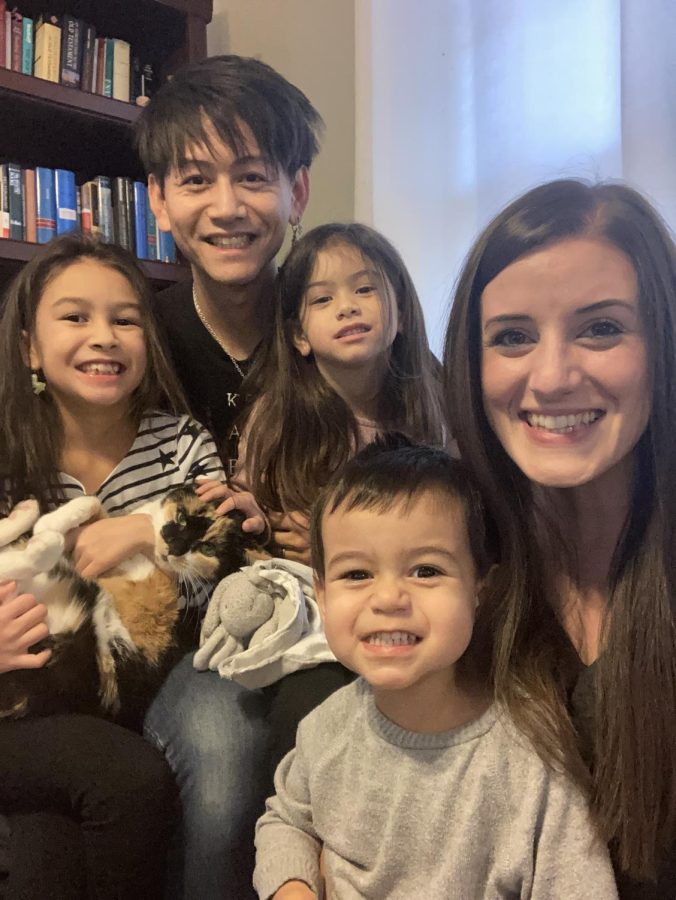 Courtesy of Kaz Hayashi
This coming fall, Westmont will welcome a new faculty member in the religious studies (RS) department. Professor Kazuyuki (Kaz) Hayashi will come to Westmont from Baylor University. Westmont is thrilled to welcome his expertise in the Old Testament, particularly his specialization in the late historical books of Ezra, Nehemiah and 1 & 2 Chronicles. 
Westmont attracted Hayashi because of its "unapologetic evangelical Christian identity, engaging students and world-class faculty." He also spoke highly of the Westmont alumni and professors he has interacted with so far. 
Evidently, the religious studies search committee thought just as highly of him. Dr. Rhee, current chair of the RS Department and head of the search committee, asserted that the committee was "impressed with his deep faith in Christ and his thoughtful understanding of OT within Christian liberal arts education, as well as his excellent teaching and promising scholarship."
Hayashi will replace Dr. Bill Nelson, who retired last summer after 35 years of teaching Old Testament at Westmont. Hayashi will teach classes related to the Old Testament and elementary Hebrew. Rhee looks forward to his "dynamic and engaging" teaching style, as he embodies a "congenial and winsome personality and will bring with him energy and enthusiasm for teaching those topics." 
After completing his undergraduate degree at Moody Bible Institute, Hayashi went on to receive his M.A in Old Testament and Semitic Languages at Trinity Evangelical Divinity School. He will complete his Ph.D. at Baylor this coming May, along with his dissertation on "Kings, Priests, and Levites in the Book of Chronicles."
Hayashi is excited about helping others "grow in their love for God and His word," and Rhee wholeheartedly agrees that he will help bring the Scriptures to life for many Westmont students. 
Dr. Holly Beers echoed Rhee's sentiments, once again commenting on his energy and passion, especially for teaching elementary Hebrew. She hopes to see the Hebrew program grow at Westmont.
Hayashi is also an active archaeologist and previously worked at the Tel Shimron excavations in Israel. As Beers pointed out, his work with the "lived realities [of people in the ancient near east] adds a helpful dimension" to his research and to the classroom. 
Apart from being a "dynamic communicator and presenter," both Rhee and Beers commented that Hayashi brings a rich, "culturally diverse perspective as a Japanese OT scholar."
A Japanese exegesis — or interpretation of scripture — is another of his emphases; Rhee shared that one of his research topics surrounds "exploring Yahweh in anime and Japanese popular culture." Hayashi's experience of growing up as a Christian in Japan — where less than one percent of the population is Christian — will bring a unique religious perspective to the existing group of RS faculty members.
Beers sees his worldview as a "helpful window into so many realities that outsiders may not understand" that will ultimately enrich and augment the RS department at Westmont. 
Hayashi is proud of his roots, sharing that he "was born and raised in Japan … is unashamedly Japanese and love[s] many stereotypical Japanese things, including anime, Nintendo karaoke, martial arts, sushi and cats." Hayashi also expressed how he looks forward to meeting the students and staff at Westmont.
He will move here with his wife, Laura, daughters Emi and Elina, and son, Jin. Hayashi enthusiastically extends the invitation to say hello to his family if you see them walking around on campus!