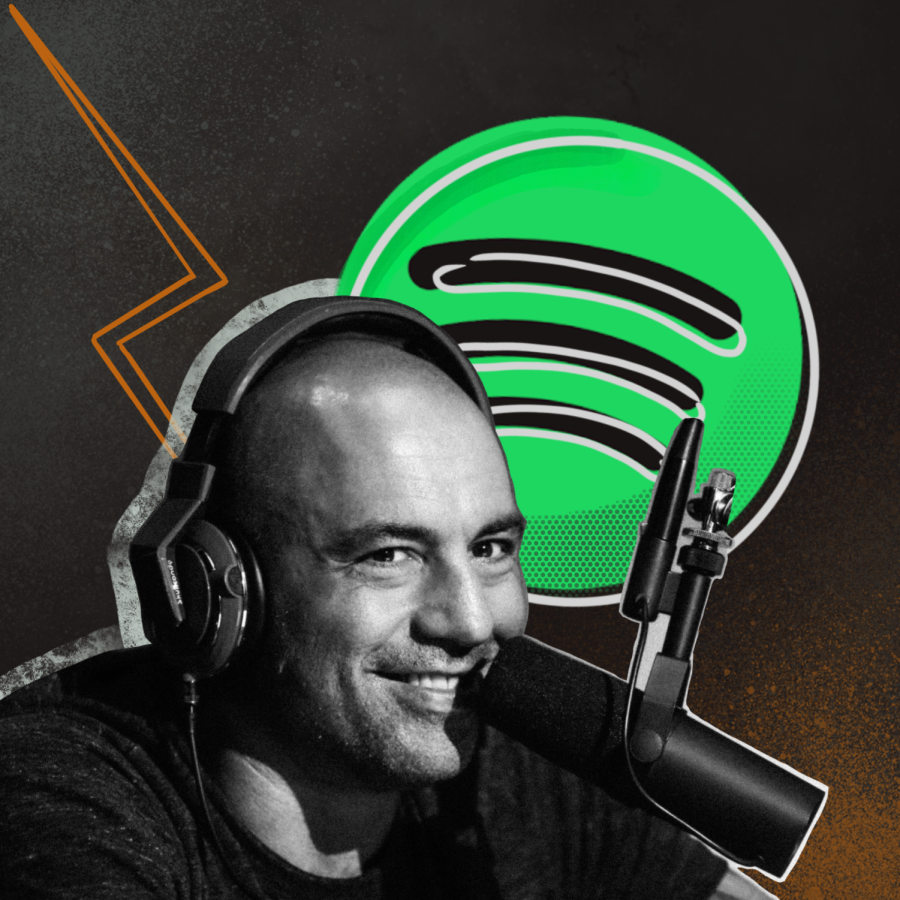 Cayla Won, The Horizon
Since Sept. 2020, Spotify — one of the world's largest streaming platforms — has paid $100 million to keep the podcast "The Joe Rogan Experience" exclusive to their site. "The Joe Rogan Experience" has averaged 11 million listeners per episode, according to the New York Times. 
Yet, last week, Joni Mitchell joined Neil Young and a host of other creators who removed their music from Spotify in response to potential misinformation spread by Rogan's podcast. 
On the podcast, Rogan recounted using Ivermectin, a drug approved by the FDA to treat parasitic worms, to self-treat COVID-19. He also speculated that COVID-19 vaccines could alter DNA and that younger generations face greater health risks from the vaccine than from contracting the virus. 
On Feb. 6, a video of Rogan using racial slurs also went viral. Rogan has since apologized for the slurs and dodged criticism for his statements on COVID-19, saying "[I am] not a respected source of information, even for me."
Yet, Rogan's words, whether fact or fiction, carry heavy weight to a massive audience.
Thus, listeners attracted to Rogan's characteristic wit and comic allure are presented with a dilemma: take Rogan's words with a grain of salt, acknowledging his position as an entertainer but not an expert, or boycott Rogan completely?
What is a big tech company like Spotify supposed to do with content like Rogan's? When asked whether or not Spotify should moderate its artists' content, fourth-year philosophy and business major Isaac Rumohr said, "That's not the role of big tech. As soon as you give institutions latitude to make change, you have to be really careful walking that line because the precedents you set in good faith may be abused." 
However, Spotify must reckon with the reality that it has influence over its listeners.
Daniel Ek, Spotify's chief executive officer, said in a public letter: "We know we have a critical role to play in supporting creator expression while balancing it with the safety of our users. In that role, it is important to me that we don't take on the position of being content censor while also making sure that there are rules in place and consequences for those who violate them." 
In accordance with this statement, Spotify published its previously internal policy rules surrounding content, amending the definition of 'Dangerous Content' to include "that [which] promotes dangerous false or dangerous deceptive medical information" which "may cause offline harm or poses a direct threat to public health." This includes content that claims "AIDS, COVID-19, cancer or other serious life threatening diseases are a hoax or not real." 
In response to the controversy, Spotify gave "The Joe Rogan Experience" a content advisory, as signaled by the letter 'E' for explicit content. On Feb. 6, Spotify removed 70 episodes, some of which may have contained racial epithets spoken by Rogen. 
"If Spotify could find a way to present a message before listening to podcasts/music that says they are not responsible for the information, that could be a way around being responsible for the information [shared by the artist]," said Riley Bream, a first-year pre-med student. "I think it is even more important to include a disclaimer for information on health issues." 
In his Jan. 31 podcast, Rogan remarked, "I am interested in telling the truth and finding out what the truth is. I am interested in having interesting conversations with people of differing opinions." 
Rogan later commented, "One thing that Spotify wants to do, that I agree with, is at the beginning of controversial podcasts, is to put a disclaimer and say that you should speak with your physician and that these people and the opinions they express are contrary to the opinions of experts." 
The questions remain as the dust settles: should potentially harmful misinformation receive the same first amendment protections as free speech at political protests and presidential rallies? Are responses like Young's and Mitchell's warranted? 
Spotify has become more transparent with their rules around sensitive content, but perhaps this is only the beginning of moderation in the public sphere. What do responses like Young's and Mitchell's mean for the future of music streaming? How will Spotify walk the line between content censor and creative platform? The answer, for now, seems to be wait and see.