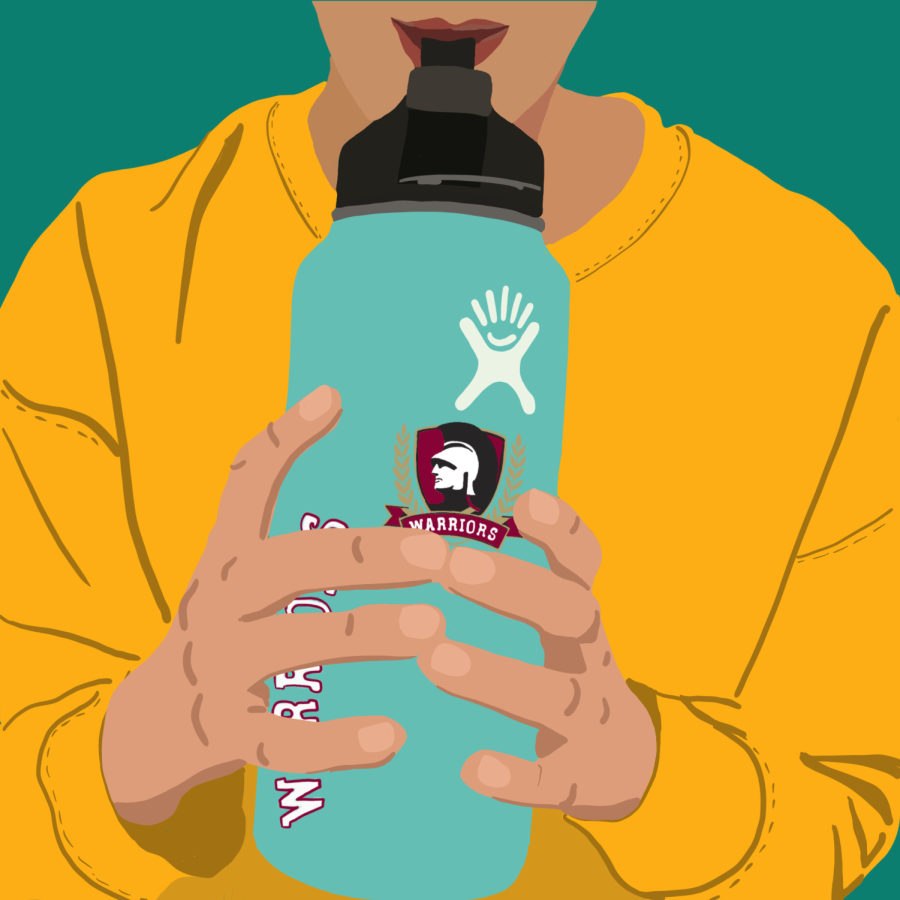 Selah Tennberg, The Horizon
There may be more behind students' water bottles than first meets the eye. They may, in fact, be the tip of a cultural iceberg, one that some Westmont students link to social patterns and identity portrayal in young people across different states.
Jordan Walker, a psychology major from Colorado, noticed that hydration habits can be tied to status portrayal. "People carry their water bottles with them everywhere, but remain dehydrated," she pointed out. "I think part of it is because the water here is not great tasting, [but] I also think people see things like lack of sleep, lack of food, and lack of water as status symbols here, as some sort of weird testament to how hard they're working and how busy they're staying. It's very strange."
According to third-year Kalea Lanza, Hydro Flask is the most popular water bottle brand at Westmont as of late. "I think it has a lot to do with social media hyping up certain brands," she noted.
Bonnie Scott, a second-year student and Santa Barbara local, described the Hydro Flask as a California trend, though perhaps a more distinctly "Santa Barbara thing."
"Hitting junior high and high school," Scott said, "it was like, boom, everyone has [a Hydro Flask]."
Sophomore Olivia Knapp also grew up in California, but in the Santa Cruz area where, she explained, "it wasn't so much Hydro Flasks as much as just having a big water bottle, just because most people were into some kind of outdoors thing … and it was more that they were covered in stickers that was the trend rather than a particular kind of bottle."
Josiah Swanson, a fourth year from Hawaii, also highlighted the use of stickers and their cultural role, specifically here at Westmont. "The go-to canvas for 'painting' your stickers — it's a Hydro Flask!" he stated. "I think some people get a Hydro Flask just so they can put stickers on it." He noted that using stickers is a way of portraying interests and personality — both of which form parts of one's identity.
Commenting more generally on Hydro Flasks themselves, he mused, "I actually don't know anyone who has a Hydro Flask in Hawaii, at least in my friend group." He explained that several of his friends, who are surfers, are sponsored by Yeti — a competitor of Hydro Flask. "Back home," he explained, "it's a trickle-down effect. To be cool and fit in, [people] do what the surfers do: use Yeti."
Faith German, a second-year who has lived in Colorado and California, echoed this "trickle-down" idea in comparing different states. "In Colorado," she said, "it's Nalgene — [with] just as many stickers as you can, and the more scuffed-up, the better."
Reflecting on the social aspect of water bottles, German stated, "Colorado is like a little cousin [to] California: we get the trends four years late, so the Hydro Flask trend came around maybe [my] junior year — a long time after here."
"It was interesting," she pointed out, "because then you had a split, you know, a divide: who had the Hydro Flasks, and who had the Nalgene? There's a difference! It's a social marker. A marker of what tribe you're going to stake in. Are you going with the native Coloradans? Are you going to be 'Coloradan'? Or are you trying to join these 'progressive' Californians?"
When asked about potential reasons behind these trends, she observed, "I think in California we love 'cleanliness' and 'pristineness,' and in Colorado, [people] like to pretend they're more rugged … The raft guides and the rock climbers and the intense hikers — they all have Nalgene. And I think that definitely trickles down."
German noted the practical reasons and implications of using a certain kind of water bottle. "A Nalgene," she said, "you can chuck in a river and catch it downstream, and they're totally fine. But a Hydro Flask gets a dent [if you just drop] it in chapel."
She went on to add that it not only dents: "it resonates!"
Swanson similarly highlighted this recurrence of Hydro Flasks falling in chapel. "It's a real thing!" he said. "And it's embarrassing. One way to fix that is to have [non-metal] water bottles." This is a choice Swanson himself has made.
"In some ways, I like to be counter-cultural," he explained, "so I like to carry around a Nalgene bottle. It doesn't keep the water cold, but it works for me."
Second-year Marcus Nguyen, from Orange County, California, also said he didn't feel a need to buy a Hydro Flask, feeling it to be "a very bizarre trend, to be quite honest."
German summed up water bottle culture with the words, "It's a battle! I don't know how people [in Colorado] made it out, but I pray every night that the great Hydro Flask-Nalgene wars can cease."