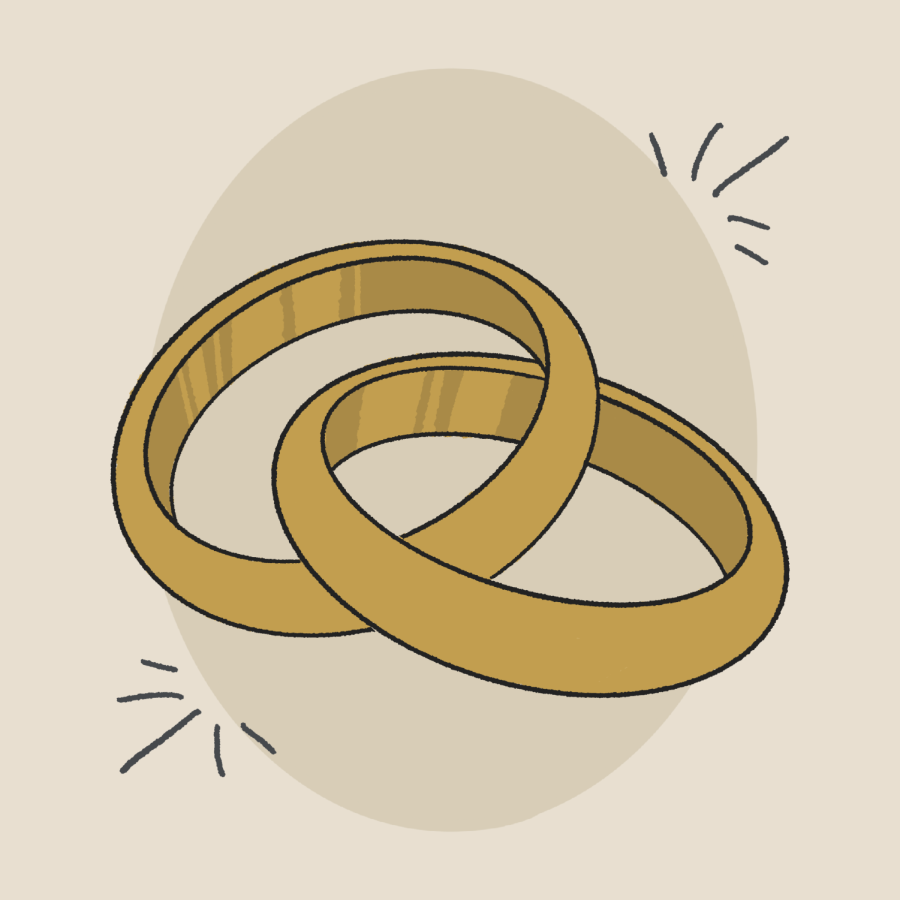 Creed Bauman, The Horizon
It's official, Westmont has wedding fever! By official, we mean that all students will be required to tie the knot in order to graduate from Westmont, beginning this semester.
"The world needs more good people, and what better way to ensure that than forcing hundreds of Westmont couples to start families before they're ready to take this step?" said President Gayle Beebe. He followed up by saying, "I find no moral problems with this new requirement."
The plan comes as a surprise to most students and opinions are split on whether or not this is a good idea. Some students are happy about the new plan.
A sophomore engineering student had this to say: "I mean, I wasn't going to get a girlfriend by any conventional means, so this is pretty convenient for me."
It would be easy to hear these comments and dismiss them, because Westmont isn't forcing people to stay married after commencement — the requirement is just to get married in order to receive a degree. Yet, the newly established "Center for Westmont Marriage" will implement new practices to ensure opportunities for Westmont students to couple up.
The first practice will happen in chapel, where chairs will be set up into pods of two seats with a male and a female randomly assigned to each pod. Once a relationship begins, students have the option to request to stay in their pod for the remainder of the semester.
The second practice will happen in the DC, which will now be lit primarily by flameless plastic candles and the mood will be set by a hand-picked selection of 80's rock ballads.
The final major upgrade is that all the dorm halls will now be co-ed. To counteract the new-found dangers of students violating the 45 degree door rule or committing premarital hand holding, RA presence will be tripled and hourly patrols will be put in place. "It was a controversial decision," one board member shared, "but it's the best way to get students to mingle without mingling too much, you know?"
​Other students aren't happy with this new plan. Some of the complaints reference a lack of free will. "I just want to be married when I feel ready, knowing I've met the right person," said a fourth-year student who recently added another major to her degree program in order to prolong her time at Westmont and increase her chances of finding a partner she would be ready to marry.
The student added to this statement by saying, "I guess I'll just use StalkerNet™ and a random generator and pray that God leads me to the right person. Plus, this gives me the chance to add that third major I never had time for."
Some preexisting couples are — shockingly — not fans of this plan either. One member of an anonymous male student had this to say about his relationship: "I mean, we're only staying together for the attention and sense of emotional security. If everyone is dating, we aren't special anymore, and we'll have to address our relationship problems to gain more attention."
Despite controversy, Westmont College ​president Dr. Beebe has stood firm in this decision, even while receiving a lot of flack from the Westmont community. "If you don't like it, you can leave," he said with a shrug at the press release.
To show his commitment to the rule, and provide a convenient solution, Beebe will offer to perform quick marriage ceremonies immediately before the graduation ceremony in May. He closed the press release with this comment: "I think it will be a beautiful display of unity, unlike anything the world has ever seen or asked for."