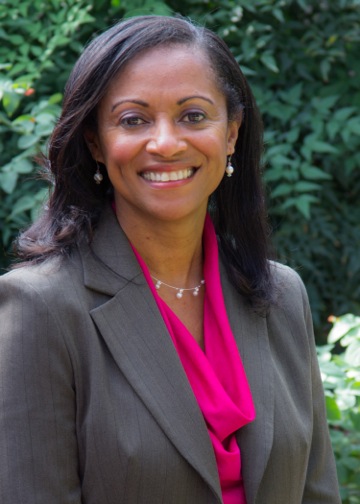 Westmont College
After an extensive search process that lasted over a year, Westmont College has hired its new provost: Dr. Kimberly Battle-Walters Denu. 
Dr. Denu will begin her role as chief academic officer on Aug. 1, 2022. I met with Dr. Denu via Zoom last week to learn more about her journey and to discuss what led her to Westmont.
Dr. Denu received her Ph.D in sociology from the University of Florida. She spent a number of years at Azusa Pacific University, serving as a professor, vice provost, special advisor to the president and provost and, finally, as chief diversity officer (CDO). Most recently, Dr. Denu served as vice president for educational programs at the Council of Christian Colleges and Universities (CCCU).
"My past positions really have given me a broad experience and knowledge to lead with insight," she remarked. Dr. Denu described her experiences as a faculty moderator and vice provost as instrumental in helping her understand faculty governance and administrative leadership.
She has also served in student life roles, including the role of resident director. The variety of these roles has given her a close look into the lives of students, leading her to ask, "How do we need to support students better as they are going through the adulting process?"
Dr. Denu served as the CDO at Azusa Pacific from 2015-2018, a role which helped her "understand, respect and value differences while building on our commonalities."
"It's important to see differences — to let people know that you see them, you hear them, and that they matter — but also to build on what we have in common, especially as Christians," she added.
Denu is also a two-time Fulbright Scholar, first to South Africa, and later to Ethiopia. Speaking on her time in South Africa, Dr. Denu said, "I was teaching at an Afrikaans university, which at the time, ten years prior to that I would not have been able to be there because of apartheid … I was doing primarily qualitative research, traveling the country and talking to women about their experiences in post-apartheid South Africa."
In her role with the CCCU, Dr. Denu worked with off-campus study programs and with other provosts. "I think it's been an eclectic combination of roles that has set me up to step into the provost role with an understanding of how [my job] interfaces with so many others," she said.
According to the Westmont website, the provost position comes with a variety of responsibilities, including leading the faculty, serving as a member of the president's executive team, guiding the academic programs, and serving as a liaison between the executive and other constituencies of the college.
One critical aspect of Dr. Denu's job will include the oversight of faculty hiring. In doing so, she will naturally play a large role in shaping the future of Westmont's academic programs. Currently, 10 departments have at least one open faculty position, many of which are tenure-track. When it comes to building the faculty, Denu noted that "the most effective teams are diverse teams."
"There is beauty in diversity," she said. "We're not just talking racial diversity or gender diversity, but you have socioeconomic backgrounds, abilities/disabilities and diversity of thought and ideas." Denu posed the question: "How do we hire candidates who love God and love people, but also bring excellence into their area of study?"
"We're looking at the total package," she added. "I think there are venues we can look at [for] hiring excellent candidates, who bring a breadth of diversity as well."
Denu spoke extensively on the subject of racial and ethnic diversity at Westmont. For the past several years, frustrations and unrest have grown on campus, as students, faculty, staff and administrators have sought to work together to address injustice. 
When it comes to the provost role, Dr. Denu stated that she seeks to enter with a "humble posture." She drew on her experience as a researcher, which takes a "listen and observe approach" first, before looking at courses of action. "The beauty of diversity is perspective," she said. "As a woman of color, I think I bring a certain perspective and [an ability] to empower voices and people who don't normally get seen or heard."
"I think sometimes some of the most powerful teachers are actually students, teaching faculty," Dr. Denu added. "It can go both ways — and actually should — in an authentic learning community."
Dr. Denu also mentioned the importance of partnering with departmental and institutional goals, including the reconsideration of hiring practices and pedagogy, in order to support diversity and equity goals.
In the spring of 2021, the academic senate approved a new "Justice, Reconciliation and Diversity" general education (GE) requirement. Dr. Denu called this development "huge," highlighting the necessity for students to leave Westmont with a sense of "cultural competency."
"In Westmont's context, even though this is a Christian liberal arts education, the goal is to help prepare graduates to engage with a world that may be, in fact, anti-Christian," she said. "How do you deeply hold to your values and yet have the ability and wisdom to engage with the nuances of a pluralistic society? I think cultural competency is a key component — and an important gift —  that we need to give graduates as they're launching out into a diverse and pluralistic world."
In addition to matters of diversity and inclusion, Dr. Denu cited enrollment, affordability and accessibility as areas that Christian higher education has to address. She plans on looking at these and other issues in the coming years. "Helping people see the value of a liberal arts education is part of the story we have to tell in greater ways," she said. 
Dr. Denu mentioned her experience as a first-generation college student, emphasizing how challenging it can be for some families to see the value in a Westmont education. "How do we help more students be able to come to Westmont, in ways that don't tie a yoke of debt for years to come, and yet help them find their sense of purpose and calling as a result of being there?"
As Dr. Denu prepares for her arrival at Westmont this coming fall, she expressed excitement about returning to California, her home state, as well as building relationships with faculty and students. "I'm excited to work with Dr. Beebe," she added. "We worked together years ago at Azusa Pacific University … the opportunity for our paths to cross again … I'm very excited about that."