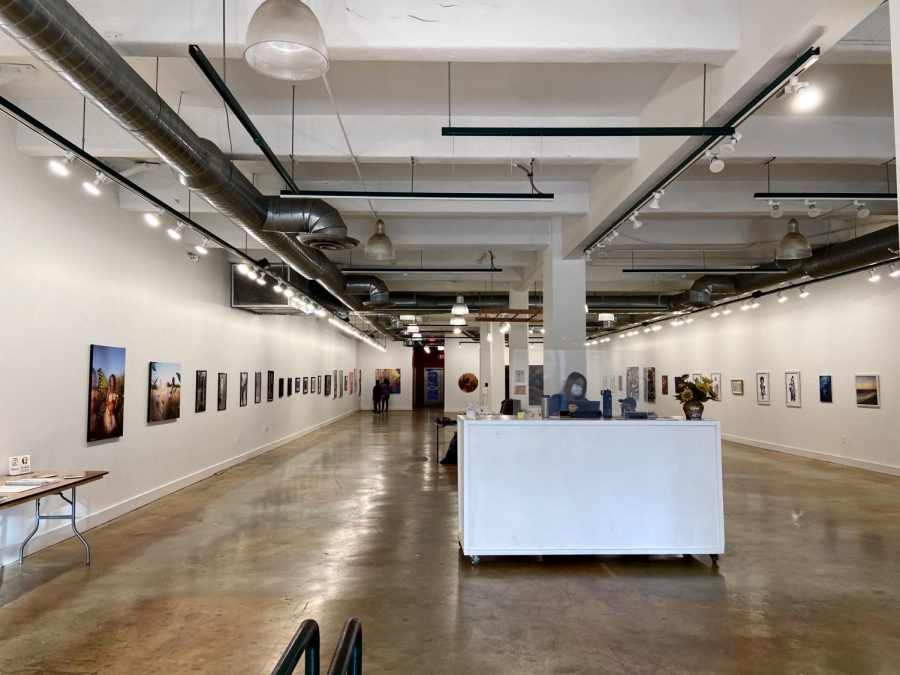 Eva Moschitto
"I was a kid of few words growing up. Little did everyone know, I had a lot to say," began Los Angeles-based contemporary painter 6oldie the Artist (pronounced "Goldie the Artist"). 6oldie the Artist was one artist featured in "The Black Art Seen" — an extension of Melanin, a Black artist gallery run by Healing Justice Santa Barbara. 
The showcase is open Wednesday through Sunday 12 p.m. – 5 p.m. for the month of February at 821 State St. and is accompanied by "For the Love of Our People" — a museum of Black artifacts and imagery held at 833 State St. during the same hours.
When I visited "The Black Art Seen," I was surprised by the works' stylistic diversity. There were collages and film photographs. There were eight-foot oil paintings and a young girl's painted handprints. 
Two artists in particular, 6oldie the Artist and Amber "Valley" Evangelista, caught my eye. I got the chance to hear from each of them about how they viewed storytelling through the lens of visual art.
"I love to show Black beauty and culture through my art," said 6oldie the Artist. 6oldie the Artist began painting as an adolescent as a way to "escape from the troubles of the world … seeing a blank canvas feels like everything around me doesn't exist. I feel like I'm floating in space as soon as the paintbrush touches the canvas," 6oldie the Artist said.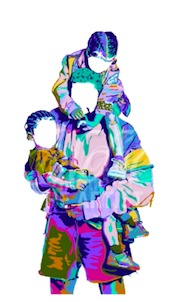 Now, 6oldie the Artist aims to "paint from a place of forward-thinking and to paint something that will have longevity."
"Uncaged Bird" displays a boy's piercing stare in 48 x 60 inches of luminous grayscale oil paint. The piece "shows an expression of freeing the mind and just being your purest self," 6oldie the Artist said. "The first 38 seconds of Nina Simone's song 'Feeling Good' capture the essence of the piece."
In "Family Matter," 6oldie the Artist takes a different approach to storytelling, and the result is a bold 18 x 24 inch silk screen color print on fine art paper. 
6oldie the Artist's versatility captures his embrace of creative freedom. "It's safe to say I found my voice [in painting]. As long as I'm painting, I'll always be speaking from an authentic place within," 6oldie the Artist concluded.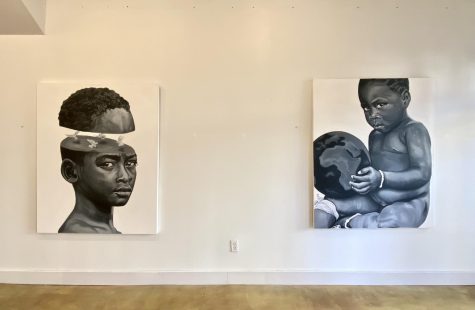 While 6oldie the Artist seeks to paint the future, Amber "Valley" Evangelista uses film photography as "[a way] to hold onto precious memories, document traditions and share stories."
Whether it's two women glancing directly into the camera in "Honey Lake" or a woman's manicured nails opening a car door in "Clean Ride," Valley's photographs feel at once spontaneous and nostalgic. "I want my photos to always feel genuine … I don't force moments, but try to capture genuine moments while they happen," Valley said.
Valley's work causes viewers to pause as if they've suddenly remembered a moment. This results from Valley's intentionality while shooting: "With film, I'm forced to slow down and be more aware of my surroundings … I feel like when I use my phone or digital camera, I'm more focused on the results versus enjoying the process," Valley said.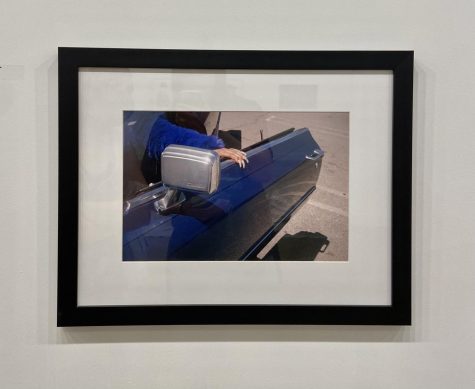 Valley's goal is not just to share stories but to create community. "When my clients share how much the photo means to them or that a photo I take resonates with them, [that] is really the ultimate form of respect. I want to leave this world a little bit more beautiful because of my art and the stories it has shared," Valley said.
A sign at the showcase perhaps put it best: "May the talent displayed here serve as a reminder of the responsibility we have to invest in the Black community."
With audacity and authenticity, 6oldie the Artist, Amber "Valley" Evangelista and countless others are investing in creating, preserving and reimagining Black culture.
Support their work by visiting Melanin, donating to Healing Justice Santa Barbara, and keeping up with the artists on social media @6oldie, @valleyinfilm and @healingjusticesb.