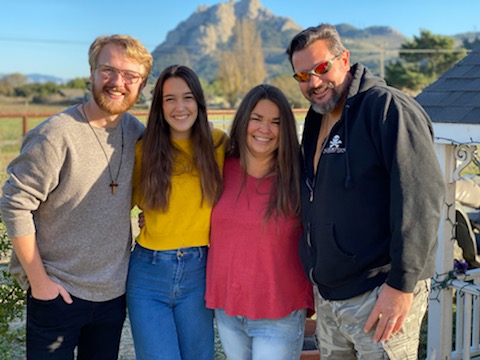 Photo courtesy of Maddy Booker
You may recognize Maddy Booker as she strides around campus in her yellow, sunflower-themed outfits, or on the floor dancing her heart out, emoting to the max with NSTEP. Perhaps you've seen her on the stage in chapel, singing gospel music with the Westmont Chamber Singers. Wherever Booker goes, she carries with her a sense of trust and friendship. God was an integral part in Booker's journey to choose Westmont, and He has remained so throughout her time here. 
Booker first visited Westmont during the weekend of Spring Sing in 2019. She entered the weekend with low expectations, reflecting how "I spent my whole life and childhood thinking I would stay in my hometown [Los Ojos, California] … I didn't really think going away for college was for me … My parents and the friends that I'd had since childhood had been my immediate circle for the first 18 years of my life. I was scared out of my mind to be independent."
Despite her fears and original plans, Booker decided to give Westmont a chance. 
While on her tour of the school, she listened to the parent of a Westmont student share her daughter's story. The speaker's daughter was a singer and performer who was reluctant to leave home for college, but passionate about elementary education and Spanish. Booker explained, "It was like hearing her talk about my life, it was the craziest thing!"
By the end of the day, Booker and her family knew Westmont was where God wanted her to be. Reflecting on her process of discerning and deciding to come to Westmont, Booker said, "God's consistent faithfulness was so important to me in that transition phase."
Booker's now-fiancé, alum Simon Janzen '21 who has stayed on at Westmont in the secondary teaching credential program, made the process of choosing Westmont even better. Elaborating on her connection to Janzen, Booker said, "We had a long-distance relationship for two years and it was hard, but it was worth it." She was surprised that his school felt like a great fit for her, as well. 
Booker has been consistently surprised by God during her time at Westmont. Her junior year was full of "a lot of friendships that happened really organically and quickly." 
"Something I've learned about myself — and tried to lean into — is to share my friendship and love, and not fear scaring people away," she said. "Sometimes, in a matter of days, I will be able to call people my best friend — I have several people in my life like that!"
When asked about her music-related extracurriculars — College Choir, Chamber Singers, NSTEP and vocal lessons — she noted that the feeling of family within these extracurriculars is most important to her: "Solo performance has never really been my thing" she laughed.
Specifically during Booker's junior year, being part of a team was crucial. Booker recalled, "My social life in the last three years has changed a lot. One of my biggest regrets in freshman year was saying 'no' to a lot of things because I was scared and shy." 
Over the course of her time at Westmont, Booker's increased confidence to branch out is clear to her peers. Considering the community she's found in Westmont's music department, she exclaimed, "I hope I never stop being a part of a team like that and sharing music like that with the world. It fills my heart in a way I can't explain."
In addition to the college choir community, Booker has also become more involved as a Spiritual Formation Coordinator (SFC) in Armington: "A quality of this school year that has been really cool is being a part of communities such as the SFC team and choir"  
When asked about her future plans, Booker expressed excitement for her marriage to Janzen, with a wedding ceremony this June. Booker hopes "God could provide us with a space to host friends and have game nights and still be a part of this community."
Other than receiving her bachelor's degree this approaching fall, Booker admitted she's not completely sure where God may lead them. She did emphasize her confidence that He will provide them with direction.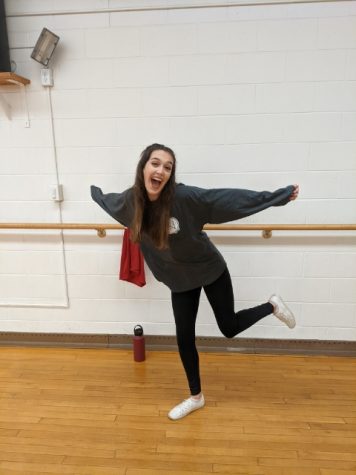 Booker's trust in God and His provision is seen in the way she handled the difficulties she encountered in the first few weeks of this semester. After getting COVID-19, Booker was forced to isolate, a time she described as "really tricky for me, as an extroverted person." Around the same time, a close friend of Booker's was hospitalized for a medical emergency. 
Booker had to reckon with trials and discover how to speak to God in the midst of them.
"I've always understood crying out to God to just mean prayer, but I didn't understand it until I was actually crying and had to totally surrender. I told God, 'This is too much. I trust you, but can you please take one thing away?'"
The next day, Booker was able to talk with her friend recovering from the medical emergency and saw Janzen standing outside her isolation room, a small, but surely answered prayer. 
Booker said, "There are real struggles in life, and people face things that I would never know or understand." Booker further expressed her appreciation for the ability to be ultimately joyful in Christ, even when she can't always feel happy on the surface.
Through the various challenges Booker has faced during her time at Westmont, she continues to declare that God is kind and good.