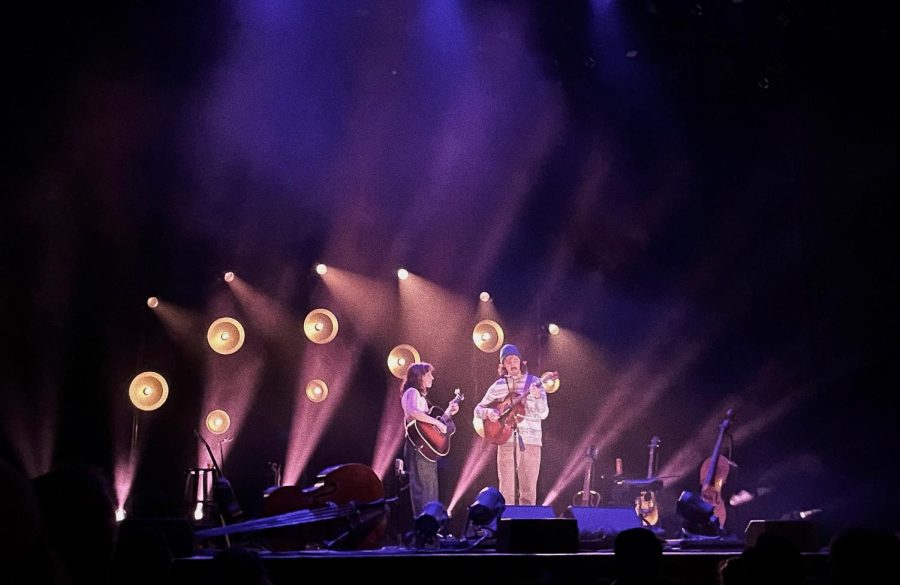 Kat Smith, The Horizon
Attendees of the Watchhouse concert on Thursday, Feb. 17 were whisked from the Lobero Theatre into the wilderness near Chesapeake Bay, wherein lies a cabin called Watchhouse: the house that Andrew Marlin grew up visiting, which inspired his early love for making music. Years later, Marlin and his partner Emily Frantz return to Marlin's beginnings in a display of appreciation for childhood nostalgia.
The duo's renaming from Mandolin Orange to Watchhouse marked a new musical tone for Marlin and Frantz. Their prominence in the roots genre supported this shift and propelled them into more notoriety than ever.
Watchhouse's self-titled debut album quickly found itself number one on Billboard's Bluegrass albums chart, and Watchhouse has had the opportunity to collaborate with top writers and producers such as John Kaufman. Although their sound hasn't changed much, Marlin and Frantz continue to generate steady support for their fresh content and energy.
Last Thursday, they captivated the intense focus of the audience using only a single microphone. This ensemble included three supporting string musicians whose layers of mandolin, cello and bass lent a unique texture to the sound.
Marlin and Frantz have performed together since they met in their early 20s. Their whimsical, folky, bluegrass sound quickly made its way into the hearts of many. Now married, six albums and four tours later, the two expressed the need for a change from their previous ways.
In 2018, they took a brief reprieve from music-making with the birth of their daughter Ruby. In their top hit "lonely love affair," the two sing of the new loneliness and trials of parenting while on tour. They joked about their shows going past their bedtimes — when the audience called for an encore, Marlin joked, "C'mon guys, we told you we needed to get to bed."
Of course, the audience would not accept it.
Instead, they demanded a few more minutes of the ethereal voices that filled State St. that night. If Watchhouse was indeed transporting their listeners to the shores of Chesapeake Bay, then the audience members were receptive and grateful travelers.