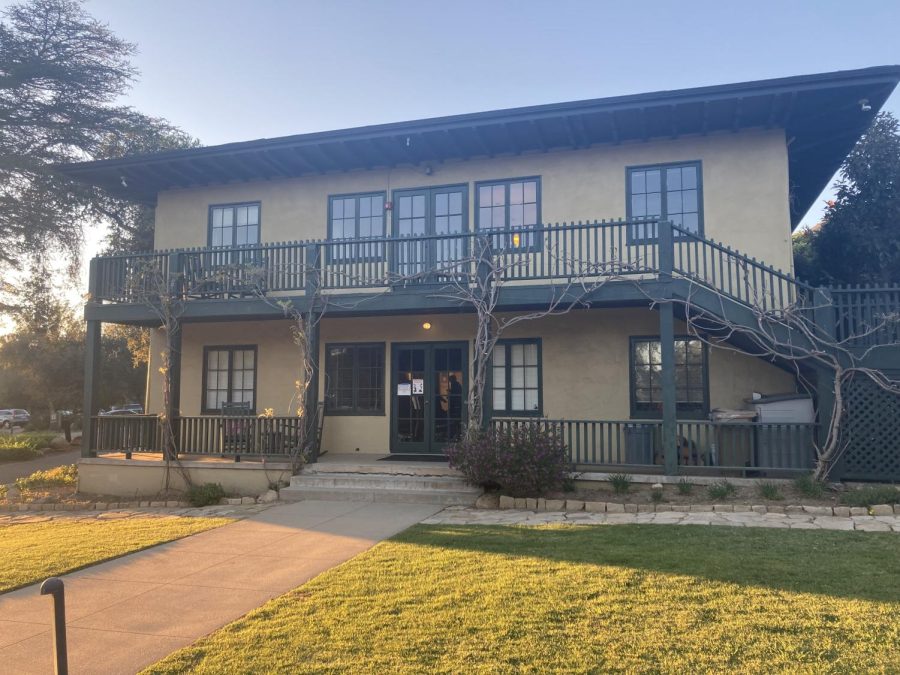 Gilbert Cruz Dominguez
The English department, one of 11 departments conducting searches this spring, is searching for a full-time, tenure-track professor and creative writer. Over the past three weeks, Westmont has hosted three English faculty candidates, requiring each one to speak at a colloquium, meet with a variety of faculty and administration, and guest-teach in an Introduction to Creative Writing class.
This year, Dr. Cheri Larsen Hoeckley is chair of the English department and vice chair of the search committee responsible for finding viable candidates. She shared insight as to what the department is looking for: "Second to a mature commitment to Christ, the ability to walk the scholar-teacher line is what matters to us." Adding to this combination of faith, scholarship and teaching ability, Larsen Hoeckley noted, "We are getting such a high demand from students for creative writing, that it seemed like now is the time to hire somebody who could offer some more of [creative writing]." 
Noting how the search has evolved over time, Larsen Hoeckley acknowledged that, "It's kind of a professional axiom that searches sometimes take on a life of their own." According to Larsen Hoeckley, "We started advertising in the summer in various publications. This was for a writing position, broadly." 
As the search committee filtered the pool of applicants down to three individuals, conversations about the needs of both faculty and students helped the committee realize the demand for a full-time creative writer. For the sake of their anonymity during their job search, we will not be naming these candidates.
The department invited three candidates who specialized in subjects ranging from poetry and creative writing to novels and short stories.
The colloquia took place on three consecutive Thursdays at 10:15 a.m. the first candidate spoke on Feb. 3, the second on Feb. 10, and the third on Feb. 17. The morning following their colloquia, the candidates taught the 9:15 a.m. Introduction to Creative Writing course. 
Students in the creative writing class reacted in a variety of ways to having a guest professor. Senior communications major Hannah Marks was caught off-guard, explaining, "I wasn't really given [an] explanation, other than the fact that they were going through a process to become faculty. I'm still not sure how the process works, but I'm happy to help!" 
While third-year English major Sydney Abrahams was also unfamiliar with the faculty search process and the role she played as a student, she appreciated "that the guest speakers seemed to know what we were learning … they seemed genuinely interested in where we were."
In addition to providing verbal feedback to their English professors, students who attended either the colloquia or the classes taught by the candidates were asked to fill out evaluation forms. Executive assistant to the provost Jaron Burdick explained how the written student feedback forms provide the search committee with demographic data "to assess which subsets candidates connected with."
Between the colloquia and guest-teaching, candidates had the opportunity to demonstrate their competency as both educators and researchers. This addresses two out of the three main pieces of a faculty member's job. According to Burdick, faculty are "gonna have to teach, they're gonna have to continue to do their research and publish in whatever method is appropriate for their discipline, and they're going to have to do some sort of institutional service — by which I usually mean serving on a committee."
In describing the importance of these factors, Burdick explained: "You have to look at the existing department and the constellation of skills and people that are there [and ask,] 'How is the candidate's wiring going to mesh with the configuration of the existing department?'"
According to Burdick, "When you think about the importance of hiring somebody to these department positions, it can make or break a school." This poses a challenge to the provost, who presides over Westmont's academic realm as "the architect of a dynamic and productive faculty," as Burdick put it.
Burdick explained, "You want to strike a balance wherein the incoming person is similar enough to the other folks in the department that they will find a home there, and there's gonna be … genuine collegial respect, but you want them to be different enough that that person's scholarship is going to challenge [the department] in positive ways."
Larsen Hoeckley expressed a similar perspective: "I think we're a department that lets students know that [they] have been seen, but also encourages [them] to see others [they] might not have seen well … We're looking for someone who can help us to do those things, help us continue to do those things we do well, and bring us something we don't have yet." 
Larsen Hoeckley also mentioned the importance of hiring someone who will help the department equip students with "the imaginative work of literature and the careful stewardship of language," preparing students "for the church in the 21st century [and] for reading and writing in the 21st century." 
In acknowledgment to Westmont's high hiring standards, Larsen Hoeckley joked about their ideal candidate: "Maybe it's a unicorn." She balanced an awareness that "we are not building Frankenstein's creature, we are hiring a human who will come along and do this good work with us imperfectly, as we all do," with confidence that "God has the people out there for us."
Reflecting on the process of the first of three faculty searches for Westmont's English department, Larsen Hoeckley said, "We're in a definite period of transition in the English department. We're a department of eight and, in the next year, three of us will rotate out." 
While acknowledging "a deep sense of loss," Larsen Hoeckley also mentioned "a really deep sense of hope." She emphasized a desire to "make this transition well, so that we can continue to educate students in paying careful attention to a beautiful and broken world, recognizing the role that language plays in that attentiveness, and recognizing that we come from a deep tradition of literature and of faith."