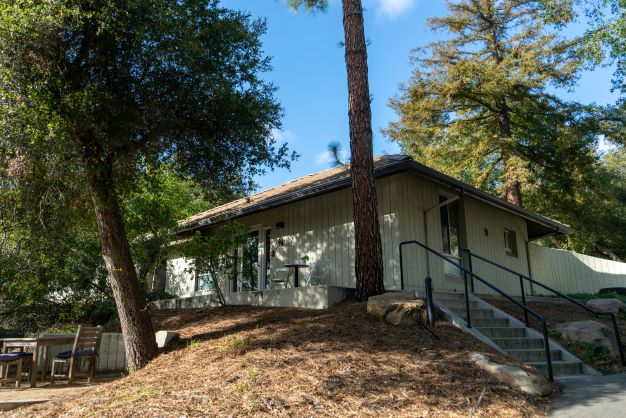 Noah Nims, The Horizon
College is hard. College in a pandemic is really hard. Since the beginning of the COVID-19 lockdowns in 2020, Westmont's Peer Coaching program has found particular motivation to ensure that students feel supported and cared for.
If you've been feeling the pressure of COVID-19, academics, financial planning, staying involved on campus or all of these combined, you may benefit from meeting with a peer coach.
While that tagline may sound like it came straight out of an 80s ad campaign, it's an accurate pitch for the program that has found increasing popularity among Westmont students.
Founded in 2019 as part of the Center for Student Success, peer coaches come alongside their fellow students to help them process their personal challenges, from the initial transition into Westmont to all the details required in planning for graduation. The system is intentionally flexible, allowing students to sign up for as many sessions as they would like. 
From the first appointment, peer coaching is designed to cater to students' needs: students fill out both a confidentiality agreement and a description of their goals for their peer coaching appointments. The coaches themselves are well-versed in all aspects of Westmont and its many departments, primed to connect their clients to the most appropriate resources. 
These encompass what the Center for Student Success calls the "FACTS" of life. 
F: Finances
Whether you need help with budgeting, goal-setting or navigating financial aid, peer coaches are equipped to connect you with the best resources.
A: Academics
Academic stress is the most common topic in a peer coaching appointment. Peer coaches are equipped to provide help with concepts such as time management, assignment scheduling and logistical help with course and major planning.
C: Campus & Community Connections
The more you know about Westmont's campus community, the more able you are to find your place within it. Peer coaches connect students to groups, clubs and organizations that will be the best fit for them.
T:  Taking Care of Yourself
However students are feeling, whatever their schedule, peer coaching can help students with scheduling time for self-care and encouraging positive, creative ways to make sure students are thriving.
S: Social
It's no small feat to balance all of the demands of college with a social life. Peer coaches can help find a healthy balance between work and rest.
Program director Sandra Edgar and coach Ben Buskirk sat down with the Horizon to discuss all that peer coaching has to offer, noting that "peer coaching is a resource: students helping students."
When discussing the draw to peer coaching, Edgar referenced study skills and time management as the main aspects of college life that the program addresses: "For students that could use a little extra help in those areas, or specifically are looking for accountability to have someone help them make sure they are staying on those tasks, [peer coaches] are available to do a regular check-in with them."
Buskirk agreed, while adding that the meeting space is a "non-judgmental, no pressure" environment. Buskirk reflected that the most rewarding aspect of his job is "seeing a client realize they're capable of doing something they didn't think they could do."
Edgar sees great potential for the program and encourages students to get involved because of the many advantages it offers. She observed, "You see students that just don't know what their next step should be; they feel like they're doing everything they possibly can, and it's not working."
Edgar attested that the value of a peer coach is the ability to have someone "look at it from a different angle and provide some ideas." She referenced how often the phrase 'Study smarter, not harder' is used, and affirmed that peer coaching gives students the "opportunity to actually say 'Here's what smarter would look like' … they get ideas in a fresh new way, and that's really helpful for them."
For those interested in learning more about peer coaching or scheduling an appointment, check out the Peer Coaching page on the Westmont website.