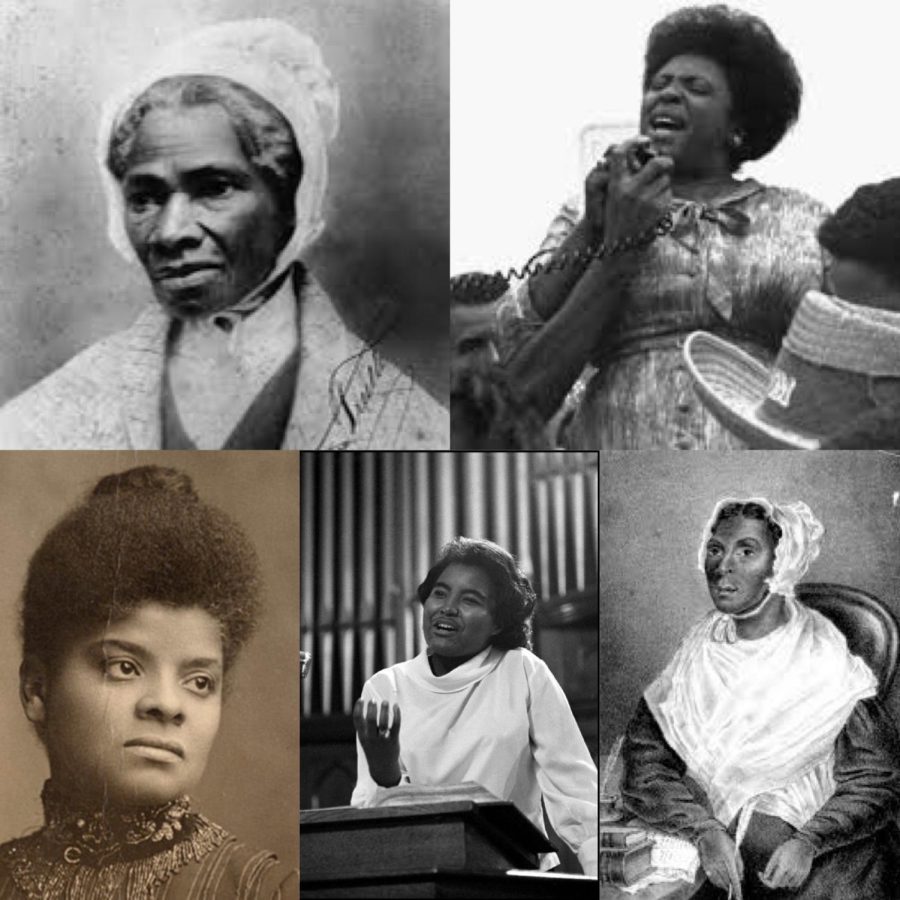 Graphic courtesy of Westmont's Black Student Union
As recognized in chapel over the course of this past month, February is Black History Month, a time to celebrate Black people. This year, Westmont has focused on the group who has been most underrepresented and marginalized historically: Black women of faith. 
Ebun Kalejaiye, a student leader of Westmont's Black Student Union (BSU), helped spark the conversation recognizing Black women of faith on campus. Under Kalejaiye's leadership, a different Black woman of faith has been featured in chapel throughout the month of February. 
Kalejaiye explained the motivation behind featuring Black women of faith: "Of all the marginalized racial groups, Black women are at the top of that list. We chose to do the series of Black women of faith because [we knew it would] be a chapel series." 
Kalejaiye credited her inspiration for this year's Black History Month theme to Blake Thomas, director of Westmont's Intercultural Programs (ICP). 
Thomas affirmed that he suggested educating the Westmont community about Black women, but his idea did not originally spotlight Black women of faith: "There's a sense that women, in general, play a large role in contributing to the the end of slavery, to abolitionism, but who do we talk about? Frederick Douglass, Martin Luther King Jr. and all these Black male figures."
Citing the historical significance of Black women, Thomas argues that America wouldn't have "The Civil Rights Movement without Black women."
Despite the contributions of Black women, Kalejaiye lamented how Black women of faith, in particular, "tend to be demonized for their belief system." She specified, "Black women tend to be more expressive in their worship [with] dancing and lifted hands … and are often mocked by White people because of how strange and different it looks to them." 
Black women have been criticized by White individuals as well as by men, regardless of their race. Kalejaiye pointed out "the clear sexism in the church, where many believe women aren't meant to be preachers, and — due to colonization — many Black men have adopted this belief, despite the pre-colonial belief in most Black cultures that women are equal to men."
Kalejaiye recognized a divide among the feelings of Westmont students regarding Black History Month. On the one hand, "some students are … able to educate themselves … and they're excited to take that opportunity to better their racial awareness and celebrate Black achievements." According to Kalejaiye, some "have taken the opportunity to zone out." 
Kalejaiye encouraged the students who are eager to learn more about this topic to "take advantage of social media," noting that "some of the learning process is going to have to be done on your own." In addition, she urged students to "go to ICP events [with] an open mind."
She added: "[Don't] be too hard on yourself if you mess up or someone calls you out, because it's just part of the growing pains in becoming a more aware [and] better-educated person." 
Thomas specifically commended those students willing to learn during this month, saying, "If you're really interested, you're already engaging." However, Thomas cautioned, "It's really easy to do Black History Month in a way where it is just another opportunity where Black people feel pressured to educate White people." When this happens, he explained, "Black History Month … in a lot of White institutions, actually serves to promote a false vision of America that doesn't actually serve the intent of the month and doesn't serve the Black community."
For students who choose to zone out during the recognition of Black History Month, Kalejaiye has a reminder: "The US has a very long history, and the history books only scratch the surface of the good, let alone delving into the bad." She said, "Being able to better understand the people that you're living with [and] the society that you're in [and] the different cultures around you, you need to be able to enter into a space that might be a little uncomfortable because it's dealing with the history of ancestors who weren't so good to these other people groups."
Conversely, Thomas had little to say to this group: "At the end of the day, I can't force you to care [or] change your heart."
In an attempt to understand the hesitancy to accept America's controversial past, Kalejaiye reflected, "There's a sense of guilt, or even shame, in having to recognize a really ugly history." She added, "A lot of people think it is better to pretend these things didn't happen so that they don't have to deal with it themselves [or] recognize positions of privilege that have been awarded to them because of that history." 
Thomas also emphasized how American identity has the ability to hinder the general population's willingness to recognize the nation's past flaws: "When [American identity] takes up so much of your identity, when someone critiques it … you can't hear that without taking a hit to your own sense of self-value."
According to English professor Kya Mangrum, who specializes in African-American Literature, another issue surrounding the celebration of Black History Month, is that it can seem like "a lot of disconnected facts during a month … but no overarching narrative or stories."  
In addition, Kalejaiye observed that many people feel that "we shouldn't have to have a Black History Month, because Black history is American history." According to Kalejaiye, some Black people who resist Black History Month argue that America should reach "a point where we recognize that all the things that we learn during Black History Month … should just be part of the education system to begin with." 
Despite the challenges, many members of the Westmont community find the time of intentional celebration valuable. Reflecting on the purpose of Black History Month, first-year member of BSU Joy Collins said, "Black History month means to celebrate being Black; to think about the past and the Black people who have made a difference in how they've lived, even if we don't remember them; and to be proud [of Black identity]."
In addition, Mangrum highlighted Black History Month as a time of healing. She explained, "When I think of Black History Month, I think of the man who started it, and I think of why he started it … Carter G. Woodson was the founder, [and] he meant [Black History Month]  to be a kind of medicine for Black people."
Thomas highlighted Black History Month as a time "to dive into our own history, to do some self-exploration, to appreciate the aspects of the culture that we've contributed." He explained, "It's a time for … learning and celebration and joy and hope."