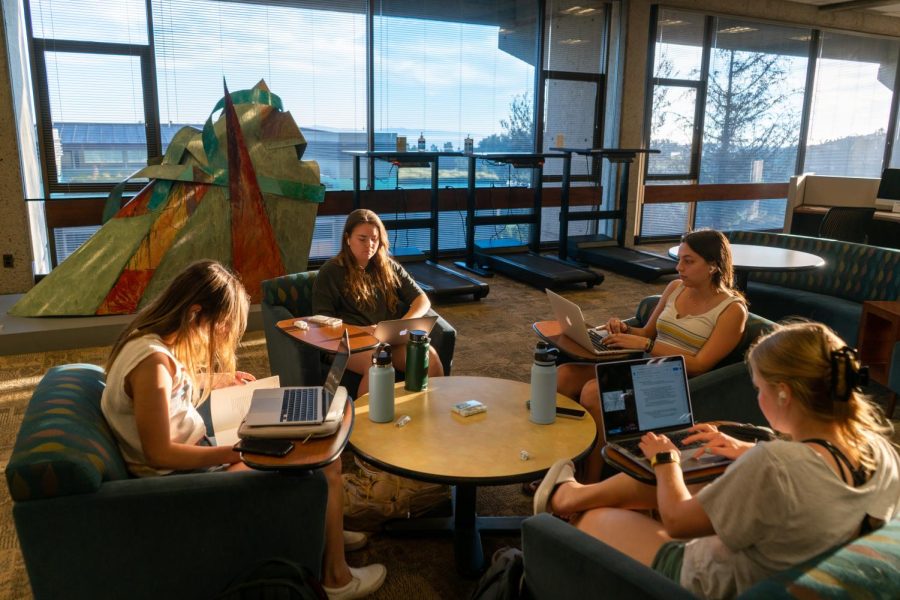 Noah Nims, The Horizon
On Feb. 16, Santa Barbara County rescinded its local indoor mask mandate, allowing vaccinated individuals to go unmasked in indoor public settings. As detailed in a Feb.10 press release from the Santa Barbara County Public Health Department, data trends showing the Omicron variant resulting in "shorter period of illness, fewer hospitalizations, and a lower death count for fully vaccinated community members," inclined public health officials to lift the mask mandate. 
Westmont College — part of Santa Barbara County — chose to pause before lifting its indoor mask protocols. Jason Tavarez, director of institutional resilience, explained that the college "wanted to get a lot of the population tested and ensure that we were as safe as possible prior to lifting those restrictions." In addition, waiting until after students returned to campus from the Presidents' Holiday four-day weekend would help prevent increased risk of exposure among students. 
On Friday, Feb. 25, an all-student email announced the new masking protocols for Westmont students, staff and faculty members. Beginning on Tuesday, Mar. 1, vaccinated individuals may choose to remove their masks in chapel, the dining commons, the library, residence halls and indoor athletic contests. In classrooms, professors have the ability to dictate their own mask protocol. 
This decision is made possible by Westmont's small population and the resources invested in preventing COVID-19 outbreaks. With testing, quarantine rooms and the ability to meet both inside and outside, Westmont has the resources necessary to mitigate any outbreak that may occur. 
Professors are given the ability to choose their own mask policy within classes, as the risk presented to each professor may vary. Some professors or their families remain in high-risk categories or are unable to get the vaccine. 
The process to make this decision began with Tavarez reaching out to public health officials, specifically asking what the new county guidelines meant for higher education. Tavarez then proposed both the best practices and the county guidelines to the executive team.
This process has allowed Westmont to stay ahead of the curve in comparison to other universities in California in terms of COVID-19 protocols, including repopulating campus during the fall of 2020, testing community members, and quarantining students when necessary. 
Westmont will continue tracking the number of infections by testing roughly one-third of the campus community every couple of weeks and by making tests available to students at any time in Kerrwood Hall. Tavarez highly encourages symptomatic students to get tested, with a turnaround time of 24 hours for tests to get back. 
Barring that the county mandates vaccines, Westmont will continue to affirm students' ability to choose whether or not to get vaccinated. Tavarez encourages students to get vaccinated, as throughout the year — both on campus and within the county — empirical data has shown that the rate of infection for unvaccinated individuals has been higher than those who are vaccinated.
Westmont plans to host additional pop-up vaccine clinics throughout the semester, providing students with the opportunity to get their booster shot or their initial vaccine.
Looking to the future, Tavarez notes, "there are some really new and exciting COVID-19 vaccines coming down the pipeline" that Westmont can provide for students.