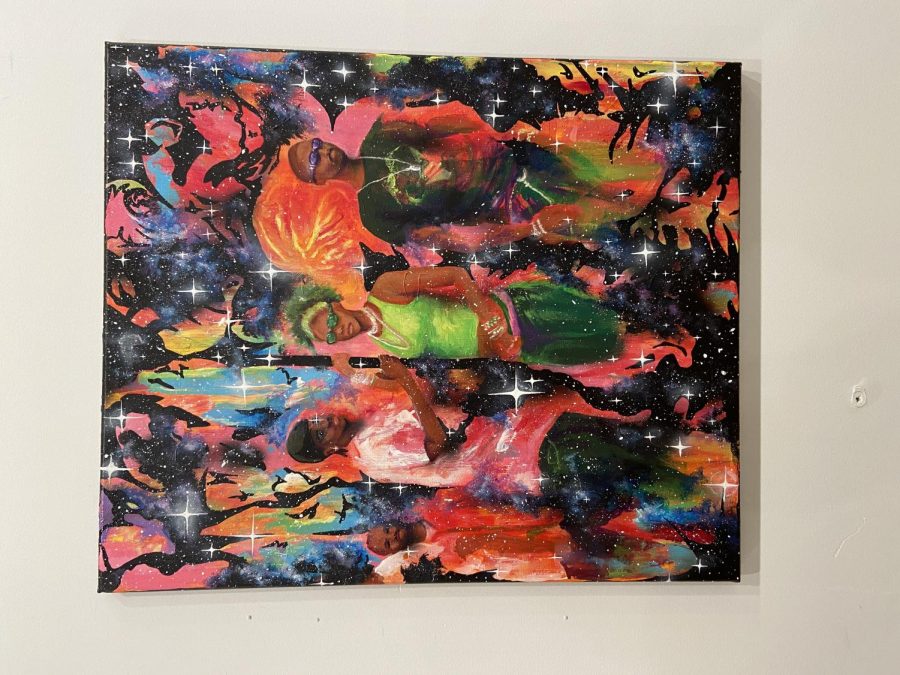 When I visited "The Black Art Seen" — an extension of Melanin, a Black artist gallery run by Healing Justice Santa Barbara — I was struck in particular by two fantastical, richly-colored paintings by Dez Porter, aka Deadstxle. 
I got the chance to ask Deadstxle a few questions about how she created space within Santa Barbara culture for her style and art:
Eva Moschitto: I loved seeing the '90s influence in "Trak Stars" and "Stellar Ride." Did your love for '90s/hip-hop culture conflict at all with your upbringing in Santa Barbara? 
Deadstxle: Despite the lack of representation in greater Santa Barbara of hip-hop culture, it was always present growing up in my home, from as early as I can remember. Hip-hop was my first love. I looked forward to learning the music, understanding the history and appreciating the art of hip-hop. Although it wasn't the typical thing to be celebrated growing up in Santa Barbara, it was my introduction to creativity.
EM: What did you find in hip-hop that you didn't find elsewhere?
D: A lesson I learned at an early age from hip-hop was how to make something out of nothing. hip-hop helped me find a sense of belonging and relatability in many instances. Through the music, I was able to connect to people and could relate any experience in my life to a song or moment in hip-hop history.
EM: Your artist bio mentioned that your art is informed by spirituality and psychology. Can you name some of those influences?
D: I was raised in a home where I learned to lean towards acceptance and understanding the different ways a mind can work because of mental health struggles within my family. This helped propel my creativity because I understood there was no one right way to think and, hence, create. I was encouraged to explore various religious values, psychological books and human experiences — from Dance Azteca to various churches and spiritual practices — which then, I feel, helped me encompass a soulfulness within myself.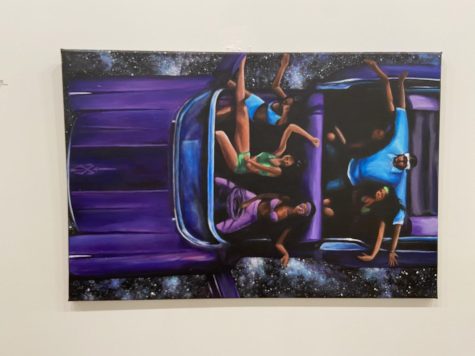 EM: Do you have any other stories about the inspiration or process behind your work?
D: Regarding other stories about inspiration … When I was committing myself to art at age 19, it felt like all of these influences were emerging in what I was creating. I began blogging about rap and creating art based on my favorite songs and rap projects. My daily process was listening to a ton of new music and creating art for it and posting it on a variety of social media platforms. This then propelled me into trying various art styles, from sketching, to digital art, editing videos, photography and, ultimately, finding my love for painting.
EM: Any hip-hop/rap recommendations?
D: Some of my favorites right now are EARTHGANG, Smino, Rexx Life Raj, Larry June and Lakeyah.
If you didn't get to visit "The Black Art Seen," follow @deadstxle to see more of the artist's work and @healingjusticesb to stay up-to-date on Melanin events.