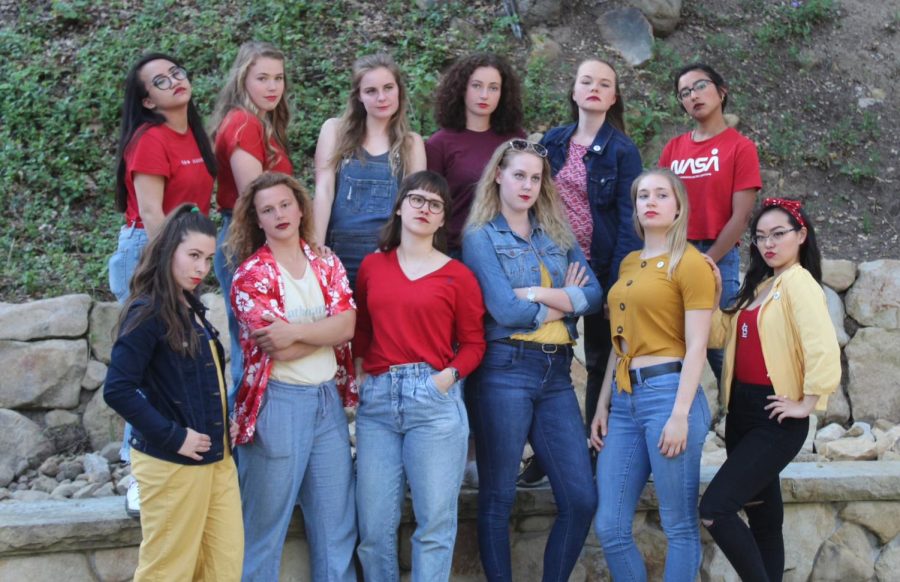 Courtesy of Keziah Olsen
Women of Westmont (WOW), the college's all-female a cappella group, has experienced its fair share of setbacks. Nonetheless, the group has brought joy to its participants — something to which former co-presidents Lexy Gillette and Keziah Olsen, as well as current president Katie Ticas, can attest.
When discussing the group's history, Olsen explained, "It used to exist under a different name a long time ago, and then it died out. In 2017, Kate Melman ['19] brought it back, after which Olsen recalled,. "Then Hailey and I became co-presidents for fall 2019 – spring 2020." Describing the group's recent challenges, Olsen said, "We had a big plan for Spring Sing 2020 … and then COVID-19 happened. Last year, we couldn't meet. So this year has been a rough start."
In addition to COVID-19 related challenges, Olsen said she was "given responsibility for the club last-minute." She explained, "I didn't have the resources to do it, and I didn't really have anyone who was interested enough to help me … So, last semester, I just didn't have the capacity to do it. This semester would not have happened if Katie had not stepped up."
In passing on the torch, Olsen wishes nothing but the best for Ticas. She said, "I'm hoping that [Ticas] finds someone who she can tag team with, because it is a lot of responsibility … [and] I'm hoping that, one, she has enough people to be in the club and, two, that we can have our full repertoire."
Katie Ticas, a sophomore, has been more than happy to take on the role. "Since I don't have a very heavy load this semester, I thought I'd take it on." She described having a good experience so far: "We have a group of six girls, and it seems like we work really well together so far." 
Although Ticas' experience leading WOW has so far been enjoyable, she has come across some challenges: "At first, it was hard to get people to join because a lot of people are really busy." She added, "Something that's challenging is finding, musically and strategically, what works for people in terms of learning and reading music. Everybody's different when it comes to how to prepare the voice for singing and how to learn music." 
In addition to social challenges, Ticas cited "picking our repertoire," explaining, "We really struggled to find something that was uplifting, fun, and peppy … to perform at Spring Sing."  Fortunately, Ticas was able to work through this situation, reporting, "We've finally settled on a piece that everybody likes … and really encapsulates what our voices sound like." 
Despite these challenges Ticas has faced, she has had an overall positive experience with WOW. She said, "Something that I really appreciate about our group is that we are here for a good time, and it's not too serious [or] a huge time commitment [or] burdensome, because we're already overloaded with activities as it is, so I'm just glad that our group [makes] it a small part of our week to come together and practice."
Ticas hopes to carry on the entertaining atmosphere within the group. She said, "My hope is that we can unite as a group of girls to sing together and … I want people to be uplifted and to feel joyful when they hear the music that we sing."
Olsen, too, hopes WOW can return in earnest this semester: "This year we're planning on doing Spring Sing and … We're just trying to get momentum back again so that next year we can start in full force."
Both Olsen and Gillette recall good memories of their time with WOW. Olsen describes singing L-O-V-E at the orchestra Valentine's Day dinner in 2019: "That was one of my first big performances with the Women of Westmont. We dressed up in pink and red and we had our signature bright-red lipstick." 
Olsen and Gillette also mentioned performing an Abba medley at Spring Sing in 2019 as one of their highlights with WOW. Olsen described, "We did choreography and … we had 13 or 14 girls on the team." Gillette added, "In preparation, we had bonding nights where we played games and watched Mamma Mia."
Despite its rocky past, WOW is sure to continue inspiring and entertaining Westmont students for years to come.