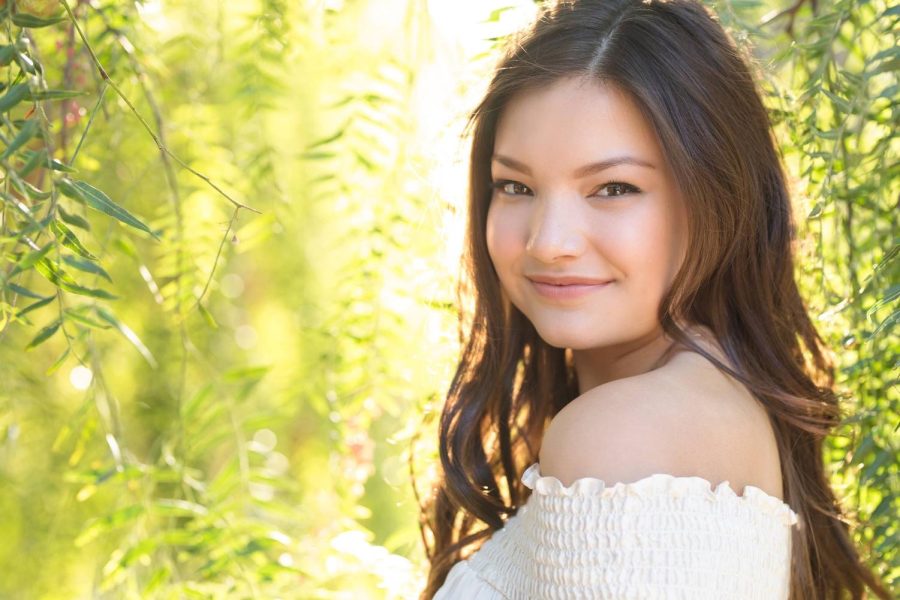 Courtesy of Bella Scott
For fourth-year religious studies major Bella Scott, God is the thread that runs through all aspects of her life. 
Scott's story begins in a very different place from where she is now. She describes growing up as a member of a "pseudo-Christian" church — a church essentially functioning as a cult. Scott recalls constantly feeling confused, as her expressions of faith were dismissed.
She spent seven years searching for the true Christian faith. When she finally discerned God's call in her, she was ecstatic, but also knew she would be shunned by the church she grew up in. Despite this reality, she was baptized as a Christian the summer after she graduated high school.
As a child, Scott dreamed of going to school in New York City and becoming a Broadway actress. However, counter to her original dreams, Scott's first vivid encounter hearing God in her junior year of high school involved leading her to a Christian school: "Westmont quite literally fell into my lap … I got confirmation from the Holy Spirit that this was where I was supposed to be, and that has been proven true every single day that I've been here," she proudly affirmed. Completely stopped in her tracks, Scott listened to God's call. 
Scott references the growth she has experienced in her faith through pursuing a religious studies major at Westmont. When asked about her most memorable experiences with professors, she fondly recalls drinking coffee and talking openly with religious studies professors Telford Work and Sandra Richter.
Scott expresses amazement for the ways the religious studies professors live out their faith in tangible ways, saying, "They don't just study it for the sake of studying it; they actually live it out, and that compels me!"
In addition to being connected in the religious studies department, Scott is a musician involved with College Choir and the Chamber Singers, making her experience at Westmont interdisciplinary. Regarding singing spiritual and biblically-inspired music, Scott said, "I'm very touched by the way that God is able to tell us a story … without just telling a story." 
Scott mentioned a time she was able to express part of the Christian story through an aria composed by George Friderick Handel titled, "I know that my redeemer liveth." She recalls feeling stressed about singing the piece and getting caught up in merely practicing until she realized the weight of what she was singing. She felt as though she was being led to declare the truth of the titular statement and to pray over it.
As a Christian, Scott wonders how non-Christians perceive these powerful testaments of faith through music. She ponders: "Do you hear the testimony of Christ in someone's voice when you hear them sing? That's something that people are touched by, even if they're not a Christian."
When asked about what she loves the most about Westmont's culture, Scott notes how exciting it is to have an abundance of opportunities to worship. She also expresses that Westmont is "a treasure that I won't be able to recognize until it's gone" 
Scott plans to go to seminary after graduating from Westmont this spring. She hopes to find a chapel-like space in the future, as she values Westmont's intentionality behind taking a pause in our days to focus on Jesus: "We don't do it well all the time, and we fail at it all the time, but the fact that we can express [our faith] is such a privilege." 
Scott is also a member of the chapel band and is thrilled to share the gift of worship through music in this capacity. She has been personally blessed to lead others in worshiping Jesus. Being a student leader also comes with the responsibility to address the challenges that hit deep. "I get up there, and I represent chapel in some ways, but it's hard to do that when it's hurting people, or when hard conversations are happening."
"I don't know how to navigate [these hard conversations] exactly," Scott admits. "I don't know how to navigate it with grace." Even so, she acknowledges that the challenge is worthwhile because it means she gets to come and lead others to worship God: "I'd rather risk whatever I'm risking to invite others to come and worship with me, than to stand on the sidelines."
When asked about her seminary education goals, she shares her excitement for getting her Masters of Divinity. "I would love to be a professor," she says softly but excitedly. "It's my dream, and I'm continuously discerning if it's God's." Scott explains her mission through her career goals: "I want to empower people to read the Bible, read it well, and to find Jesus in it."
Scott recalls, "I didn't even know you could read the Bible on your own until later in my life." She has also thought about teaching at secular institutions later down the line. Scott said that thinking about teaching the Bible purely as a historical text gives her the chills when she reflects on how it can draw people closer to what Jesus has to say about them. 
Amidst the excitement and need for discernment about her future, Scott can confidently declare, "I'm open to whatever God has in store for me."