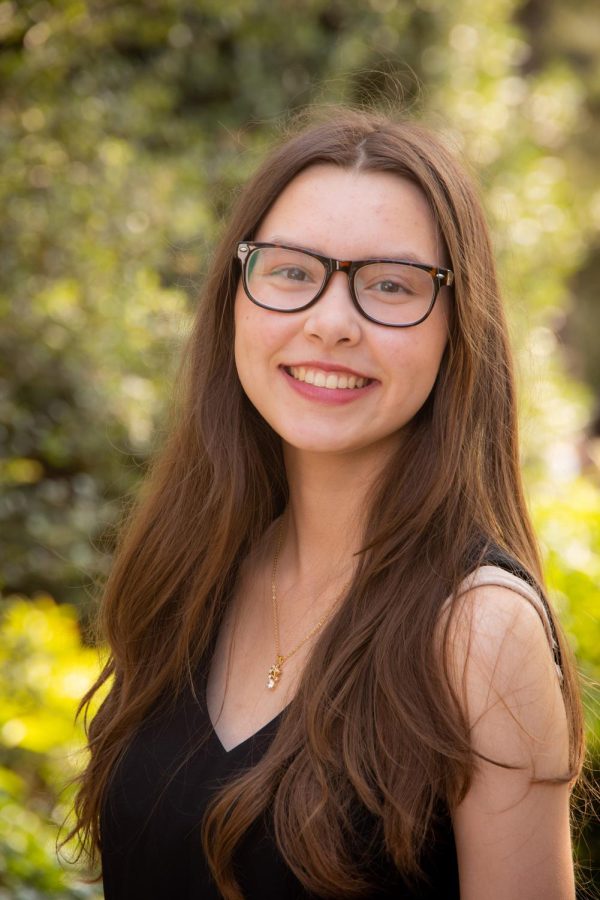 Brad Elliot, Westmont College
Trigger Warning: the following article discusses issues of sexual abuse.
———
Through her commitment to processing the circumstances and challenges that have shaped her, Erin Hardin has developed a deep sensitivity to the struggles of others. Having put in the work to recognize sources of her anxiety and grapple with her racial identity, Hardin now serves as a resident assistant (RA) in Armington Hall, seeking to empower her residents to be more secure in themselves and in their relationships.
Forced to reckon with anxiety that had been repressed in her childhood, Hardin has learned firsthand how damaging it can be when an individual's struggles are ignored or dismissed. 
Hardin recalls being molested by a doctor as a child and left unable to communicate the gravity of the incident to the adults in her life: "When I would get that anxiety about going to the doctor, I couldn't fully articulate it because I didn't know exactly what had gone wrong that first time … I felt under pressure to just really regulate myself when I just didn't really know how."
While reflecting on how this experience has impacted her, Hardin observes, "That place of not always feeling heard, or not always knowing what's going on … affects how I like to show up for people and how I like to really listen to what they're saying and not feel like I can provide solutions or [come with] assumptions to their problem."
Hardin's trauma involving doctors and medical environments have made many health topics a source of anxiety for her. Thus, when Hardin found herself in Fitness for Life during her first semester of college, she explains, "I think that pushed me to start unpacking what my anxiety came from and … why it happens."
One day in Fitness for Life, Hardin recalls, "there was a video explaining heart attacks, and then I had a panic attack." She had to walk out of the classroom twice during the lecture. "For the rest of the semester," Hardin says, "Having lectures in that classroom, I think I almost always had some little episode after that."
Challenged by the exposure to anxiety-triggering topics in Fitness for Life, Hardin realized that professional help would be a good idea and reached out to the Counseling and Psychological Services (CAPS). 
After weeks of meeting with the CAPS department, Hardin was able to name and come to terms with many underlying struggles that had gone unaddressed for years of her life, some of which include soft boundaries and unhealthy levels of comparison. She notes, "Competitiveness has been something I've been moving out of and … unlearning as I've grown to be more comfortable in my own skin and what I have to offer."
After experiencing both the challenge and the rewards of prioritizing personal growth, Hardin hopes to help others in their own journey: "I want people to feel like they have space, and that they feel like they are seen, and I think I'd be very insensitive to that if I didn't have that history of pain and dismissal from before."
As an RA, Hardin has the special opportunity to support her residents in Armington A3. She explains, "My vision for my section was to help us have a more secure sense of ourselves and our relationships with each other." In a practical way, this support has involved "cheering other residents on as they've gone to apply [for leadership positions], supporting them in that journey as much as I can." Hardin also seeks to give residents space to name what they're going through and come to their own conclusions about how to move forward.
In addition to learning how to navigate anxiety and insecurity, Hardin has also used her time in college to explore her racial identity. Hardin explains, "I'm a child of a refugee. My mom came from Vietnam when she was seven or eight years old." As for her paternal heritage, Hardin says, "My dad is a white guy from the midwest … The European side of his family came over several hundred years ago, so it's hard to see what flavor of European he was."
Hardin notes some of the tension she's experienced during her time at Westmont as a white-passing student who resonates more with her Vietnamese heritage than her European side: "Navigating that and knowing that I'm more cultural Vietnamese on the inside, but you don't know that unless you talk to me, is just reconciling that I don't look like the culture I identify with." 
Reflecting on the intersection between her developing racial identity and her time at Westmont, Hardin notes, "Seeing racially insensitive content in chapel has been especially exhausting, so I've used my role as a white-passing person and as an RA to normalize pushing back on chapel content a little bit — respectfully, because I know that it's hard … but just naming that some of this content isn't okay … that it's framed in a certain way and glosses over deeper issues that Westmont is complicit in."
As a person of color, Hardin has encountered challenging and tiring spaces to be in at Westmont, but she also acknowledges Multi-Ethnic Student Association (MESA) as a place where people will empathize with her struggles and where she doesn't feel the need to explain herself.
Beyond spaces like MESA, Hardin recognizes a myriad of ways she has been accepted and empowered in the Westmont community. She says, "I've been really grateful for the friendships that I've grown with, and the chance to learn more about myself and see women in leadership at Westmont get support."
She also appreciates Tim Miller, her previous boss and the former resident director (RD) of Armington Hall, who she noted as someone who is more introverted like herself: "someone who gets tired by a lot of interaction and high energy and someone who is more thoughtful and behind the scenes — to see Tim doing really well in his leadership role has been great."
As a student, Hardin has been grateful for "how understanding my professors have been on the times when I've just had really difficult days." She cites English professor Dr. Kya Mangrum's class Slavery and the Sea as a place where she was given the space to talk about tough times.
Overall, Hardin's time at Westmont has been characterized by a lot of personal growth, exploring different aspects of her identity, and growing in both compassion and confidence as a leader who seeks to support her peers.