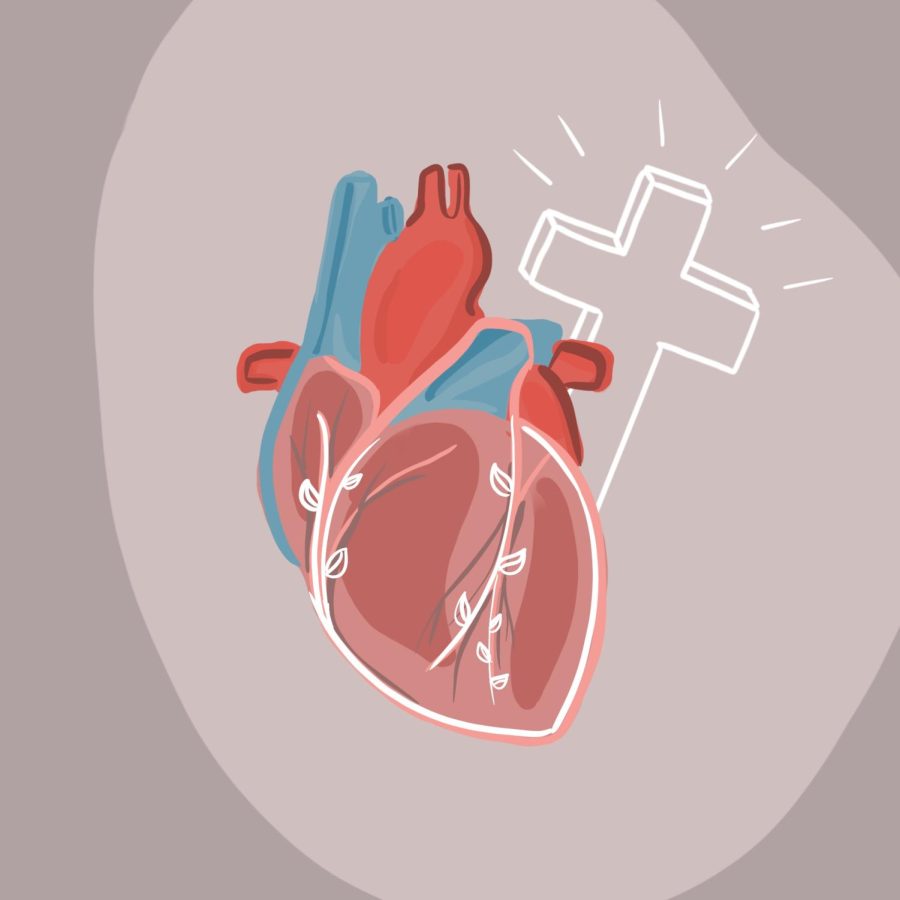 Cayla Won, The Horizon
Individuals with chronic health issues typically have a unique story to share when it comes to the intersection of health and faith. Through physical suffering, they have garnered a deep and complex layer to their relationship with God, but their willingness to share about their experience provides an enlightening perspective to those who don't suffer from chronic health issues. 
According to Megan Drost, Westmont alumna and advisor of the Faith and Chronic Illness Capax Dei, one of the biggest struggles for Christians with chronic health problems is the blame and guilt they deal with in relation to their health issues. Drost has multiple diagnoses, both physical and mental. She highlighted specific challenging feelings when she said, "I think it's very damaging to blame and to have it interconnected with your faith in such a way that your illness is blamed on the [lack] of faith." Thoughts and feelings related to self-blame makes the health issues a heavy burden to carry. 
John Snyder, a sophomore with a long history of hospital visits, noted another way chronic health issues can be a source of pressure on an individual's faith, saying, "I think a lot of people, when they're healthy, feel like their relationship with God is healthy. When they're unhealthy, they feel like their relationship with God is unhealthy, or that he's abandoned them." 
Anna Nadel, a first-year with her own health conditions, expressed flawed expectations that exist in Christian circles and have damaging potential for Christians with chronic health issues, saying, "Oftentimes, we think that if we are following Jesus we should be healthy and happy, and that's not always the case." 
Feelings of blame and guilt worsen the difficulty of physical suffering, a sentiment expressed by all the interviewees. 
Despite the struggles and tensions that individuals of faith with chronic conditions experience, many have found God's grace and goodness somewhere in the picture. 
Nadel said, "We are not in heaven. There will be suffering here, so I never get angry at God for my suffering." Romans 8:18 is an anchor of hope for Nadel: "Yet what we suffer now is nothing compared to the glory He will reveal to us later."
Drost harmonized with Nadel, saying, "I think there's just a lot of balancing things, like there's a lot of hope for people with chronic illness [in] the resurrection [because of new bodies], but we also want to have hope presently and not lose sight of what God does in our lives now." Drost's statement reflects on the importance of hope in all stages and situations.
Church history professor Dr. Helen Rhee suffers from the non-life threatening, but life-debilitating condition called fibromyalgia. She expressed the importance of hope in a person's relationship with God. According to Rhee, "Jesus is a healer … but my attitude about the healing is, 'it's wonderful if God heals you on the spot,' but what is more important as a person who has a chronic conditions, is 'how can I actually experience God's sufficient grace in my daily life?'" 
Looking for God's love and grace in daily life is one way Rhee has strengthened her faith in the midst of facing health challenges, citing that a community of people willing to help her through her condition has been one of the biggest ways she's seen God in her life. 
Not only have those with chronic conditions seen God's grace through tangible gifts, including community-based relationships, but also through the gift of formation that comes from their struggles. Snyder said, "Because of my health struggles and how they correlate and coalign with my faith, I feel like there's been something that's placed in my heart which then leads to purpose." Snyder himself finds this purpose in supporting others in their suffering. Rhee echoed similar sentiments. 
Snyder offered advice to individuals facing chronic conditions who feel alone and isolated, reminding them that God knows exactly what they're going through. Nadel expressed how she's received much comfort from God in palpable ways during her suffering. Rhee expressed how she prays through the Psalms and is comforted by the God who sees her and is able to hold all of her pain with grace and love. 
In Rhee's experience, Christian life and relationship with God looks different for those with chronic conditions. Rhee said, "I needed to develop my unique way of relating to God, in the midst of my bodily health." For Rhee, this looks like learning to connect with God when she's alone, as she was unable to attend corporate worship for a period of time, yet she still experienced the Holy Spirit in a powerful way. Additionally, she developed intercessional prayer as her way of serving and loving others. 
Drost expressed the difficulties that come with the symptoms of chronic conditions, such as great fatigue, migraine, brain fog and many other symptoms that make stereotypical Christian practices — reading the Bible, journaling, etc. — more difficult to integrate. The shame and self-blame that comes with one's inability to have the same faith as others can be crippling, yet Drost encourages people to try to push away feelings of guilt or shame for not meeting a "lofty standard [of what a Christian is] and lean more into God's grace and be more confident in who He has created you to be."
While God has remained faithful in providing blessings in the lives of those with chronic conditions, areas in the faith community have caused harm. One such area involves overlooking or undervaluing the faith of chronically ill patients because it looks different than the general expectations for a Christian. 
Drost expressed that the Westmont community expects people to carry out their faith, everywhere — from their habits to the way they talk about God. While giving God praise is a positive thing, Drost remembers her time as a student, feeling like "I was an alien because I didn't feel-feel that [God was so good]."
Drost notes that not feeling God's goodness all the time is okay, but what matters is "that you're still being faithful and you're still showing up." Drost's mindset is a good model for the Westmont community to adopt. 
Rhee has a beautiful vision for a faith-based community made up of both those with chronic illness and those without. She hopes people will be sensitive and accepting, noting that just because things look like they're going okay on the outside, doesn't mean they are on the inside.
Rhee encourages individuals to be open about their struggles: "People are really willing to help out in ways, and you are also invited to help them out in a different way … That openness will actually be helpful for the larger community, as well."